Test: Mercedes-Benz G-Professional
---
There's fit for purpose and then there's the G-Wagen. Now take that stripped-down, hard-as-nails aesthetic and add a practical tray at the back. You've got yourself a Mercedes-Benz G-Professional.
I'll admit to having winced involuntarily when I heard the disappointing news that Mercedes-Benz's black turtleneck sweater-wearing marketing geniuses in Stuttgart had decided that the G-Wagen must from now on be referred to as, sigh, the G-Class.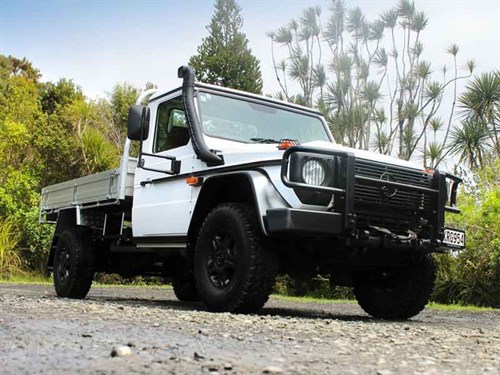 "It's in keepink viz ze rest of ze model line, ja?" Yeah, yeah sure. But for me—and a lot of other people—the mighty G-Wagen (Geländewagen) will always remain the G-Wagen.
There's something about that fire-breathing brutalist box with a wheel at each corner that will always appeal. Possibly because it's not politically correct or because it doesn't follow buyer trends (whatever the marketing department might wish). There's also nothing that says 'Get out of my way' quite like a side-exit exhaust pipe.
So, yes, hooray for the G-Wagen. Only thing is, the truck on these pages isn't really a G-Wagen. Well, not in its rip-snorting, quilted-seat, Russian oil tycoon's weekend transport sort of way, anyway. This one is all a bit more industrial than that. The clue is in the name: the G300 G-Professional. Forget café cruising; this beast is all about business.
Think of this as being closer to the kind of Geländewagen the German and Swiss armies would use to get their hardened troops up an alp. More than just the fact that it's a stripped-down cab-chassis, the G-Pro is no-nonsense everywhere, including inside the cab. Hard-wearing vinyl covers every surface.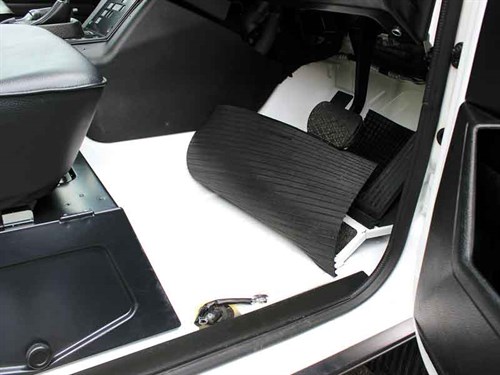 It's all riveted into place and the entire cab is designed to be washed out with a high-pressure hose if need be. The electronics (more on those in a minute) are all housed in a giant box in the centre console, with push buttons that you really need to push hard to deploy designed to keep moisture out.
There are buttons that, I'll admit, I still didn't know what they did after a couple of days with the truck. One looked like a bed with an aerial sticking out of it. Anyone?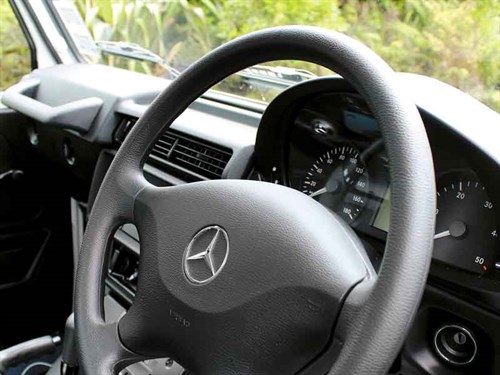 You've got wind-up windows, a massive dog-leg handbrake, strictly two seats, and a steering wheel that looks utterly naked by modern standards without any of the now-common clutter of buttons covering everything except the steering boss. You might be starting to think this thing doesn't even have power steering but it does. There's no stereo though, but the pre-wiring has been taken care of.
Where there isn't vinyl, there's bare metal. The evaluation vehicle I had was, naturally, handed over to me in a pristine state. But you get the sense that Mercedes-Benz has designed everything in the cab to, eventually, be covered in grime. And then washable again afterwards.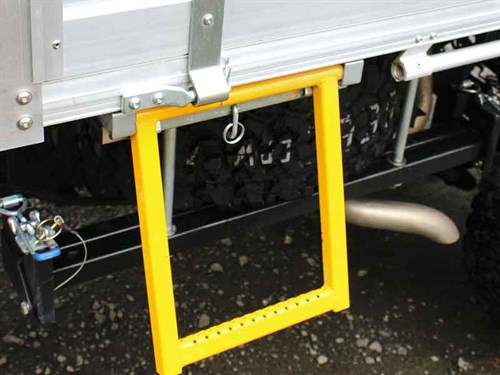 Our press tester came with a fitted tray (which in itself featured some neat details, such as a fold-away access ladder, a three-sided tailgate arrangement, and slide-out spare wheel housing), but anyone driving a G-Pro off the showroom floor will need to fit their own load bed at the back.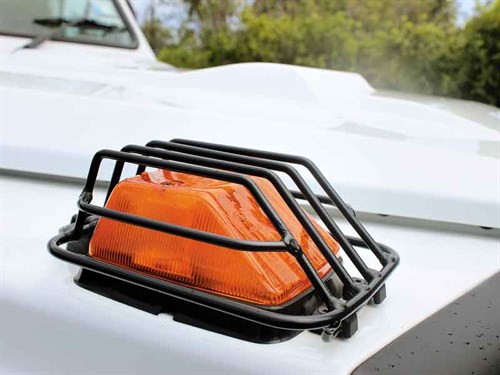 Still, that doesn't mean the Merc is bereft of good stuff as standard fitment. You get a snorkel, bull bars, headlight protection grills, radiator and sump shields, and 16-inch black alloy wheels. Those 265/75 R16 all-terrain tyres are standard, too. Other treats? Er, the fuel cap is lockable.
Also—and here's something unique—the G-Pro comes with no less than three diff locks. Featuring permanent all-wheel drive, the diff locks are selectable on the move. This includes low-range, which can be engaged while moving, too.
Depending on what cargo-carrying solution you decide to stick on the back of the G-Pro, the truck exhibits decent approach and departure angle abilities (38 and 35 degrees, respectively) while you're stepping up through 252mm of ground clearance to get into the cab. The Merc comes with two wheel chocks, too, in case you want some extra hold-fast ability on a slippery slope.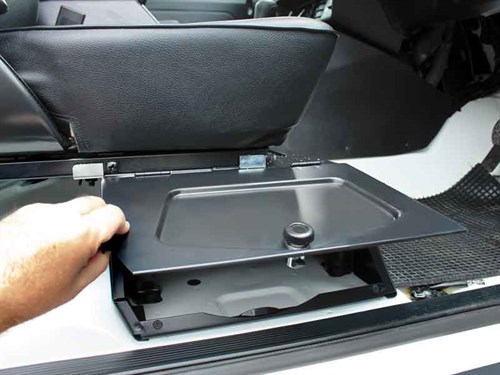 That standard air snorkel is as good an advertisement as any to ford rivers in the G-Pro, and the truck boasts a usable 650mm maximum fording depth. That's more than 100mm more than a Jeep Wrangler, but less than our other favourite back-to-basics cab-chassis truck, the Toyota Land Cruiser 70 Series (which claims a 700mm fording depth, in the brochure at least).
So, the G-Pro will certainly fulfil your back-country cargo-carrying needs without breaking a sweat. Unfortunately, it has a couple of things going against it. One is the price—a not insignificant $129,900 (and that's without a tray, remember). The equivalent Land Cruiser 70 Series single cab-chassis truck will cost you a massive $60,000 less. And that's only the base level Cruiser; there are several more cab-chassis options in the Toyota line-up and they come with the added practicality of a double cab set-up.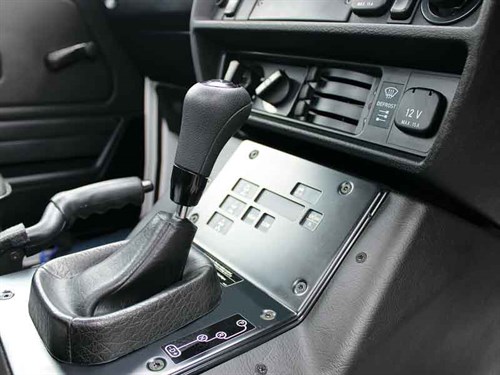 The other issue for the G-Pro is that it is a very 'specific use' kind of truck. It excels at the tough stuff but isn't a particularly comfortable or practical drive in town, which is fine, as it might never go near a town. But another part of this issue is that the G-Pro is about to be overshadowed by something from its own family that will definitely be usable in both urban and rural environments—the Mercedes-Benz X-Class ute.
These are landing in New Zealand right now and, if the success Volkswagen had with the Amarok line-up is anything to go by, the X-Class will prove popular with tradies and industry. Rather than just show pony models, Mercedes-Benz Commercial is making sure there will be plenty of hard-wearing billy basic versions as well.
Sorry G-Pro, you're a fantastic truck, but you're never going to make it in the mainstream. And for that, I think I like you even more.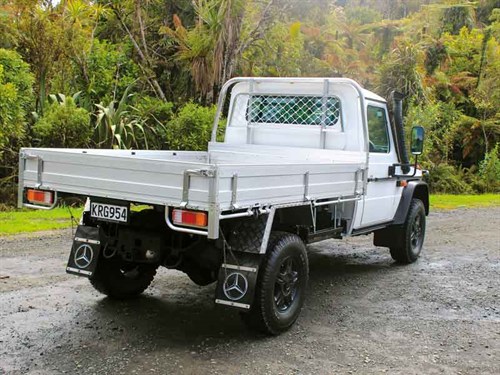 Mercedes-Benz G300 G-Professional specifications
Engine: 2987cc V6 turbo diesel
Transmission: 5-speed automatic
Power: 135kW
Torque: 400Nm
Tow rating: 3200kg (braked)
GVM: 4490kg
Payload: 2085kg
Mercedes-Benz G300 G-Professional price:
$129,900
Read more tests and reviews on Deals on Wheels.
Keep up to date in the industry by signing up to Deals on Wheels' free newsletter or liking us on Facebook.