Test: Rexton G4 SPR
---
Deals on Wheels takes the Rexton G4 SPR for a spin
It's been four or five months since I've been let loose with a test vehicle. The last one I got stuck and the boss complained that he had to fill it up with fuel when he returned it, so it came as something of a surprise when the call came through to check out Ssangyong's latest offering in the big-sized SUV range.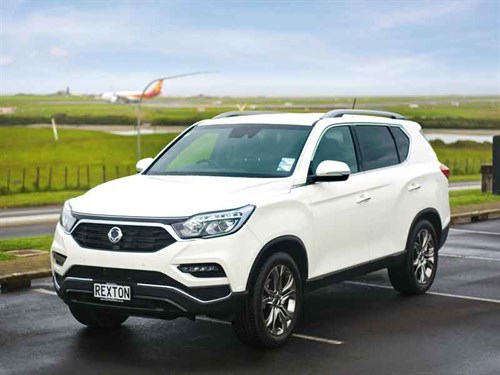 Anyway, I was thrown the keys to a diesel-powered Rexton G4 SPR and told to drive it like I owned it. That said and done, I wasted no time in getting a few things together and heading off for a few days on the road.
A fleeting thought came to mind to gather another six mates and head off for a boys' weekend, but instead, I planned on not have anyone else jabbering in my ear and get a good feel of G4 and the comfort of the top-of-range model I had at hand. I even ditched my photographer at the kerb, telling him I'd see him for some pics upon my return.
Although the Ssangyong name has been in New Zealand for a number of years, some readers may still not be familiar with the brand. Rexton is one of the many model ranges made by Ssangyong, which include Actyon utes and the nippy little Tivoli hatchbacks. Like me, you may find it difficult to pronounce some of the tongue twisting manufacturer's names correctly, but rest assured, more Ssangyongs are hitting New Zealand roads than ever before.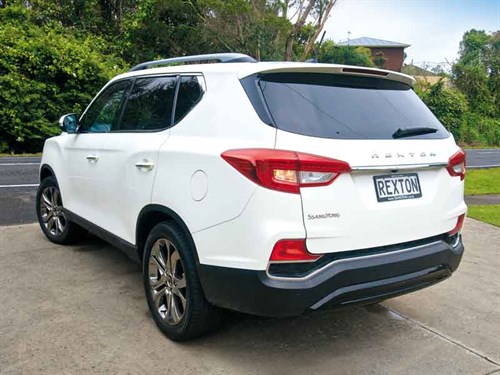 Similar to Jaguar and Land Rover, the Ssangyong business is now owned by an Indian-based multinational; Mahindra & Mahindra in this case. Ssangyong also has a deal with Mercedes-Benz who provides technology and hardware support.
What is the Rexton G4?
The Rexton G4 is said to be a ground-up new design and is intended to compete with the large Toyota Highlanders-styled SUVs or anything that will comfortably seat seven passengers. So the G4 is playing with the big boys, and I mean that in a literal sense, especially when it comes with a tow rating of 3.5 tonnes.
The difference first off the bat is the price. The G4 SPR, with all the bells and whistles, will set you back some $67,999, which is a few grand less than the $72,190 (RRP) price you would be paying for the limited edition Highlander.
There are also two other Rexton models available: the Sport model, which does away with a lot of the gadgetry and retails at $59,990, and the third model is the petrol-turbo, which is based on the Sport model and currently retails for $47,990.
Styling
I quite like the styling. As is the norm now, LED lights squint from a number of places, such as exterior mirrors and interior door panels but do help give the G4 something of a nice all-round look.
The vehicle itself has some nice lines to it, and I do like the front end. However, I couldn't quite figure where they were going with the curve that arcs away from the rear passenger doors to the back of the vehicle. Having said that, I guess Ssangyong are doing the best they can to an SUV, which can seat seven adults, while trying hard not make it look like a bus. The G4's boxy rear end is not the only brand to suffer from this, but this is basically where my dislike of the Rexton G4 ends.
Engine and gearbox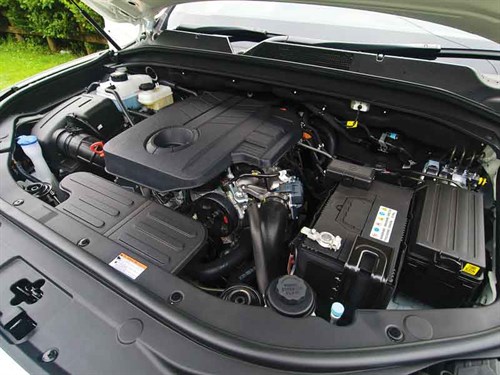 Engine-wise, the Rexton G4 is powered by a 2.2-litre diesel (Euro 6 emissions), which performs extraordinary well. It runs and sounds much like a petrol engine, having a much similar acceleration style. So much so, that when I fuelled it up for the first time, I had to check the registration sticker just to be certain it was diesel-powered.
The E-Tronic seven-speed transmission is grunty enough to handle the towing capacity of 3.5 tonnes, so equestrian families or those with trailer boats take note. As opposed to some of the other brands with all-wheel-drive (AWD), the Rexton G4 features part-time four-wheel drive capabilities, which should result in better tyre wear with all-wheel drive being just a push of a button away.
Quad Frame
Ssangyong says the G4 is has been built on the new-concept Quad Frame. Essentially, this means the chassis frame members use a quadruple-layered structure providing additional strength, so much so that Ssangyong says it exceeds the global standard for lateral collision safety.Additionally, there are eight mounting points where the body attaches to the chassis to help improve ride quality and steering.
Protecting the occupants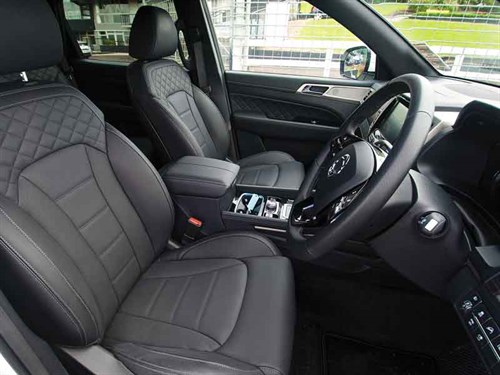 Safety gets a good look-in on the Rexton G4. Ssangyong says they have designed a chassis 'crash-zone' to help protect occupants in the event of a collision. Nine airbags also feature: driver (steering wheel and footwell), passenger front, two full-length side curtains, and four side intrusion.
Further helping prevent injury are the headrests that move forward in the event of a collision to reduce the possibility of whiplash.
Electronics for safer driving
No less than six electronic safety systems feature on the G4 SPR model to anticipate and avoid accidents. First off, there is the Autonomous Emergency Braking (AEB), Lane Change Assist (LCA), Forward Collision Warning (FCW), Blind Spot Detection (BSD), Lane Departure Warning (LDW), and High Beam Assist (HBA). One would think all the systems may instil a constant state of anxiety when driving, but I am happy to report this was not the case.
Sound support
If you like listening to your downloaded sounds while travelling, then luck is on your side as the Rexton G4 SPR supports Apple Carplay and Google Android Auto. Then there's all the other expected knick-knacks such as Bluetooth calling, MP3 player functions, HD digital media player; the list goes on. Suffice to say, it'll play everything from the 9.2-inch LCD infotainment screen as long as it's not a CD or cassette tape.
How does it drive?
Yes, but what's it like to drive you ask? Well, I covered well over 1000 clicks in the time I had it, and by the time I reluctantly handed the keys back, I felt that I had become at one with the Rexton G4. Together, we covered the back blocks of Taumaranui, cruised the coast of Coromandel, and even got into some awkward driving through the one-way streets of Wellington.
I was simply impressed with what the vehicle delivered every time. It felt really solid on the road, with nice handling capabilities, especially when cornering. As mentioned previously, the Rexton G4 SPR provided excellent acceleration. It presented no unusual characteristics and is a vehicle I would happily use on a daily basis.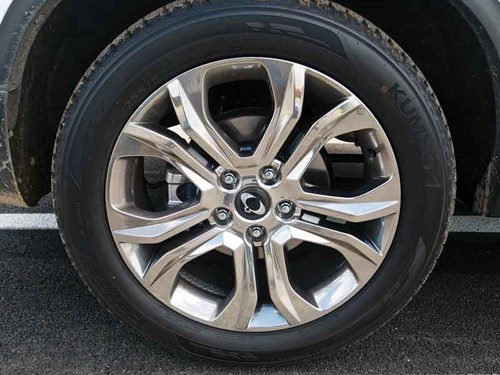 Rexton G4 SPR Specifications
Length: 4850mm
Width: 1960mm
Wheelbase: 2865mm
Gross vehicle weight: 2960kg
Engine: e-Xdi 220
2.2L diesel
Power: 133.1kW@4000rpm
Torque: 420NM@1600–2600rpm
Transmission: 7-speed auto
Emission: Euro 6
Towing capacity: 3.5 tonnes
Read more tests and reviews on Deals on Wheels.
Keep up to date in the industry by signing up to Deals on Wheels' free newsletter or liking us on Facebook.