Test: The Sunward SWE18UB mini excavator
---
DOW tests the Sunward SWE18UB mini excavator, especially noting its quiet engine and smooth hydraulics, and overall a stable machine to operate
Two separate opportunities recently combined to create the perfect test environment for a 1.8-tonne Sunward SWE18UB Zero Tail Swing mini excavator to be put through its paces on a real-life working job.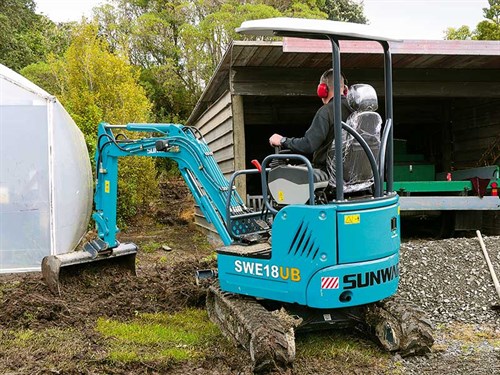 While it's possible to carry out a test on any given piece of equipment by simply setting it a set number of tasks that are appropriate for its intended purpose, there's nothing quite like getting stuck into a proper job where you don't have to imagine how things might work.
Such was the case with the SWE18UB, as the guys at Endraulic had given me the machine for a couple of days to do a test on a job I'd been evading for several weeks. The job required the placement of six cubes of GAP40 inside and in front of my truck port.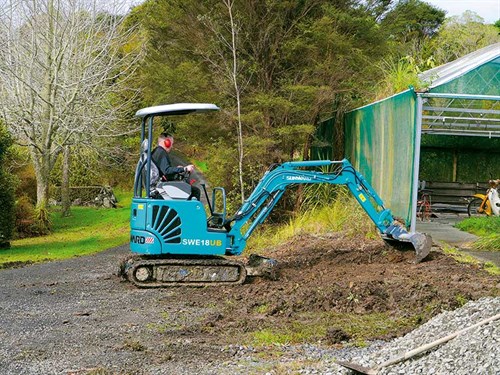 I'd arranged to collect the mini excavator from Endraulic's headquarters at Mangere with my own transporter, as opposed to going out there in a ute and towing the machine back out west on a trailer.
My reasoning was three-fold: firstly, it would leave one of Endraulic's trailers free for other jobs; secondly, getting the machine up on the back of my truck would give me an early acquaintance with it; and thirdly, the selfish side of me didn't want any more pieces of kit to clean-up at the end of the job than was absolutely necessary.
Pre-delivery hours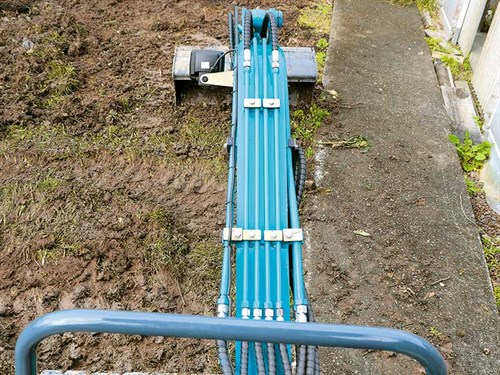 Sunward distributor Endraulic supplied with a brand-new machine with only pre-delivery hours on the clock, along with the standard set of three buckets.
So naturally, I paid particular attention to stay well clear of any overhanging branches that may scratch the paintwork.
As I only required the use of the wide bucket for this particular job, I elected not to try out the other two. Although, I did have a play with the quick hitch system to see if it was easy to operate, which it was.
I've been at several incidents over the years where people have come to grief in one way or another simply by not paying due attention to engine revs and speed when loading and unloading machinery from trucks and transporters. The machine went up and down my truck's ramps, and I felt that it was a well-balanced and stable little unit.
It was late in the afternoon when I arrived back at the worksite and I hadn't intended doing any work until the next morning, but having got the machine off the truck, I couldn't help but give it a bit of a tool around the yard while I still had my butt on the seat.
No earmuffs needed
Five minutes turned into about 20 before I finally decided to park the digger for the night, and it wasn't until I'd turned the key off and went to remove my earmuffs that I realised I'd neglected to put them on in the first place. Suffice to say, the Sunward's Perkins 403-D11 engine did run quietly.
Back on-site the next morning, I got stuck into the job at hand, which mainly consisted of spreading the basecourse over an area consisting of about 150 square metres, linked in with one bay of my truck port, which required digging out some clay that had mysteriously reared its ugly head.
Good lighting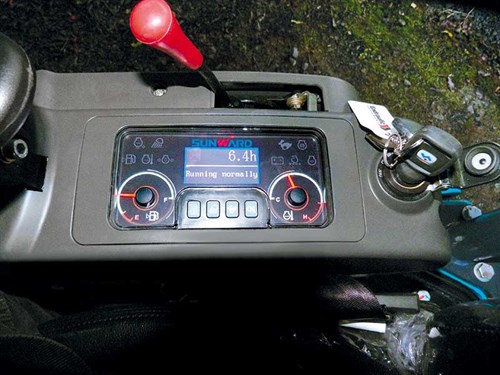 Operating the machine in the shed (even in the smaller end bay) was a doddle and was certainly helped by the near zero tail-swing and the exceptionally bright work light on the Sunward's boom.
The backlighting on the dashboard, situated to the right of the operator was bright enough to make for easy reading of the fuel and temperature gauges, along with the number of functions on the digital readout pane.
Flip-out pedals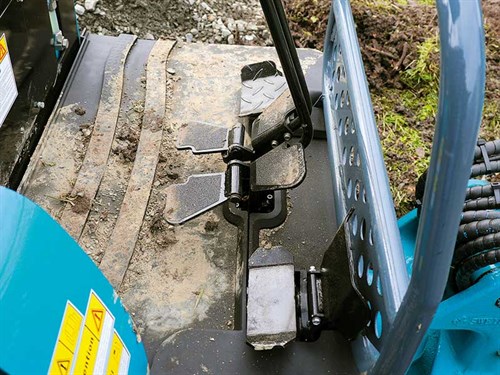 I found the flip-out pedals that convert the forward and reverse levers from hand to foot operation came in handy later in the day when I had to transport a couple of dozen bucketloads of material over a distance there and back, as all I needed to do was sit back and enjoy the ride.
Expanding tracks
One feature of the SWE18 UB that I didn't need to use on this job was the expanding track capability, as there weren't any narrow spaces to negotiate in this instance.
As an aside, I have often wondered why they're called 'expanding' tracks and not 'retracting' tracks, given the fact that 90% of the work carried out by tracked machines is done with the tracks in the 'out' position (at least that's what I prefer to do anyway).
Short stint
While I was busy working away and minding my own business, our digital content manager, Justin, and the Ed paid me an unexpected visit.
Being keen to get a handle on the Sunward's performance as well, the Ed climbed aboard for a short stint, preparing another part of the property for the placement of some basecourse, which will be spread at a later date. Thanks for that Randolph!
Verdict
I found the SWE18UB very quiet to operate. It had a comfortable operating position, which was assisted by two height-adjustable wrist pads situated directly behind the joystick controls.
The hydraulics were smooth to operate and the machine was stable, even when spreading an extended bucket-load of GAP40.
The zero tail-swing proved its worth in the confines of the smallest bay of my truck-port but didn't appear to impede the machine's stability at all.
The generously-sized canopy kept me dry even during one particularly heavy bout of rain that lasted for about 10 minutes.
I'm probably being pedantic here, but I found there was just one small thing that I thought could be improved upon and that was the bucket design, which I felt could do with a slight tweak, so it would be able to grab a fuller load when the bucket was operating close to the machine.
In any event, I could see the machine performing well for drainage contractors, landscapers, nurseries, and the like and would be a great labour saver on the farm or lifestyle block.
Pluses
Very stable
Quiet to operate
Easy access in and out of machine
Well-light dash panel
Expanding tracks
Smooth hydraulic operation
Large canopy kept operator relatively dry (in heavy downpour)
Minuses
Slight improvement could be made to bucket design (refer to earlier comment)
Sunward SWE18UB specifications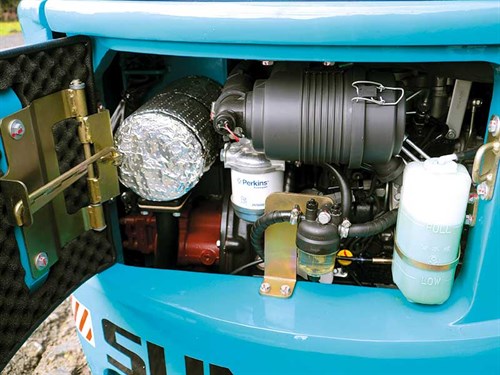 Weight: 1880kg
Engine: Perkins 1100cc 3-cylinder
Engine model: 403D-11
Power: 14.7kW (19.7hp) @ 2200rpm
Travel speed high: 4.2km/h
Travel speed low: 2.3km/h
Transport length: 3820mm
Transport width: 1170mm
Tail-swing radius: 1080mm
Ed's comments
I haven't had the opportunity to climb aboard a small Sunward machine for a while, so thought we should pay Lyndsay a visit and take a closer look at the SWE18UB.
I can't really class my 20-minute stint behind the controls as a full-on test, but it did give me a good feel for what the 1.8-tonne excavator had to offer. The work I was on consisted of removing soil and cutting clay to level, so Lyndsay could later place aggregate on the excavated area.
While the work didn't represent any full-on hard digging, such as trenching, the machine more than adequately handled the task I was using it for.
The controls were responsive and the machine had a nice solid feel to it, especially when cutting into the clay. I wouldn't have any reservations about using it for heavier work.
As Lyndsay mentions, I also found the wide bucket a little awkward to use, but I put this down to the design of the bucket and nothing to do with the machine's capabilities.
I said to Lyndsay that I'd happily look closely at purchasing a SWE18UB if I were looking for a something in that size and price range. It is a nice little machine to operate.
Check out the video!
Click here to check out the Sunward SWE18UB mini excavator in action!
Keep up to date in the industry by signing up to Deals on Wheels' free newsletter or liking us on Facebook.