Selling your truck, trailer or machinery?
List your item online AND see it in Deals on Wheels as part of your package for as little as $40. Place your truck or construction machinery ad now.
Get maximum exposure and the best of both worlds – and manage it all from one easy location.
Only New Zealand and Australian listings will be approved for the site.
PACKAGE
STANDARD
PREMIUM
JUMBO
MEGA
PRICE
$40
$50
$175
$300
ONLINE/MOBILE
 
 
 
 
AD TYPE
Standard
Premium
Premium
Premium
DURATION
Until Sold
Until Sold
Until Sold
Until Sold
UPLOAD VIDEO
 
PRINT
 
 
 
 
SIZE OF AD
1/24th Page
1/12th Page
1/4 Page
1/2 Page
DURATION
1 issue
1 issue
1 issue
1 issue
PAPER STOCK
Gloss
Colour
Gloss
Colour
Gloss
Colour
Gloss
Colour
Why advertise on DealsonWheels.co.nz
Your ad is on the web until sold! Plus, get a month in Deals on Wheels.
Upload unlimited photos for online.
Promote your ad to more buyers with social media buttons.
Update your online ad as often as you want.
Upload a YouTube video with premium ads.
Manage everything from one convenient point.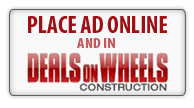 Give your ad maximum exposure