Product feature: Komatsu D65PX-17 swamp dozer
---
Just over a year ago, in October 2018, operator Katie Wilson—then 19—took delivery of her own machine: a used 2015 model Komatsu D65PX-17 swamp dozer
Her dad, Tony Wilson, who with Katie's mum Lynley owns Auckland-based contractor Cameron Civil, convinced Katie that investing in a recent-model, quality piece of earthmoving equipment would be a great way to secure her future.
"I knew I didn't want to go to uni after finishing high school, and I'd done a fair bit of equipment operating. I seem to have a natural skill with it, and I really like doing bearthworks, working around the big machines, and seeing everything come together quite fast," Katie says.
Having operated Komatsu machines since she was 15 with her parents' business, Katie was determined her first machine would a Komatsu and it would be a dozer.
"I really like operating dozers, particularly this size machine. I think you can do more with these smaller machines, so it's a bit more exciting and interesting than one of the bigger ones where you're just pushing dirt back and forth," she says.
"When I first started working for mum and dad in my school holidays, I started at the bottom, just labouring, then worked my way up onto rollers and dump trucks. My first digger was a Komatsu PC200 that I drove at 15, and I've also driven a Komatsu WA100 loader. 
"These days, I can pretty much drive any machine, even a scraper, though, I've not had a go on a grader yet."
She's driven a number of different Komatsu dozers through Cameron Civil, including a D51, a Cameron's owned D65, and also its D61EXi-23 "intelligent" dozer with integrated 3D GPS.
"I've also operated other makes of dozer, but I just find the Komatsu machines easier to operate; they have more power and they're not gas-guzzlers.
"So, when I decided to take dad's advice and save up for a deposit on a machine, Komatsu was the best option for me."
Sometimes when Katie turns up on a site with her dozer for the first time, she'll get some initial doubt from others.
"People don't always believe I'm an experienced operator until they see me operate. But I like to prove my ability, not just talk about it.
"Although, I am still learning all the tricks to operating dozers and how to get the best out of them," she says.
When Katie bought her machine, it had around 2600 hours on the clock; as of October 2019, it had notched up 3500 hours.
Fitted with "swampy" low ground pressure grousers, her machine tends to be used more in wetter and dirtier conditions. Initially, she started off working at Cameron Civil's tip operation but has since moved across to general civil contracting works across the company's project sites. 
These include residential and industrial subdivisions, roadworks, services installation, and more, primarily in West Auckland, though, the company has operated out as far as the city's southern and northern suburbs.
"Generally, we tend to operate within 30 minutes of our yard," Katie says. When working on civil projects, Katie's D65 is often fitted with one of Cameron Civil's "bolt-on" Topcon 3D machine control system for slot dozing, batters, and shaping work.
She's been impressed with her D65PX-17's power, ease of control, and fuel efficiency.
"It's got very good fuel consumption; I like the power it has, and it's comfortable to operate," she says.
"Pretty much all the time, I can operate it in economy mode and it pushes fine, even in slot dozing or at the tip. I've rarely had to run it in power mode, so that really helps keep the fuel consumption down.
"And compared to some other makes of dozer I've driven, it's really good. Like the computer, it's really fast and responsive, and because it's a smaller dozer, is quite a bit more versatile.
"For example, the tilt on it can go quite far compared to some others, so you can angle batters better."
More recently, Katie has been investigating the capabilities of the KOMTRAX remote monitoring system that comes with each Komatsu machine.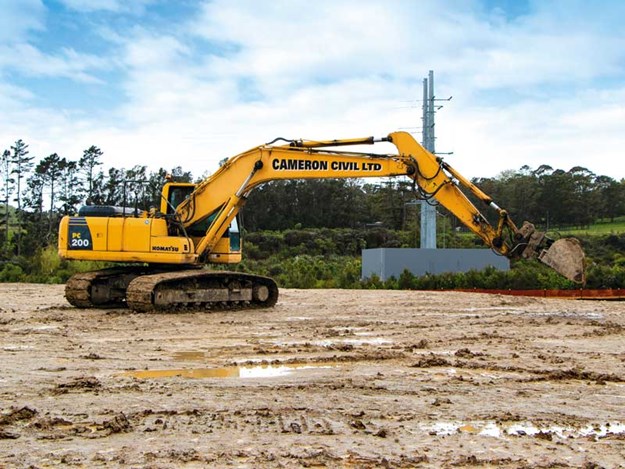 "I've just started using KOMTRAX, so I can keep an eye on things. The KOMTRAX app on my phone gives me error codes showing things that I don't always see in the machine, so I can really check all sorts of things, such as fuel usage, productivity, and so on."
And does she have ambitions to build an earthmoving business? "Actually, I never thought I did want my own business," Katie says. "But I'm starting small, and I'll see how I go. Certainly, I'm not looking at having employees. I think I might just stick to machines if I buy any more and dry hire them out to others."
For now, Katie is delighted with her machine. "Actually, of all the dozers I've driven—Komatsu and others—my favourite would be the D65; it's just the right size and power, so you can do everything you need to with it," she says.
Find more swamp crawlers for sale in NZ
Keep up to date in the industry by signing up to Deals on Wheels' free newsletter or liking us on Facebook.