Product feature: NC site dumpers
---
NC Engineering is a diversified manufacturing firm producing a wide range of machinery for the agricultural and construction industries
Since 1975, they have been committed to quality products at affordable prices, winning numerous awards for design and innovation through their policy of continuous research and development.
The NC range of site dumpers are robust and durable, with vast manufacturing experience in the construction industry, site dumpers are suitable for almost any earthmoving task.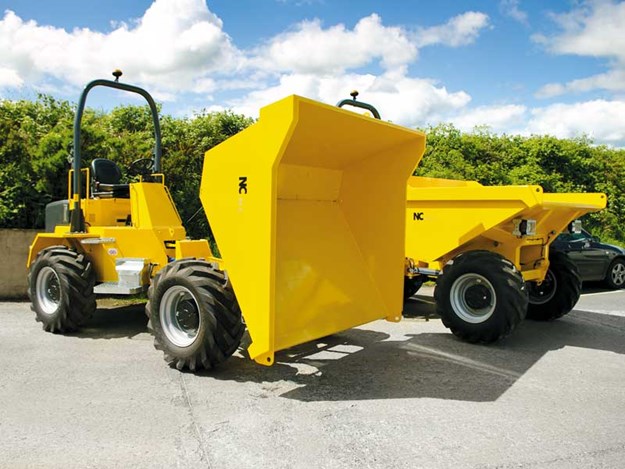 "Site dumpers are incredibly popular in Europe and have a number of applications they can be applied to in New Zealand, where they would work very well," says Scott Briggs, national sales manager at Porter Equipment.
"In addition to their robustness, site dumpers are well-known for their operating efficiencies, too. By switching the onus from size to utilisation, big savings can be generated for business owners."
Scott adds that some of the best features of the NC site dumpers are the excellent rough terrain performance from permanent four-wheel drive, excellent power to weight ratio, ample ground clearance, and superior turning circle.
For the swivel dumper models, over 180 degrees swivel is provided for easy placement when driving along trenches (185 degrees maximum) and over 90degrees of tipping angle.
"The layout of the controls and some of the individual features on the NC's are impressive. The engineers have really thought about certain aspects of the design, even down to simple things like the operator's seat that can flip forward to keep the rain off when not in use," says Scott.
"These machines have to pass some of the most rigorous health and safety standards written and as such, site-safety has been engineered into the NC site dumper range."
All machines include heavy-duty all-steel centre console for increased leg protection, folding ROPS as standard, flashing beacon, reversing alarm, and a handbrake safety device, which will not move the machine until released.
Scott says NC site dumpers provide an extremely cost-effective and useful earthmoving solution and are popular with operators and project managers alike.
"Site dumpers are essentially just massive wheelbarrows after all. And I can't think of many jobs that you could complete without a good old wheelbarrow."
For more information, visit porterequipment.co.nz.
Find more site dumpers for sale in NZ
Keep up to date in the industry by signing up to Deals on Wheels' free newsletter or liking us on Facebook.