Product feature: McCloskey screening and crushing
---
CablePrice became the NZ importer and distributor for McCloskey International crushing and screening equipment in 2019, and since has become a one-stop shop for all crushing and screening needs
CablePrice became the New Zealand importer and distributor for McCloskey International crushing and screening equipment in 2019. The McCloskey International brand has been one of the pioneers and leaders in the screening and crushing industry since the firm's humble beginning in Canada back in 1986.
Today, McCloskey offers a complete range of screeners, crushers, conveyors, and washing systems to suit a wide range of applications. These machines are produced and field-tested to perform across several industries, which include aggregates, mining, landscaping, construction and demolition, infrastructure and road building, waste management, and recycling.
Any industry that requires an end product to be crushed, screened, or stockpiled can benefit from McCloskey equipment. A big debate among the crushing and screening industries is mobile versus stationary unit.
McCloskey says there are many advantages to using its track-mounted mobile units. These units can usually be up and running within an hour of arriving on-site. Being mobile also means users can take the unit closer to the coalface, resulting in reduced travel time to get material to the screen. 
The reduced wear and tear on other support machines, such as wheel loaders, and an overall increase in production capabilities are a huge advantage as well. Other benefits include easy movability from one site to another, a smaller footprint than stationary equipment, and the ability to contract screening and crushing to other sites when the unit is not in use.
For operators with a smaller site or who are looking for a compact crusher or screener, McCloskey says it has a range of products to suit their requirements. Some examples are the I34 compact crusher and the Kompaq screener.
The I34 compact crusher is less than 2.5 metres and is portable enough to be easily moved around a site or moved from site to site. Other key features include a 188kW engine, 900mm x 820mm impact crusher with a crusher speed of 678–756rpm, and the ability to track and crush simultaneously.
The Kompaq mobile screener is a small yet robust machine. Its manufacturer says it features unrivalled mobility and a surprisingly large 2.44 x 1.2 metre double deck and four bearing screenbox to ensure efficient production.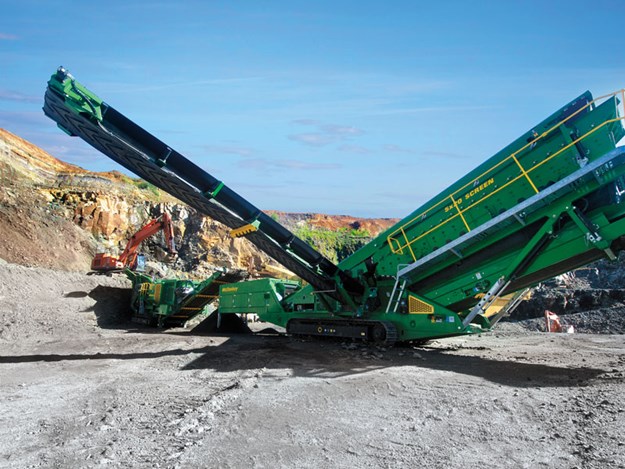 To find out more, contact your local CablePrice equipment sales specialist or visit cableprice.co.nz.
Find heavy machinery for sale in NZ
Keep up to date in the industry by signing up to Deals on Wheels' free newsletter or liking us on Facebook.