Profile: RAM Contracting
---
Deals on Wheels writer Lyndsay Whittle catches up with Cain McMillan and John Tiare from RAM Contracting Ltd
Cain had been working for a West Auckland contracting company who constructed sports parks, recreational areas, and community facilities for the local council, and although he says he enjoyed the work, he felt that the management of the firm he was working for at the time seemed to lack the passion he had for the kind of work he was doing. So it wasn't long before he started thinking about branching out on his own.
Entrepreneurial spirit
While starting his own construction company may have appeared to some to be a lofty idea for the 30-year-old back in 2012, Cain had the one key personal ingredient before he started out on his new venture—a deep-seated passion for his chosen profession.
With only a few hand tools, including a scrub bar, he managed to secure some work for himself clearing public tracks and walkways. He says the work was enjoyable enough and earned him a reasonable income, however, Cain had a wider view of what he could achieve as a businessperson.
While there appeared to be plenty of work out there for a one-man operator, there happened to be a few larger projects that Cain had in his sights, the bigger jobs that he'd really like to sink his teeth into.
Realising that these larger construction projects often include wooden structures such as bridges and elevated walkways, Cain knew he was going to have to blend his set
of skills with the expertise of a trade qualified builder. Enter John Tiare.
Cain knew John through a mutual friend, and he reckoned that as a qualified builder, John's input could provide the perfect fit for his vision. Aside from liking John as a person, Cain saw the same passion he had for his work in John.
Although Cain had envisaged a business partnership in the making, he wasn't sure how John would react to such a proposal? "A chinwag over a beer or two usually works well," Cain says. The upshot was that John jumped at the opportunity and a new enterprise was born.
First big leap
The boys didn't own a lot of equipment to begin with: just an old Mitsubishi L300 van,
a 1999 Mitsubishi Canter flat-deck truck, wheelbarrows, and a selection of hand tools, but that was all they figured they needed to get stuck in and do a job well.
In the beginning, the work they performed was basically an extension of what Cain had been doing as a single operator. Scrub cutting may have been hard work but there was plenty of it to be had and the boys weren't afraid to put in the hard yards.
To figure out a business name, they asked themselves: "what is it we currently do and where are we heading?" After a bit of a discussion, the pair came up with three keywords: recreation, assets, and management; there, they had it: Recreation Assets Management Contracting, or RAM for short.
The scrub cutting continued for a while until an opportunity came their way to quote on a big job on Waiheke Island. It was a big day in the partnership's life when the guys heard that they'd won the tender to carry out remediation work on a network of tracks, a job that was to last for five months. Their success was, of course, celebrated with a customary couple of beers.
What's in the yard
Gaining their first big project meant an investment in a new hydraulic excavator would be necessary, so the boys bought a Yanmar ViO17 1.7-tonne zero-tail swing digger, which has served them well till today.
More recently, they invested in a smaller 1.2-tonne Yanmar, which has proven to be a high-flyer in the true sense of the word. In fact, that's the very reason they purchased it in the first place.
RAM Contracting does quite a bit of work in remote areas that aren't easily accessed and, in a lot of cases, simply can't be reached without employing the use of a helicopter. Cain says that the company has established a great working relationship with Helisika Helicopters over the past few years and that the need to use their services has seen a steady increase in that time.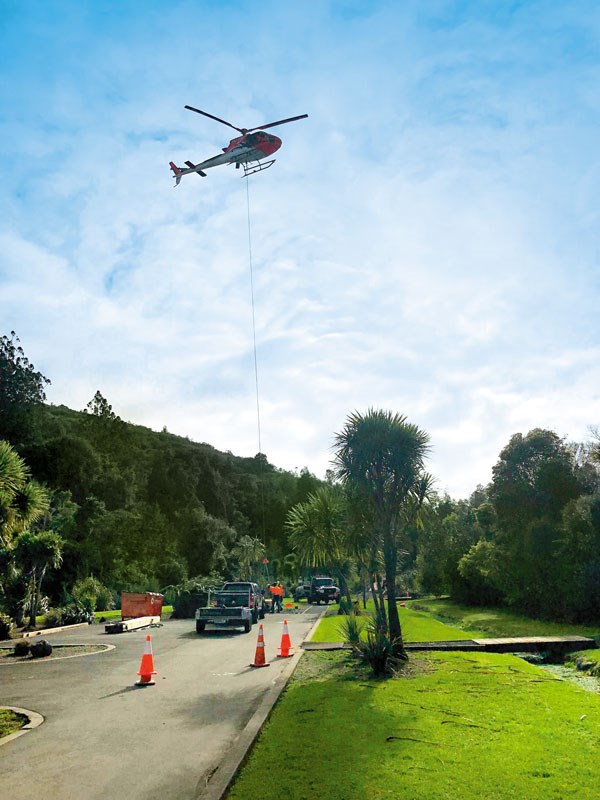 John told DOW that a lot of planning needs to go into organising a flight for the little machine. It's not simply a case of hooking it on and flying, as the load has to be kept to an absolute minimum, which involves emptying fuel from the tank and removing the bucket and other ancillary equipment. And then there's the safety aspect as well.
"It wouldn't be good practice to run the risk of having any item attached to the load that could fall off during the flight," John says.
Two other machines that have proven to be invaluable for the type a lot of work RAM carries out are the Cormidi self-loading rubber-tracked dumpers the firm purchased from OMC Power Equipment.
The boy's joke that they can get an awful lot more product moved from point A to point B with a Cormidi than they could ever have hoped for using one of the old barrows they started out with eight years back.
Better still, they say that the Cormidi's self-loading bucket and its hydraulic tipping bin allow the operator to load and unload without lifting a shovel; a great invention they say.
As wooden bridges, retaining walls, and elevated walkways are a staple of RAM's workload, a good stock of different sizes of auger ranging from 150mm through to 600mm diameter are considered to be essential items in the company's inventory.
RAM recently added a Fairbrother post rammer with a 150kg monkey and a three-metre mast to the list of tools in its arsenal, giving the boys and their team of 14 staff plenty of options for getting the job done in a timely manner. Two Holden Colorado 4x4 utes with trailers and a 2017 Hino 300 tip truck round out the list of support vehicles.
Growing business
The business currently works out of an industrial unit in Henderson, West Auckland, but Cain says they're running out of space quickly, so a move is imminent. More recently, Cain and John have brought in John's sister-in-law, Carissa Tiare, to take up the role of office manager and hint at a possible elevation to a higher position for her within the company as the business continues to grow.
Like many other businesses across the country, COVID-19 has had (and probably
will continue to have) a negative impact on their business, but by continuing to diversify, Cain says they are confident of a bright future ahead.
Find heavy machinery for sale in NZ
Keep up to date in the industry by signing up to Deals on Wheels' free newsletter or liking us on Facebook.