Cover story: Madill 124B swing yarder
---
Gisborne is the first place in the world to see the sun each day. And now the iconic east coast location is also home to the world's first 57-tonne Madill 124B swing yarder.
About as heavy-duty as it gets in the forestry sphere, the fully interlocking swing yarder uses a system of cables to swing or fly logs from the stump to the skid site, where logs are then stripped and prepared for transport.
Freshly arrived from Canada, the Madill 124B is perched atop the steep terrain of an Aratu Forests site, with the closest town Tolaga Bay. Just getting to the site presents a challenge in itself.
Fortunately, Porter Equipment territory manager Roger Pedersen was behind the wheel; this is no terrain for the faint-hearted or inexperienced and I was more than happy to be riding shotgun.
Thanks to the mighty 60ft yarding boom, it's not too difficult to find the new (but huge) kid on the block. The 124B is already hard at work, with enormous logs flying across a gully helped by the 2550ft main drum capacity, boasting a maximum pull of 92,380lbs with a top speed of 2880ft/min.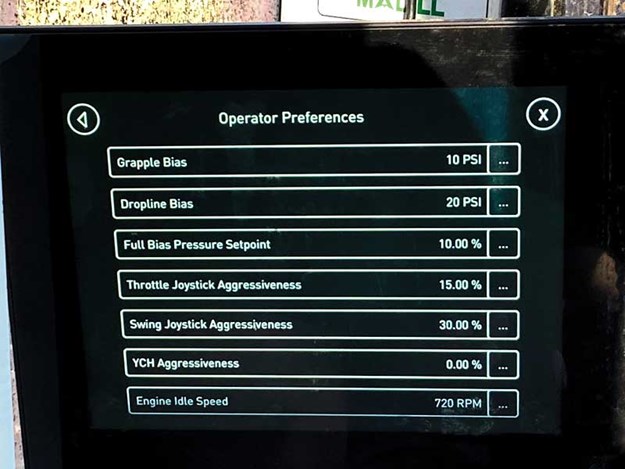 Widely regarded as a game-changer for the industry as well as all the usual hardware a machine like this comes with, it's the innovative touchscreen-based operating system, which is the real attention grabber. It has garnered much interest from industry experts around the world. This is the first new Madill of its kind without analogue gauges and manual air systems.
Everything is worked via the brand spanking new electronic controls and touchscreen, which can be individually programmed and tailored to a specific operator. All of this impressive capability is wrapped in a highly durable package—a key factor when considering the demanding pressure machinery like this operates under. 
Leader of the pack
Owner of this significant piece of kit is Ray Flavell of Flavell Logging. A long-time leader within the industry, Ray is no stranger to adapting to changing innovations and technology. He's always keen to remain at the forefront of the logging industry when it comes to new methods and machines.
With some familiarity with the Madill brand (having already invested in a Madill 123, which is being refurbished now that its big brother has arrived), Ray was intrigued at the level of technology the new model promised, so earlier this year took a trip to Canada to personally view the 124B being built.
Madill is distributed and supported by Porter Equipment. The company has a long history with Ray and has supplied him a significant inventory of forestry machinery, including more than 25 Hyundai excavators over the years.
"Madill has an excellent reputation for well-built and well-performing machinery," says Ray. "All told, I've had about six pieces of Madill machinery, from towers to swing yarders."
The 124B is Ray's third Madill swing yarder and added to it featuring the latest innovations, comes the satisfaction of being the first in the world to try the new machine and a sense of pride in bringing it to New Zealand.
It was the technology that first attracted Ray to the Madill 124B. "Even though I'm an old-school operator in many ways, I'm also always trying to keep up with and move with the times, otherwise, you get left behind. Everything is going the way of an increased reliance on computerisation."
From small beginnings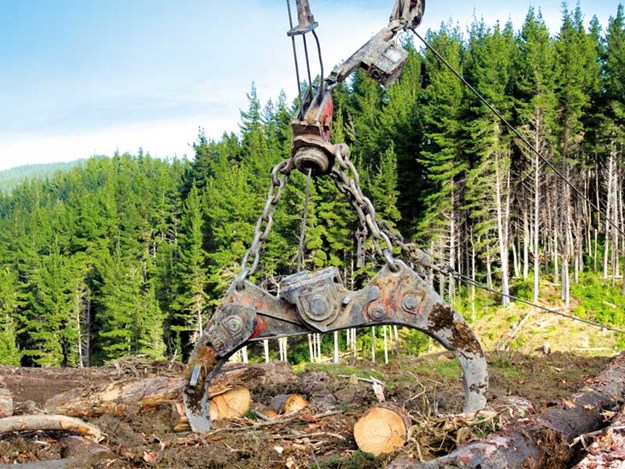 With 53 years' experience in the logging business, Flavell Logging has come a long way since the early days when Ray started off with just a small tractor and the support of his wife.
"We just slowly worked away, slowly built our reputation, proved ourselves, and grew the business." Ray's three daughters have all had some involvement over the years also, including doing payroll and accounts. It's fair to say that forestry runs in Ray's blood; his dad was in the game as well as his two brothers.
"They are all loggers, so I grew up in it and didn't have a lot of choices really," he says.
"It's a hard industry, with a lot of lows and highs, and you've really got to be prepared to ride out the low patches and there are plenty of them. Despite the challenges, I can honestly say I've enjoyed my life in forestry; it's given me a good lifestyle and it's good, honest hard work."
Paying it forward
Such is his passion for the industry, Ray is an avid believer in paying it forward and has quietly provided financial assistance and mentoring to many young guys in his crew, helping them set up on their own and helping ensure their future in the industry.
"Every time I help one of the guys into their own business, I tell them I hope one day they will pay it forward to someone else. It gives me pleasure to put my faith into some of these hard-working guys and to see them succeed makes it worth it."
Special operator
With such a highly complex machine representing such significant investment, ensuring the newest addition to his fleet is in capable hands is vitally import. One of Ray's top operators is Aaron Wallis and crew manager of the group working with the new Madill 124B and to date, the sole driver of the new Madill 124B.
After his early years spent in the farming industry, Aaron made the move to forestry about 25 years ago, in his early 20s (motivated by some of his mates also working there). Having clocked up plenty of hours in the Madill 123, much about the upgraded 124B machine is familiar, with the touchscreen system a new learning experience.
Power-packed
Technology aside, another significant change from earlier Madill models sees this unit powered by a Volvo TAD1373VE 13-litre (Tier 3) engine, mated to an Allison 4500 OFS Fully Automatic Operation transmission with auto lock-up torque converter.
Cranking out 468hp at 1900rpm, there are five forward speeds and one reverse speed. The undercarriage is set on 11 track rollers and 52 track shoes (711mm wide) per side, and a fully hydraulic deck opens up flat for easy walk around access to the engine.
Featuring Madill's own regenerative winch design with waterfall drum arrangement consisting of independent main drums offering up equal reversing, Aaron is a particular fan of the small feature details such as an impressive rear and front cameras, as well as the more obvious attributes.
"It's a really well-thought-out machine and I'm looking forward to getting up to 100% in terms of being able to utilise all of the technology it's equipped with." He's also keen on safety features such as the forward sloped design of the cab for improved outward vision (15-foot eye level) and the heavy-duty FOPS/OPS grill protection.
The rear entry cab is climate controlled and Aaron says the hand and touch screen controls have been well thought out for convenient operator placement. All the manual valves for things such as swing, boom hoist, guylines, and strawdrum are now electronic, and there's a gear pump with valves for pilot controls and pull clutches.
Joystick buttons are programmable and thanks to the large touchscreen, engine, transmission, and winch information can be easily viewed. Remote camera technology allows the operator to keep a constant eye on the cable over the drop-off, offering a good view of what's happening between the machine and the opposite slope.  
Other new features include a line counter, automatic cooling fan control, updated air controls, winch spooling function, electronic swing controls, alarm monitoring, and more. A tilt sensor and slew ring sensor are also installed for future expansion plans.
"We'll be able to further improve both capacity and fuel economy," says Ray, "but even now, I already think I can say it has lived up to all of my expectations and is pulling some big numbers. I'm confident it's a machine that will be around and proving its worth for a long, long time."
Keep up to date in the industry by signing up to Deals on Wheels' free newsletter or liking us on Facebook.