Profile: Coastline Excavations
---
The Ed heads to Whitianaga for a quick catch up with Coastline Excavations boss Rod Johnson
Less than a week after a massive two-day rainstorm focused its intentions on Coromandel Peninsula, Whitianga-based Coastline Excavations have been going hard to prepare a washed-out private road for concrete trucks due in a day or two.
With pressure on for completion before fully-laden concrete trucks negotiate their way to the bottom of the 600-metre long right-of-way on the outskirts of Tairua, our arrival to catch up with Coastline Excavations boss Rod Johnson is probably the last thing he wanted to think about at this stage of his life.
Rod, who grew up in Whitianga, got into contracting after returning from Australia five years ago where he spent three years driving road trains. The stint over the ditch allowed him to get into contracting on his return home and he and his crew can be found operating from Waihi to Port Charles and anywhere in between.
"I was driving logging trucks in Taupo before heading overseas, but after three years driving road trains in West Australia, I decided the time was right to return home to Coromandel and get into contracting," he says.
On the day of our visit, we were at the tail-end of a busy week and the pressure was on to repair the washed-out roadway quickly. The problem is that with the sudden workload brought on by the rain damage to the area a few days earlier and his six-person crew spread across other time-sensitive jobs, Rod is currently working solo on what should be a three-person job. It's a situation many contractors should be able to identify with
and the only solution is to work harder and longer.
The gear
With his two Nissan UD six-wheelers on other work, Rod has his capable-looking 4x2 Nissan UD PK16 280 on the job, which he's using to bring in aggregate. The truck and other trade tools on-site include a six-tonne Hyundai R60CR-9 excavator and a small double-drum roller supplied by local business Peninsula Hire. All gear will have its work cut out to deliver a finished product for the customer, but I have no doubt Rod will meet the deadline.
The Hyundai excavator is one of two same-sized machines Rod has in his mainly Porter Equipment-suppled fleet, which also includes a 12.5-tonne Hyundai R125LCR-9A excavator and ASV RT60 Positrack tracked loader that Rod has fitted with a SharpGrade leveller.
"I purchased a second six-tonne machine, as this machine was tied up on a contract for six months and I didn't want to let my regular customers down," says Rod. "And the ASV was the ideal machine to match with the SharpGrade leveller, as it has a light footprint and is fast."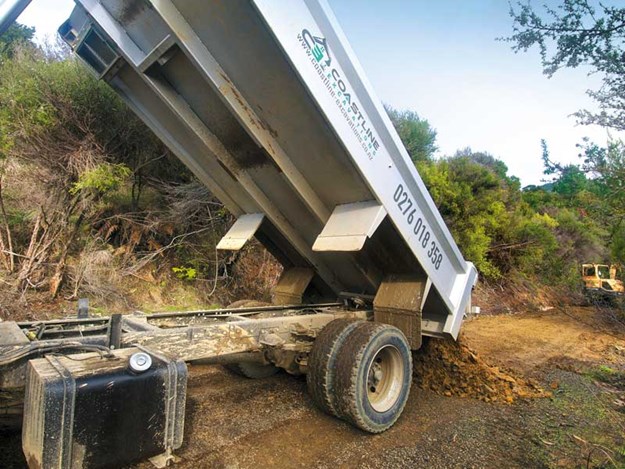 Rod tells me Porter Equipment are his go-to people for their reliability and back-up service.
"Honestly mate, hands down, I've found them the best to deal with," says Rod.
"If you need something, it's there quickly. They're really good at keeping me up and running."
Rod has also gone down the path of fitting Knapp Thumbs to his excavators, which he finds preferable to grab buckets, as it keeps the weight in a more central position.
"With these zero-tail swing machines, you need to be aware of balance, so that's why I prefer the Knapp thumbs," Rod says.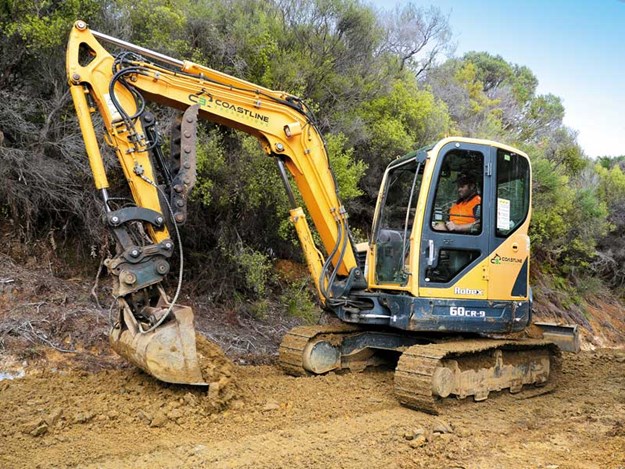 "You still need to be mindful of how you're using the machine, but I find it won't overbalance as easily as having a grab right at the end of the arm.
"You also don't have to muck around swapping the bucket and hoses out. I can pick something up and move it, then get straight back into digging or whatever it is I'm doing. It works really well for the work we do," says Rod.
The crew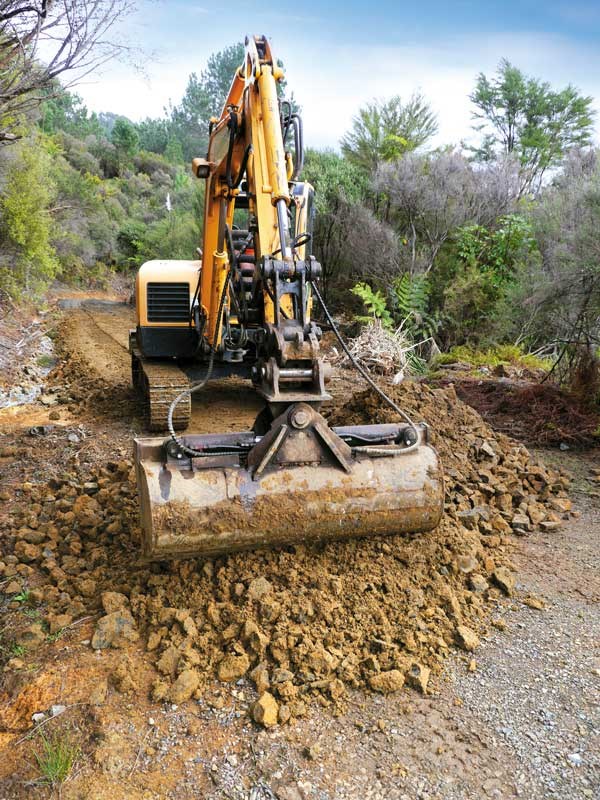 Like any contracting business, Coastline Excavations is only as strong as the people working in it, and Rod says he is lucky to have such a capable and hard-working crew.
"I'd be stuffed without my people; they really are a great bunch. That's why the other day I was thinking about what would be the optimal size for my business?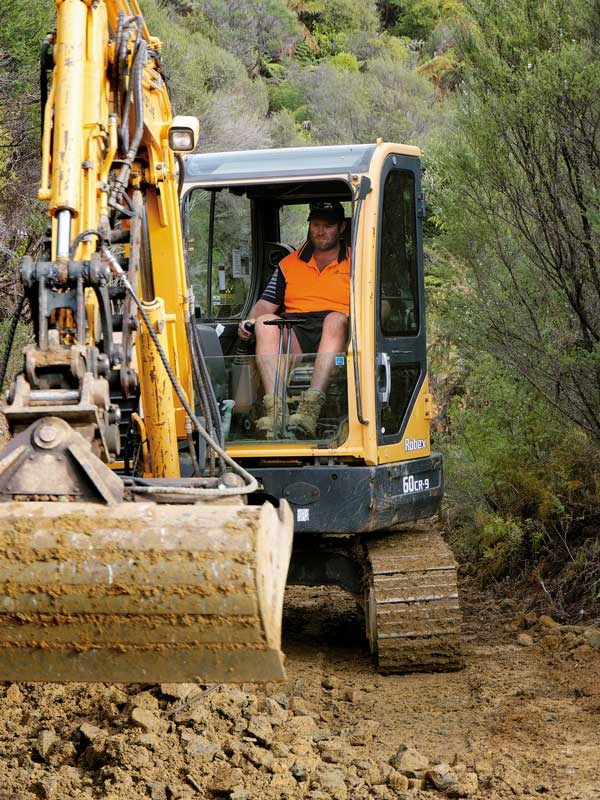 "It's difficult to find capable people like what I've got and who are prepared to put in the hours when the pressure is on, so reckon we're sitting at about what I consider to be an ideal size to keep my customers happy and our equipment properly maintained," Rod says.
"Despite it looking like I'm going to have to work this weekend, I'm pretty happy with how it's all turned out."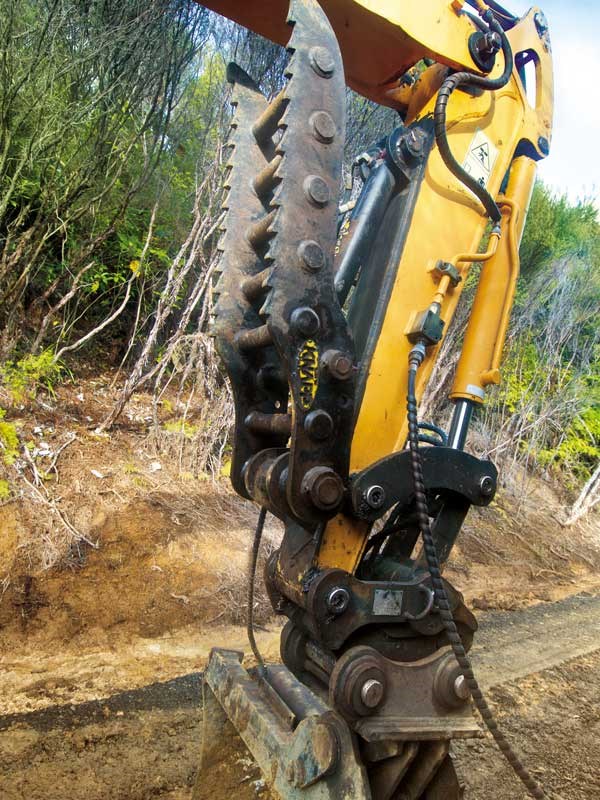 The New Zealand-made Knapp Thumb comes in multiple sizes to fit any bucket and its manufacturer says common sizes are available ex-stock, which reduces waiting time.
Custom-made models can be made to fit any excavator with only a three- to four-day lead time, they say.
The business also supplies skid steer attachments such as levelling bars, pallet forks, crane attachments, and hitch couplers. Along with the thumb, additional excavator attachments for construction and forestry are also available.
For more information, visit knapp.co.nz or contact rod@coastline-excavations.co.nz.
Find heavy machinery for sale in NZ
Keep up to date in the industry by signing up to Deals on Wheels' free newsletter or liking us on Facebook.