Special feature: COVID-19 impact on NZ construction
---
COVID-19 has impacted all Kiwis in some way. Like most industries, construction in NZ took a hit as well.
As we head into our new normal​​, the Deals on Wheels team caught up with business owners to find out how the pandemic affected them.
It wasn't all that many weeks ago when we were all humming along nicely with what had the appearance of being a bright future ahead of us, as New Zealand's economy rode the crest of a wave. Then like a bolt out of the blue, COVID-19 struck full force.
While New Zealand has had more than its fair share of disasters in recent times, and Kiwis are renowned for dealing with difficult situations, it's probably fair to say that nothing could have prepared any of us for the devastation brought down on our lifestyles and our bank balances by the complete lockdown of the COVID-19 pandemic.
We spoke to a few business owners to see how they managed their situations through the various stages of lockdown and how they see the future once the dust finally settles.
Ian Howe Concrete Pumps
Directors of Ian Howe Concrete Pumps, Harriet Wells and Ian Howe say they managed to get away to their farm on Great Barrier to create their own bubble, which included their two sons, Tai and Trent (who also works in the business) and his girlfriend Levi Gould.
Harriet says was one of the positives that came out of an otherwise bad situation was that the time away from the office provided some respite from their usual gruelling schedule of typical 3am starts and the constant pressure of running a company of around 30 staff.
When Level 3 came into play, Harriet was the first member of the firm to return to the office. She flew back to Auckland, leaving the rest of her bubble to make the trip home by boat.
She says it was quite weird arriving at Auckland Airport and only seeing a handful of people in a building that's usually bulging at the seams. During the flight back to her new reality, she got to talking with another business couple who she described as "looking somewhat stressed".
Like Ian and herself, they had staff who relied upon the success of their business to provide for their lifestyles. While accepting that no one can accurately predict what lies ahead, Ian and Harriet say that from their business perspective, there's still going to be work
out there with many of the major infrastructure jobs and other roading work kicking back in as we progress through to Level 2 and beyond.
While one may have expected to hear that the company's number-one concern would have been that of​​ fiscal nature, it was surprising to learn that the logistics of remaining operational while dealing with an invisible enemy called COVID-19 came in as the major issue that was likely to keep the directors awake at night.
In the meantime, Harriet says that under Level 2, their crews will be working in 'bubbles' of two operators or two bubbles of two when two pumps are required on a job. Aside from the standard first-aid kits on-board, each pump is fitted with a COVID-19 kit, which contains workers' PPE, 'Oust' antibacterial spray, extra barrier gloves, and antibacterial wipes used to clean all surfaces, including pens and all communication devices.
Nelson Contracting/Tiltman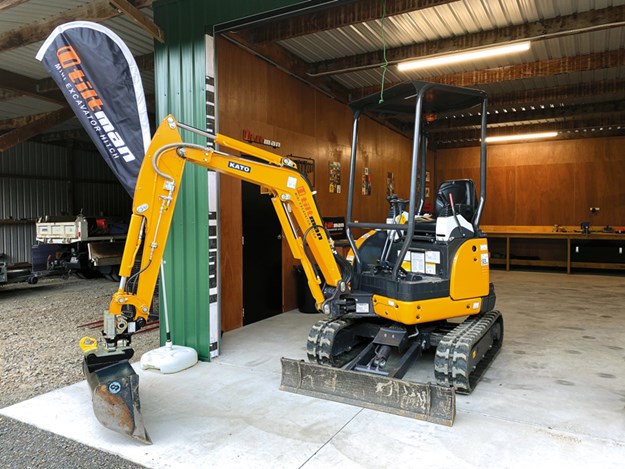 A little further down the road in Hamilton, Andrew and Denise Nelson were able to put their time in Level 4 lockdown to good use as well. The Nelsons have two strings to their bow with their contracting operation and an adjunct to that business, the supply of machinery attachments through their Tiltman range of equipment that comes out of Denmark.
Andrew says that the total lockdown provided Denise and him with the chance to close-in two bays of their four-bay implement shed and turn it into a display warehouse for their large range of attachments.
They'd purchased a bundle of second-hand pallet racking before the lockdown commenced, which needed to be cleaned, sanded, and painted before it could be assembled. Andrew says that with their new-found copious amount of spare time on their hands, they were able to while away the hours returning the shelving to new condition before making it a permanent fixture in the repurposed implement shed.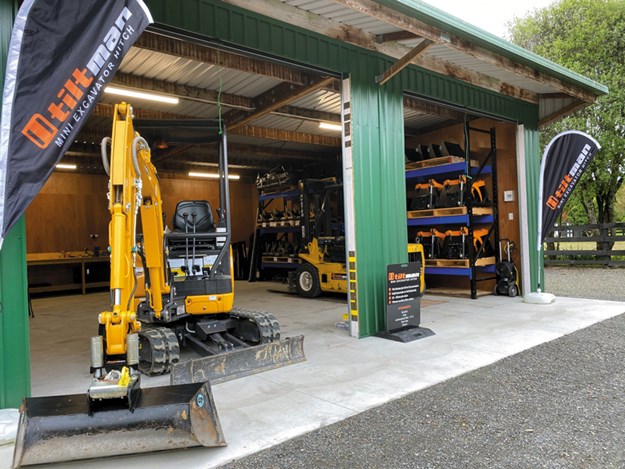 Like a lot of other business people in New Zealand, the Nelsons had been gearing up for the annual Mystery Creek Fieldays, and they'd ordered extra stocks of tilt couplers, grabs, buckets, rakes, and root saws for the occasion.
The cancellation of the iconic event was a bit of a concern for them initially with all that extra stock on hand, however, Andrew says that in spite of the devastation expected to come about as a result of people having six weeks of little-to-no income, there's still an air of optimism out there and orders are once again coming in.
Meanwhile, on the contracting front, Andrew was now back on worksites with his truck and 1.7-tonne Kato excavator when New Zealand progressed down the ranks to Level 3—a level that he says he enjoyed working at given the lighter loads of traffic on the roads.
OMC Power Equipment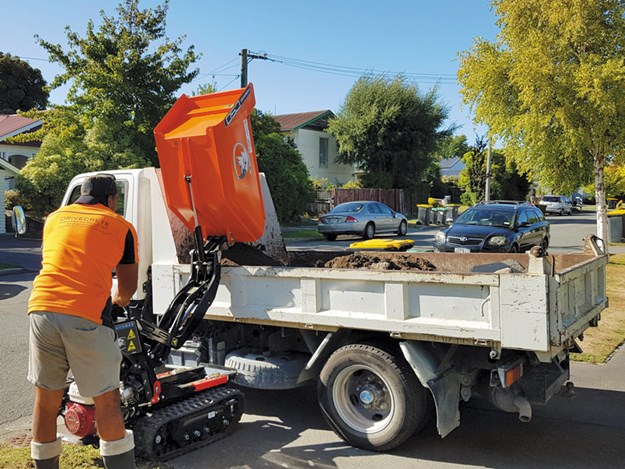 Based in Auckland and Christchurch, the Level 4 lockdown provided Manfred Watt, sales manager for OMC Power Equipment with a bit of breathing space to work on marketing tasks, case studies, website work, and new catalogues.
So watch out over the coming months for some interesting and new content. Manfred says that with the travel ban in New Zealand, all plans to visit customers and attend shows were cancelled, which gave the sales team an excellent opportunity to re-engage with existing customers and potential new customers.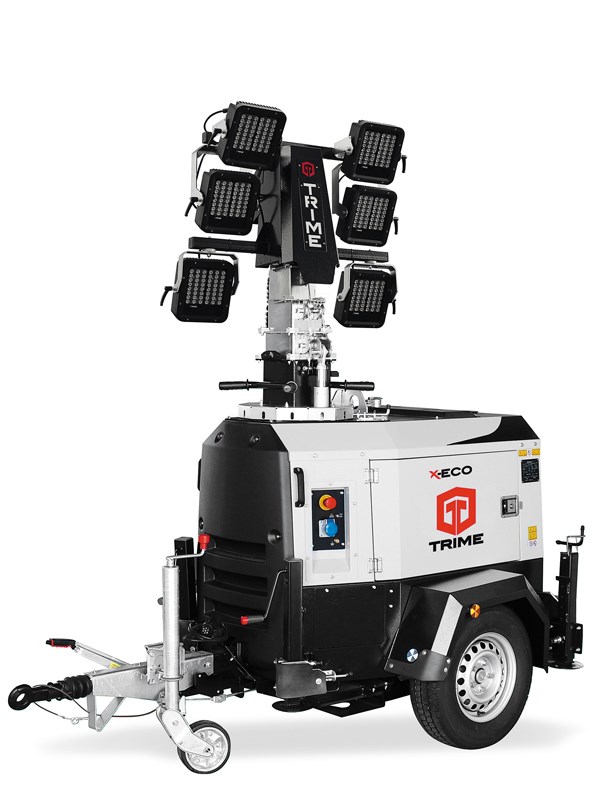 He says it was a bit easier to start doing business again as the country moved into lower levels of lockdown when work other than only essential business could be carried out once more. In a phone interview, it was obvious by Manfred's tone that OMC Equipment has a bright future to look forward to, in more than one sense of the word.
OMC is awaiting a shipment of a new range of tow-behind tower lighting units that come in three power options: conventional engines, hybrid, or full battery power sources.The arrival of Trime brand lighting units in New Zealand will be a timely event as the shorter days of winter draw ever closer.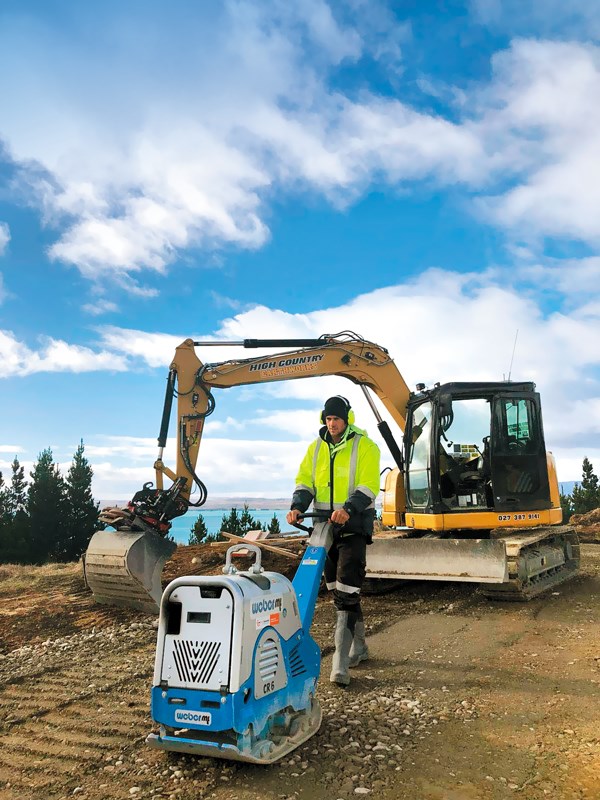 Manfred added that OMC Power Equipment is also excited about a WeberMT remote-controlled pivot steer trench roller, which is about to become available. Look out for this new arrival in the coming weeks.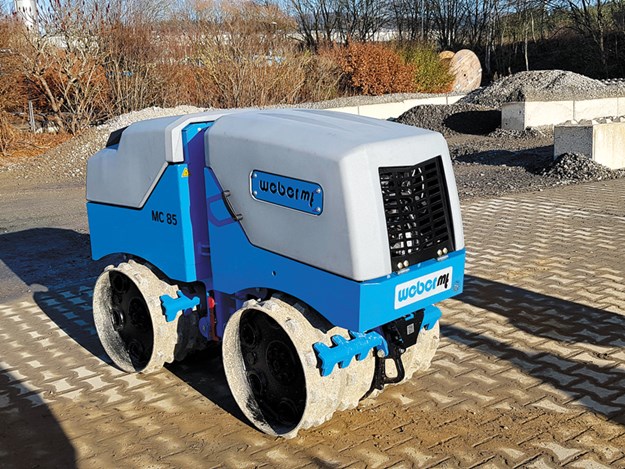 While Manfred says that April was pretty harsh from a sales perspective, there's that can be done now to change those figures. "All we can do is look for the many opportunities that wait around the corner."
0800 GRABIT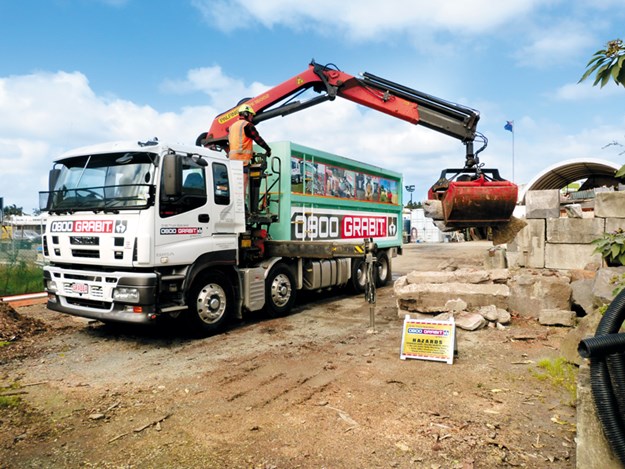 Like all the other businesspeople we spoke to, the Level 4 lockdown gave 0800 GRABIT Stephen Sparnon and his business partner and wife Jane a bit of space in their bubble to reset.
While in one way, it gave the couple extra precious time together that's often craved by most business folk, on the other hand, it couldn't have come at a more inopportune time.
The Sparnon's son Callan and wife Briana had produced an heir to the Sparnon dynasty on 6 April, giving them their first grandchild, but with the lockdown firmly in place, there wasn't any possibility of spending any quality time with the newest member of the family.
That inconvenience aside, Stephen made a list of five other things he imagined he was going to miss, the first of which was the fact that none of his mates and clients were going to pop in to shoot the breeze anytime soon.
Other items on Stephen's list were not being able to go for a ride on his motorbike, hopping out for a coffee, buying 'things', and greeting people with a customary handshake. Being in the rubbish removal industry, however, did give him the ability to turn the occasional dollar if he was required to carry out an essential task.
There were a couple of building demolition and partial deconstruction jobs on the books, however, Stephen thought it would have been pushing the envelope a bit to try to squeeze these jobs in during Level 4.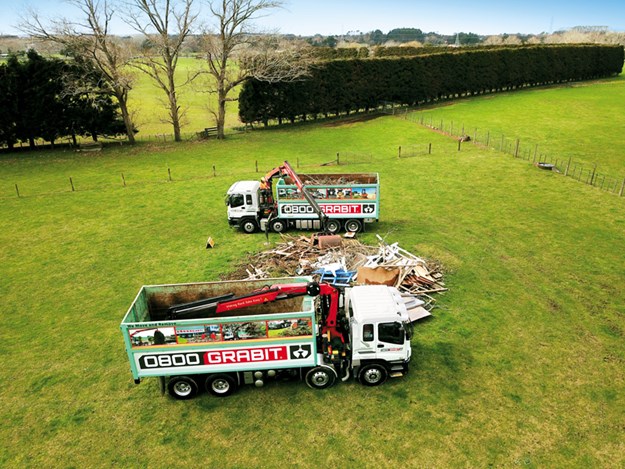 So a decision was made to err on the side of caution and leave these until the restrictions were lifted. Of course, Stephen says there was an initial concern about being able to provide wages for his workforce with only a fraction of the work able to be carried out.
Fortunately, he said the government wage subsidy provided a welcome buffer whereby Jane and he were able to continue to pay a 100% salary package to their loyal workforce.
Moving onto Level 2 and beyond, Stephen says there's a possibility of adding an even larger grab truck to the fleet than the current 30 cubic metre models.
Carrying out the research for this article has been just what the doctor ordered for this magazine contributor, after all, talking to people with a positive attitude is always good for the soul in any situation.
And in case anybody's thinking it's easy for a writer to talk up the positivity but a whole lot harder to put the words into action, this one's been doing his bit for the economy as well, with two recent purchases: a rake attachment for his 1.8-tonne digger and another purchase of a self-loading rubber tracked dumper. While it may not be an awful lot, as the saying goes, every little bit helps.  ​
Find heavy machinery for sale in NZ
Keep up to date in the industry by signing up to Deals on Wheels' free newsletter or liking us on Facebook.