Porter Press Extra: Hyundai HX Series
---
The Hyundai HX range of crawler excavators is now available to the NZ civil construction and earthmoving sector
Porter Equipment has announced that the highly anticipated Hyundai HX range of crawler excavators is now available to the New Zealand civil construction and earthmoving sector.
The Hyundai HX range represents the next technological leap forward for the Korean manufacturer, pushing operator connectivity, comfort, and safety to a whole new level of excellence in the heavy machinery market.
Porter Equipment general manager for New Zealand and Australia, Darren Ralph, says the HX line-up represents a significant step-change in the level of standard specification the trusted Hyundai nameplate can deliver to a wide variety of Kiwi operators.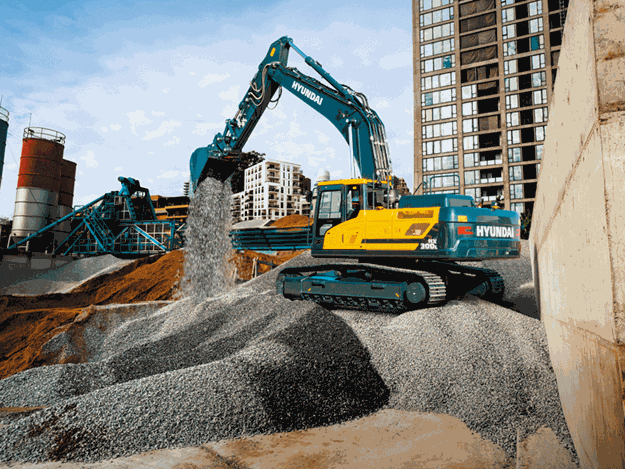 "The Hyundai HX range offers improvements in every aspect of the machine. The level of new technology, matched with the real-world efficiencies that have been achieved in running costs really will be game-changing for our customers," says Darren.
"We're extremely proud of what has been achieved with the 'dash-9' series of Hyundai excavators over the last few years. The capability and reliability of those machines has been absolutely crucial in cementing the Hyundai brand as a go-to machine option for the New Zealand construction sector.
"Now, with the HX series here, we're looking forward to showcasing to existing and new customers alike in the months and years ahead just what these next-generation machines are capable of." Darren says several Hyundai HX machines have already been snapped up by operators in various locations around the country.
Porter Equipment's ability to be able to deliver a comprehensive model range right from the get-go remains strong, with plenty of choice—from 14.6 to 33 tonnes—now available to customers looking to upgrade. Hyundai HC145LCR, HX220L, HX235LCR, HX300L, and HX350L crawler excavators are in stock, with larger Hyundai HX400L and HX500L models arriving later in 2020.
All-round improvements
Right across the board, Darren says the improvements the heavy machinery manufacturer has made to its frontline excavator range are obvious from the outset. "There have been big advances in the engineering, design, and operating durability of these machines.
But for many, the most noticeable changes that have taken place with the HX line-up will be in the cab, which offers up 13% more space over the previous cab design," he continues.
"In fact, the Hyundai HX range features an entirely new operator environment, which has been completely rethought and includes plenty of innovative new technological features."
Hyundai has rolled out many significant upgrades to both the operator console itself, as well as the technological feature set at the operator's fingertips in every new HX series machine.
These include an all-new instrument cluster with a redesigned display. This groups together logical electronic functions for the operator in order to enable better ease-of-use, ensuring consistent machine productivity in the field over the course of a project.
The new widescreen info display mirrors that of most smartphone screens, offering a function hierarchy that will feel familiar right from the first use. The new screen also offers excellent legibility in a variety of light levels and working environments. Additionally, the Hyundai HX range offers more connectivity than ever before.
The advanced excavator range's new smart terminal 'miracast' system employs the operator's Android smartphone to quickly enable all of that handheld device's abilities—navigation, phone calls and contacts library, music files, podcasts, internet access—to be accessed directly from the machine's screen, mitigating the need for the operator to constantly be reaching for their handset.
Speaking of comfort and convenience, Hyundai has completed a lot of development work on a new heating and ventilation system for HX series machines. This system features new vents and directs air flow throughout the cabin in a much more efficient manner in order to maintain operator comfort and alertness in both the depths of winter and the heights of summer.
Similar behind-the-scenes efforts have gone into ensuring the cab boasts lower noise and vibration levels than in past model generations. There's also more safety technology onboard the Hyundai HX crawler excavator range, designed to assist both the person behind the controls as well as those working around the machine.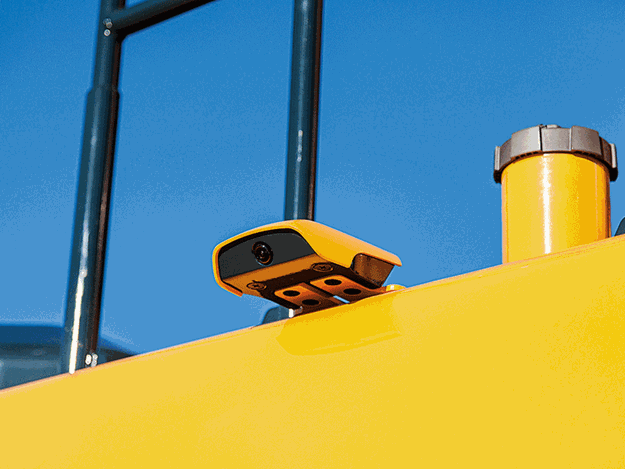 Hyundai's state-of-the-art Advanced Around View Monitoring (AAVM) camera system has every corner covered, providing the operator with a secure field of vision right around the machine thanks to multiple cameras. No less than nine views are available, including a clever 3D 'bird's eye-view', which shows the machine and its immediate surroundings from above in real-time.
"Part of the new AAVM system is Hyundai's Intelligent Moving Object Detection system, which sounds an alarm to let the operator know when a person or object is detected within their range of operation, up to five metres away," says Darren. "Porter Equipment is very proud to be offering this suite of visual safety assistance systems as standard on New Zealand Hyundai HX series excavators."
Tracking machines: anytime, anywhere
Furthering Hyundai's connected machine offering, the HI-MATE remote management system, utilising GPS satellite technology in order to provide machine owners and fleet managers an unparalleled level of machine service information and product support, remains part of the optional feature set.
HI-MATE provides machine performance reporting and diagnostics straight out of the box and at the touch of a button. Among other data sets, HI-MATE allows for analysis of working information such as operating hours versus idling hours and fuel consumption rates.
Offering eyes on the worksite even when unattended, HI-MATE also improves machine security, allowing owners and operators to set 'geofence' restrictions for machines, which in turn can alert via website or mobile application if an assigned machine moves beyond its geofenced parameter.
Tougher than before
Darren says that, as to be expected, further research and development has gone into ensuring the new Hyundai HX series crawler excavators are tougher than ever before.
"Hyundai machines that we've provided to our customer base work in all sorts of disciplines and in all sorts of environments. Proven reliability has always been paramount in growing the brand's reputation here," he says.
"Suffice to say, there have been plenty of advanced engineering processes incorporated into the Hyundai HX series manufacturing process.
These include the use of more wear-resistant parts, high-grade high-pressure hydraulic hoses with improved heat and pressure resistance, and reinforced components in the design and build of both the upper and lower structures."
The Hyundai HX series also features a new, durable cooling system with increased air flow, and improved lubricity of connecting parts between the machine and attachments using wear-resistant long-life pins, bushes and polymer shims.
These are all designed to lengthen front-line service life for components and build on the already hard-wearing reputation Hyundai machinery enjoys in every corner of the country.
Power and efficiency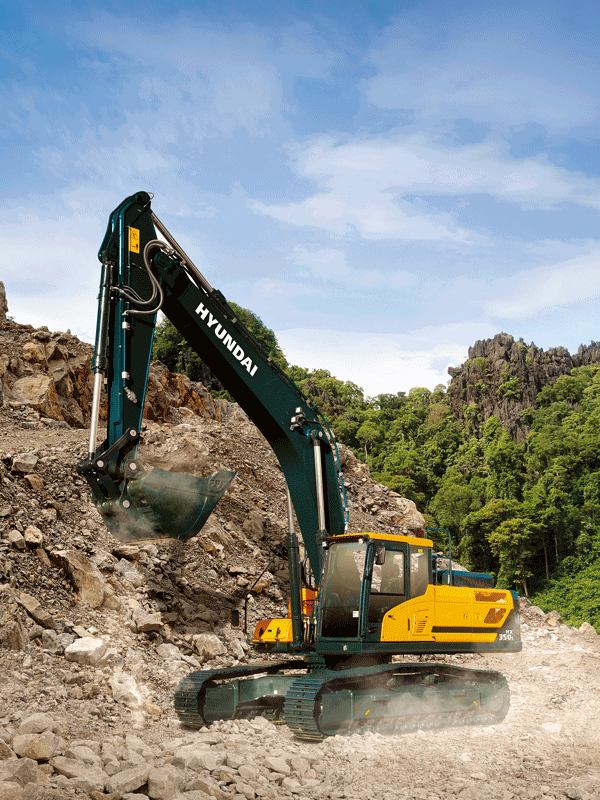 Hyundai's new Variable Power Control system is designed to provide for even better fuel efficiency from the Cummins-developed turbo diesel engines across the Hyundai HX range.
The Variable Power Control system minimises equipment input and output control signals to improve fuel efficiency, using a three-stage power setting (Power, Standard, and Eco) to find the perfect balance between the highest performance and the most efficient fuel burn rate in any operating environment.
Over and above the data from equivalent 'dash 9' series machines, Variable Power Control offers up a seven percent improvement on fuel efficiency when loading, a five percent improvement when levelling and an overall combined eight percent improvement across daily usage than customers will have experienced with the previous generation of Hyundai crawler excavator.
"Our loyal customer base has been watching developments in Northern Hemisphere markets with the Hyundai HX series," concludes Darren.
"We're now extremely pleased to be able to present this next-generation line-up of Hyundai crawler excavators on the ground in New Zealand. We can't wait to get these machines out into the field and demonstrate how they'll lift the game for every civil contractor."
Find excavators for sale in NZ
Keep up to date in the industry by signing up to Deals on Wheels' free newsletter or liking us on Facebook.