Business feature: Treescape
---
Treescape is a successful company that employs more than 600 people throughout Australasia
Innovation has always been at the forefront of Treescape operations right from the very beginning. When Brandon Whiddett started Treescape in 1981 with Ed Chignall, he came to the conclusion pretty quickly that they needed to do things differently to become a long-term sustainable business.
"We were young—about 24—and every day was such hard work, manually stacking logs onto a trailer, dragging logs, and so on. I immediately knew we needed to switch it up because I didn't want to break my back forever. Initially, I guess I was driven to innovate simply by wanting to find ways to do things that required less labour," he says.
Not technically trained in engineering, Brandon could always draw, but it was his on-the-ground experience that made him fine-tune his product design skills. "When we first started Treescape I wanted to learn about the machinery but, of course, at that stage, we couldn't afford to own any of our own.
Tom Shepherd owned the Riverhead Sawmill. For fun, I'd go and work with him after hours, driving loaders, his log skidder, and logging trucks in the yard. It was a heap of fun and I learnt so much," he says.
Starting out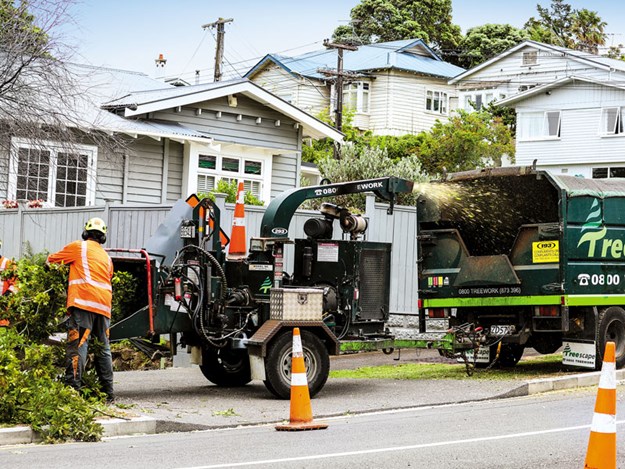 In the early days, Brandon and Ed would use sub-contractors with the right gear before they owned any of it themselves. Being around these subbies taught Brandon a lot.
"If you don't know how to build and use it, you don't know how to design it.
"Our first sub-contractor had a Palfinger crane and I'd be watching, thinking, talking, putting all the bits together in my head, figuring out how it worked and how we could improve it. I was passionate about what we were doing but I was also impatient.
"I wanted to get the job done in 10 minutes and make the money, so I needed an easier way and that was machinery."
A six-week trip to the US saw Brandon buy three LR45 towers and two brush bandit model 90 chippers.
He worked with fabricators over there, pulling apart the towers, rebuilding them with cranes, and throwing them all in an open-top container to bring home to reassemble and build them to their design. That was the beginning of a career of modifying gear to suit Treescape's operations.
"I can copy really well. Copy and improve is how I work. I guess that's innovation. I just focus on improving every time, making things faster, safer, and more efficient," he says.
Design innovations
Brandon says his inspiration comes from people sharing problems they have—that's the drive he gets to then design bespoke gear to solve it. Like the Morooka tower. "Our Aussie teams were having an issue because a lot of roads over there have these really big swell drains that you can't drive trucks over, even just to park on the roadside.
So we developed this Morooka tower—a six-tonne tracked carrier with very low ground pressure; half that of a human foot. It can also traverse steep slopes. It can now go into paddocks where no vehicles could previously go.
"In the past, because of the lack of access, our guys had to trek in and either climb the trees or use long pole saws, usually around powerlines. It was dangerous and slow. Now they can hoon there at great speed, up and down hills, using the Morooka."
Today, Treescape has four in their fleet. Another design innovation Brandon is proud of is the accessories they developed for a PC200 excavator to use when site clearing: stump grinders, mulchers, tree shears, and a unique bucket winch.
"I wanted a winch but I didn't want a full skidder so I built a winch and put it into a bucket. It worked well and we still use it today," he says. Often, the best innovations are the simple ones. Like the standard urban EPV (elevated work platform) on the back of a ute.
Brandon and his team used the same concept but turned the crane around to make it more functional and added a chip bin below it to catch the chip to make the Urban Terroriser.
Having the EPV mounted on ​a ​small truck rather than a 10ft makes it easier to navigate tight inner-city streets, plus it can be operated by one person, which is more efficient. This design has now been appropriated by Onehunga Transport Engineering Ltd. 
Trusted partners
Today, in his position as chief engineering officer, Brandon has 14 employees working with him in the company's workshops, on their extensive fleet, including trucks, utes, cranes, grapples, transporters, and chippers. And the team extends to long-time outsiders, too, who Brandon counts as an integral part of the team.
"People like Brent Hepple from Komatsu, Lyndon and Aaron from Hino Trucks, Steve from Ace Tyres, and John Ryan from Total Hydraulics who have been a part of so many of our developments.
"I've been working with these people for more than 30 years; they're trusted partners. I'm big on being brand loyal; working long-term with like-minded people on a common goal. For me, the journey of life is business and pleasure and people like this make it a pleasure." 
He's also not afraid of redoing work and admitting there's a better way. "Ego doesn't make money. When we're changing gear, we'll get people from the field in, senior managers, my team, and we'll shoot the s*** – 'What are we going to change? How could this work better?'"
In 2018, Brandon was awarded the new NZ Arb Association Innovator for the Industry, which recognised his leadership around new technology in the fleet and arb industry. Brandon says it's the combined input from others that gives true innovation, but that's not to say his colleagues are always immediately convinced by his designs.
"They often say no the first six months, until I wear them down."
Next, he has his eye on developing his designs of an electrical truck and chipper, building them to be eco-friendly, quiet, and small and nimble to navigate residential streets; a true innovation for the industry.
"That's the plan, anyway. We can always find better ways to do things."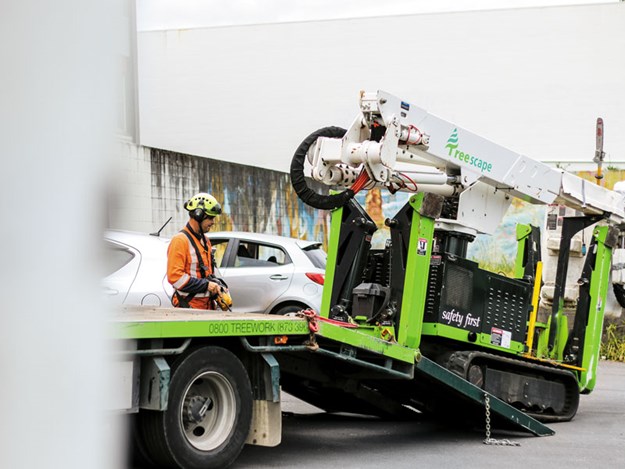 ​
Keep up to date in the industry by signing up to Deals on Wheels' free newsletter or liking us on Facebook.