Porter Press Extra: Hyundai R210LC-9 for Henderson Demolition
---
Taking care of every last detail is much easier when Porter Equipment are supplying and servicing machines that are fit for the task
This busy Auckland-based demolition team needs tough and reliable excavator muscle on hand to meet a multitude of project deadlines. 
In a short space of time, the three-storied administration buildings that used to be on-site at this Auckland school will be nothing but a memory. That is, after all, exactly what Henderson Demolition always promises to do: leave only memories.
The 65-person strong multidisciplined firm undertake commercial, industrial, and residential demolition work, high-rise strip-outs, concrete cutting and drilling, and are also certified asbestos removal experts. The company likes to say it'll undertake almost any type of demolition project, from large scale infrastructure to unwanted garden sheds.
Several of the Henderson Demolition team have been on-site at this particular urban demolition job for around 10 days, ensuring a rapid amount of work is completed in a short space of time.
"We've had four articulated trucks on this one full-time, so the 21-tonne excavator here has been working hard," says company director Rikki Jones.
"The bulk of our work happens in metro Auckland, but we're engaged in projects in other parts of the North Island, too, such as down in Otaki near Wellington, where we're pulling down an old pub. We'd like to push into the South Island eventually, but we've got plenty on in the North Island at present; things are tracking well for us."
Seal the deal
Helping hit project deadlines is Henderson Demolition's extensive machine fleet, predominantly sourced through Porter Equipment.
"Yeah, we're Hyundai from start to finish. We like the machine spec and the fact they're tough and reliable. But it's the back-up you get from Porter Equipment that really seals the deal for us," he says.
"It's a relationship we've enjoyed for many years and are keen to continue. Our local guy, Doug Ball, has been dealing with us for a long time and as a result, he has the knowledge of what we're after; what we as a company look to get out of our gear.
"He doesn't muck around and there's no hard sell with Doug. I can get on the phone and, whether it's a new machine we're looking at or a replacement part or whatever, I know we'll get the result we want."
Case in point: the day before my visit, a piece of rebar unexpectedly hit and cracked the windscreen of the Hyundai R210LC-9 working this project. Rikki says that one call to Porter Equipment was all it took to get the replacement screen sorted. And it was due to be installed a couple of hours after my visit.
"We get called by other machinery brands occasionally to go look at their gear, but I don't think they can offer the same level of aftersales service that Porter Equipment can. There are some nice machines out there, for sure; but if you need to order a part out of Europe or wherever, then that's a big hassle for a company like ours. When we say we'll pull a structure down in a specific amount of time, we need to be good to our word on that. We can't sit around waiting for parts and we know we won't have to with Porters looking after things."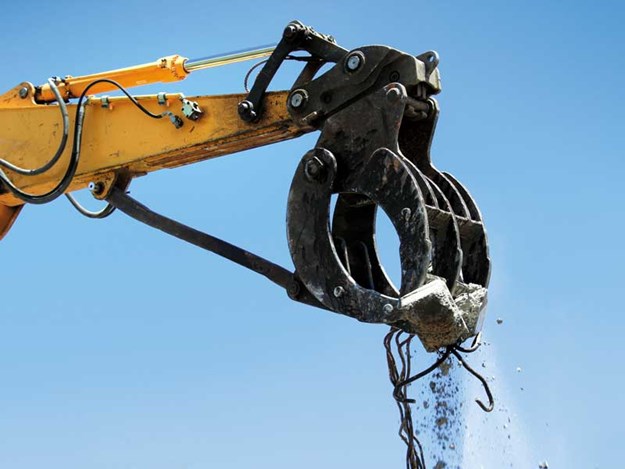 The Hyundai R210LC-9 steadily working its way through the rubble pile I visited is what Rikki describes as a run-of-the-mill machine for Henderson Demolition. He says that the 21-tonne excavator offers plenty of power but is also not too big to be cumbersome in difficult-to-access job sites.
"We generally run 21- and 14-tonne excavators, with the odd eight-tonner on the fleet, too. The eight- and 14-tonners are good for lighter gauge buildings and compact residential sites. We're very conscious of things like ground vibration in urban environments; not annoying the neighbours is actually a big component of any project," he says.
"So we look to machines that can get the job done quickly, move around the site easily, and that can be operated efficiently without having to have the engine screaming at the top of its range to do what we need it to do. That extends to our attachments as well; we use pulverisers more than rock breakers these days because you don't get that big thumping action with a pulveriser."
Rikki says that Henderson Demolition generally purchase two 21-tonne and two 14-tonne excavators per year as part of a rolling machine renewal programme.
At around the 9000-hour mark, an older machine will head to the company's Papakura base to become a yard processing machine. There are currently three backline machines at the company's yard: two 21-tonners and a 14-tonner.
"We always make a point of buying new. Porters makes it easy and we then know we have a good, solid machine on our hands that comes with a warranty and all the latest safety kit already fitted to it," he says.
"Obviously, demolition work is pretty tough on machines, but our operators are generally very good at looking after the fleet. Having a new machine that is smooth to operate, has all the latest technology, and has good air conditioning for the busy summer contracting season means our guys don't want to get out of them half the time."
While Henderson Demolition might continue to ensure every project leaves only memories for the landowner, the company's ongoing partnership with Porter Equipment continues to focus on the future.
Find more excavators for sale in NZ
Keep up to date in the industry by signing up to Deals on Wheels' free newsletter or liking us on Facebook.