Powertilt Power
---
Awakeri Drainage Limited's latest addition of the multi-functional Robur Powertilt is the next step in ensuring the company has another excavator equipped to handle the next few thousand hours of work
To the uninitiated, the name of Awakeri Drainage Limited may immediately bring to mind all things water-flow related, but those in the know understand that the long-established company does way more than that.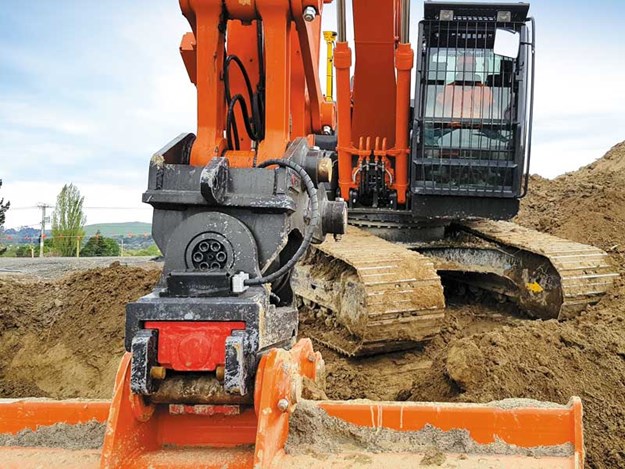 Established in 1970 and working out of their Hastings base, Awakeri Drainage—over the intervening 50 years—has grown into an enviable business with significant investment in modern plant and equipment, the latest piece of kit being a Powertilt tilt-coupler supplied by Robur Attachments.
Awakeri Drainage is well-known for its expertise in drainage contracting across rural and urban environments, right through to land development and conversions and all facets associated with civil construction works including demolition.
Going along with this, the business runs a mobile crushing and screening operation to make use of rural customer's resources and to use on Awakeri's own infrastructure work when needed, along with supply of products such as screened soil, crushed aggregate, and graded stone to end users.
With all that top-line equipment, Awakeri's latest addition of the multi-functional Robur Powertilt is the next step in ensuring the company has another excavator that is well-equipped to handle the next few thousand hours of work on a wide variety of tasks.
Fitted to a new Hitachi ZX160LC-5B, the Robur Powertilt/Hitachi combination was put to work in late 2019 under the control of experienced operator Marcus Bishop, who with brother's Brayden and Jarvis work in the family business, along with 13 other full-time staff.
Deals on Wheels took the opportunity of speaking to Marcus during a short break from behind the controls:
DOW: How does the Powertilt hold when tilted? Is it firm?
MB: Yea, it holds well. Some can give way a bit, but I haven't had any trouble with this one.
DOW: What about breakout power? Robur says they made the Powertilt squat to maximise breakout. Do you notice any difference?
MB: It worked pretty well in limestone.
DOW: What about the weight of the unit?
MB: It's well balanced; it's mint. Some are quite bulky.
DOW: How about hydraulic hose protection?
MB: We do a huge variety of work and these are tucked away snug. We put a block on the back of the boom so all hoses are out of the way.
DOW: Regarding the actual coupler, do you find it easy and safe to use?
MB: Yep, it's good. You need to make a deliberate action to detach it.
DOW: Is there anything you would change to make the Powertilt better?
MB: With some existing hitches, we have put guards on the sides. This one has got better protection.
DOW:  Your excavator is set up with GPS. Are there advantages with a Powertilt?
MB: There's a flat spot at the back of the rotor, so a sensor can be easily attached. With another tilt we had, a sensor had to be directly welded to the rotator, which was quite awkward.
DOW: Have you found any benefits of the Robur Powertilt over a regular tilt coupler?
MB: This one seems strong and it was sweet working in limestone, in work where we've managed to break others. It's done just over 500 hours but it's had a bit of treatment in the limestone and was good.
DOW: What do you look for in a coupler? Has the Powertilt delivered?
MB: At the moment we're stripping soil and cutting house sites; it's working well. We've also got a three-metre wide bucket for trimming and it handles that fine.
DOW: Have you used the Powertilt on any jobs that it has done particularly well?
MB: It was in hardpan limestone for a couple of weeks and went great. That was a subdivision up in the hills. I was hanging on the side of a batter, climbing back up and it didn't affect the digger operating ability.
DOW: Any last thoughts?
MB: We shopped around and like the look of this one. The build quality seemed really good.
For more information, visit robur.co.nz.
Find more machinery attachments for sale in NZ
Keep up to date in the industry by signing up to Deals on Wheels' free newsletter or liking us on Facebook.