Magnum Equipment puts its latest equipment on display
---
A recent venture out to Magnum Equipment's West Auckland site to catch up with founder and director Liam Field was no different, except this time he had brand new Hidromek 145s in the line up on full display
Liam first unveiled the new 145 at Fieldays Mystery Creek last year, and the machine was very well received by industry. This year, Magnum has 15 of the machines ready to go out to market. Liam says as Magnum Equipment's entire fleet grows, over the last couple of years he has seen not only the company's own brand growing, but he's witnessing increased brand awareness for Hidromek since Magnum landed the Hidromek dealership in 2017.
"We're getting more machines out around the country. We've got a couple up in Kerikeri now, Palmerston North, one going to Gisborne. More and more people are seeing not just the Magnum name but seeing the Hidromek machines in use for the first time," he says.
And as more people use the machines, the more repeat business Magnum is getting, Liam says. "When they hire it and drive it, and see how good the machines are, people want to hire them again. When they see how good the fuel efficiency is, how easy they are to operate and the power behind them, people can see for themselves the type of performance they can get. "We're seeing people prefer to wait for a Hidromek rather than use something else that's available.
They want the Hidromek – they're asking for it specifically and they'll wait for one. We can't quite meet demand all the time, but we've got more machines coming in the near future," he says. "Hidromek is always coming out with new innovative ideas and constantly creating new equipment.
They're always raising the bar, and we're excited to continue introducing the machines to the New Zealand market." Liam says seeing the demand for the Hidromek brand has only reinforced his decision to import the machines.
"When we started the hiring section of our business back in 2003, we looked at a lot of different companies. It took us a while, but lucky for us we finally found Hidromek in 2017 and haven't looked back. They were easy to deal with and we can get all the parts easily.
It proved to be a good choice, with new products coming on all the time. Seeing people on the machines, seeing them try them out for the first time and how well received they are, tells me I definitely made the right decision." However, Liam says it wasn't always smooth sailing convincing 'tough Kiwi blokes' to buy into an unknown, Turkish brand.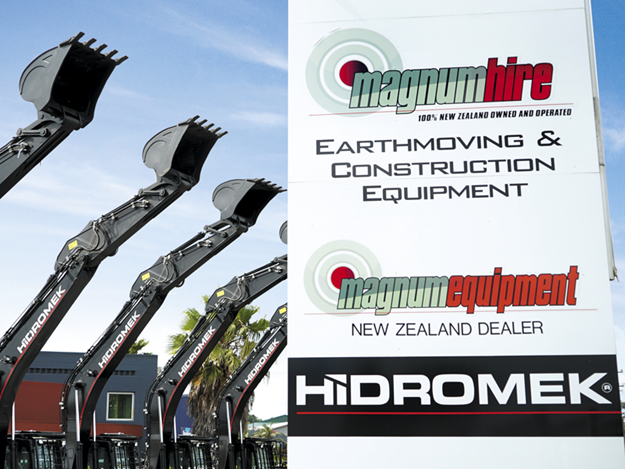 "Kiwis and Aussies are pretty sceptical. Kiwis in particular like what they already know, prefer what they've always used. They generally like to stick with brands that have been around for ages that they think are the best.
Turkey is only a millimetre behind Germany as far as engineering goes, and any day of the week if someone puts a Hidromek next to say, a more well-known branded excavator, they're going to see that it is a better built machine. It stacks up real good."
Word of mouth is key to getting that message across to those who are hesitant at trying something new, Liam says. "It's vital, and it works. You have someone try out the machine for themselves, then they recommend it to someone else or someone else sees the machine in use and see what it can do. You put bums on seats and then it's sold."
With a growing portfolio, Magnum has to ensure all the machines are well maintained and run well. "We service our machines every 250 hours. The Hidromek Smartlink tracking application tells us everything we need to know about a machine – how long it's been slewing and tracking, if there any problems with alternators or hydraulic pumps.
We've never had one fail, but this is the type of info the programme tells you, so it's really helpful," says Liam. Feedback from clients about the machines is something Liam says he really values. "Our clients tell us how smooth and nice they are to drive, how efficient they are with fuel.
The operating cab is second to none; it's like an office, with all these creature comforts and special features. The air conditioner is the best on the market. The large windscreen wiper provides better visibility, which is great for safety. The seat is like La-Z-Boy," he says.
"We get a lot of feedback from our clients on how impressed they are, and how the Hidromeks are the nicest machines they've operated. It's great to hear." Keep an eye out for our March issue where we talk one on one with Clem Simpkin, company director at Ace Rental in Kerikeri, who has just picked up his second Hidromek.
For more info, contact Magnum Equipment on 09 838 0068 or email Liam at liam@magnumequipment.co.nz
Find more machinery for sale in NZ.
Keep up to date in the industry by signing up to Deals on Wheels' free newsletter or liking us on Facebook.