Product feature: Xcentric Ripper Mining Series
---
When it comes to performance-proven quarry attachments, the Xcentric Ripper Mining Series is making its mark, the manufacturers say
"The production gains that quarry and mining operators such as Winstone's Meremere are getting from these world-beating attachments speak volumes," says Boss Attachments New Zealand MD Paul Herbison.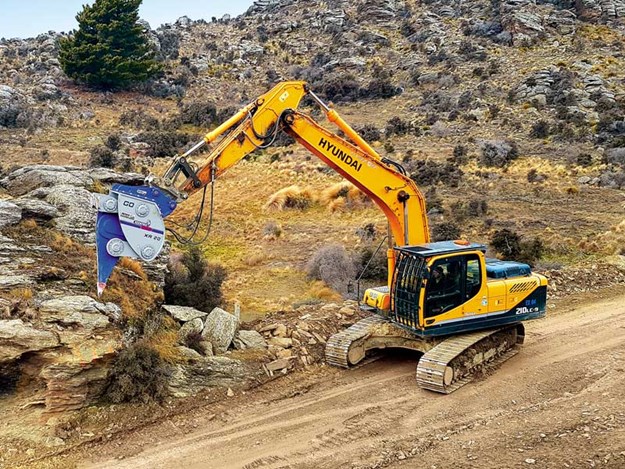 Although blasting remains the most cost-effective method for mass extraction, it can also create moisture problems in aggregates. While that isn't such an issue with higher value rock, the same economics don't always add up with lower value materials.
And that's where the Xcentric Ripper comes into its own. At Winstone's Meremere quarry, their XR 40 has delivered the cost-effective solution that they needed for the quarry's deposits of hard brown rock.
"While blasting costs for this lower value material don't really stack up, having the Xcentric Ripper has been a game changer for producing a dry and commercially viable product," says quarry manager Kerry Reilly.
"A lot of this hard brown rock is also located in steep, hard-to-drill areas, but with the XR 40 working on the benches, blasting costs are reduced and safety is greatly improved; it's an amazing tool for rural and forestry quarries."
The Xcentric Ripper Mining Series is a hydraulic excavator attachment designed for the mass extraction of rock in mining, quarrying, and civil applications, and it's fast becoming recognised as the world's most productive, reliable, and technologically advanced hydraulic ripper.
Featuring a patented system of 'Impact technology by accumulation of energy', the Xcentric Ripper is, in most instances, up to five times more productive than hydraulic breakers, according to the manufacturer, and has been especially manufactured for high-production mining applications where continuous work shifts, reliability, and excavator operator comfort are paramount.
Key features include:
Minimal noise levels
Minimum maintenance
Minimum parts wear
No daily lubrication required
Long-life components and materials
Less fuel consumption per produced cubic metre per tonne
Less emission per produced cubic metre per tonne
Environmental protection (bio lubricants)
Can be used on standard excavators
Full range of models suitable for eight to 150-tonne excavators
"These Xcentric Rippers increase production at lower operating costs and reduced noise levels and are a revolution for high volume rock extraction," says Paul.
For further information, visit bossattachments.co.nz or contact Paul Herbison 027 290 8306.
Find more rippers for sale in NZ
Keep up to date in the industry by signing up to Deals on Wheels' free newsletter or liking us on Facebook.