Special feature: Ngaio Contractors
---
With business growing, when the time came for Ngaio Contractors to gear up, MIMICO ended up being the go-to brand for getting the right machinery
Business has been brisk for Nick's business Ngaio Contractors, especially after things ramped up a few notches when a forestry roading contract was awarded a few years ago.
"My background is in this type of work, although, I spent a long time as an owner-driver, which can be hard work," he says.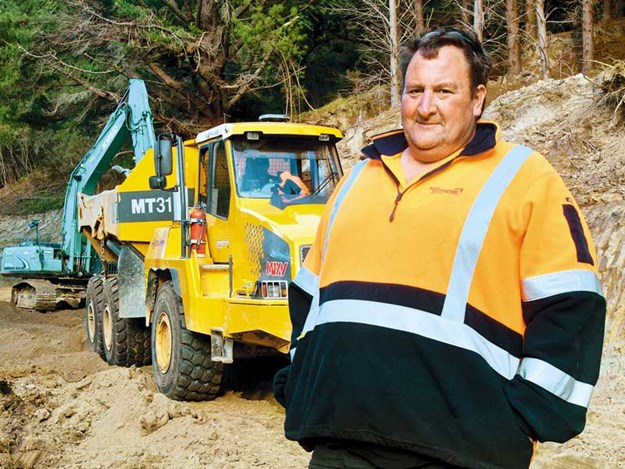 Not long after exiting trucking, Nick received a phone call from a friend in Taranaki looking for some help. "It took seven years before I returned, but when I did, contracting had become the main focus, which took me back to my family roots," he says.
Gearing up
So when the time came for Ngaio Contractors to gear up, MIMICO ended up being the go-to brand for getting the right machinery into some remote parts of Hawke's Bay and making sure it was fit for purpose.
Currently, Nick has around 15 pieces of plant at work over a number of sites, although, like other contractors around the country, an ideal world would see another three or four operators turn up on his doorstep looking for work.
"At times like this, with reduced staffing numbers, the pressure inches up a bit and we need reliable gear that will keep working and also be a comfortable environment for our people," Nick says.
Working on-site at the forest we visited, not far from cliff side drive across the aptly-named Devil's Elbow, the low-pitched hums of a digger and off-road dumper combination can be heard beyond a stand of mature radiata pines.
Guided by a herd of feral goats, we walked for a few minutes along a semi-formed road before locating two of Nick's crew busy at work shifting fill to ensure 50-tonne loaded logging trucks would be able to safely negotiate a soon-to-be-busy haul road.
"These guys have been making good progress and are currently bringing in fill to replace soft material that has been removed," Nick says.
Using a 20-tonne SK210-8 and six-wheel drive Moxy MT31 dumper seems like a good combination and judging by the slight nod of his head, Nick is pleased with progress.
"This gear has been pretty good to us. If you look at the material we're working with, it can be like talcum powder or silt depending on the conditions. MIMICO have helped us work efficiently," says Nick.
Customer first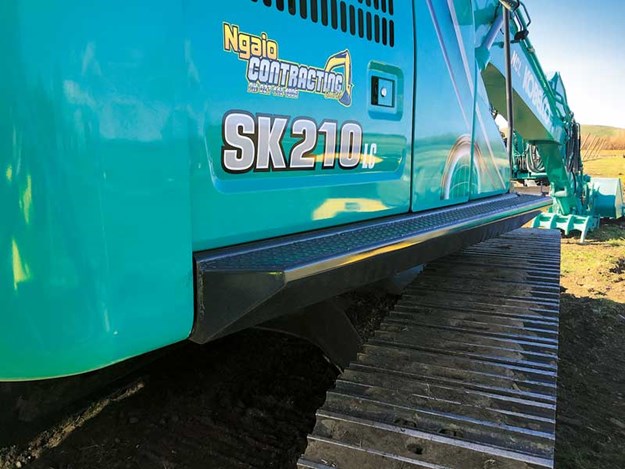 "What I like about MIMICO is that they are there when we need them; even on a Sunday if required," Nick says. While no one likes to disturb someone on a weekend, Nick tells a somewhat sheepish tale about not being able to get the hydraulic quick hitch on a Kobelco excavator to work and phoning MIMICO for some advice.
"I actually figured out that I had the safety lever in the lock position, but they still wanted to check everything was ok," he says. "That says something about the type of people you deal with there."
Another aspect of his relationship with MIMICO Nick speaks about is how he can talk directly with the upper management when required.
"Not that I do it much, but I really appreciate being able to pick up the phone and speak to a decision-maker there, and they do recognise that I am also important to their business as well," he says.
One of the latest fleet acquisitions is a new Kobelco SK300LC-10. Weighing in at 37 tonnes when fitted-up for forestry work, one of its most impressive features is the fuel economy the excavator has been delivering.
"This machine is burning something like 24 litres of diesel per hour, which is only four litres more than I was getting from a 20-tonne machine from another manufacturer on the same type of work," Nick says.
But what is forestry roading without the top layer of aggregate to finally make it usable for road-going vehicles. For this process, Nick's grader is accompanied by a Dynapac CA2500D single-drum vibrating roller.
"I saw this machine at New Zealand Agricultural Fieldays® earlier this year, and it became part of the fleet not long after."
Similar to considering the effects of long work days for operators, one of the reasons for Nick purchasing the Dynapac roller was the low rear bonnet giving better visibility when reversing and the operator station, which can swivel 180 degrees.
"My partner Teresa Johnson looks after our company health and safety programme, so anything to lessen work-related injuries and stress has to be a good thing," he says.
Overall, it looks like Nick and his Ngaio Contracting crew are using the right gear to get results in a challenging environment and with reduced staff numbers.
"MIMICO stood by me when an issue arose with a machine that was long out of warranty and it's at times like that I realise we've been fortunate to find such a good equipment supplier," says Nick. It's good to see that MIMICO has got his back when he needs it.
For more information, visit mimico.co.nz.
Find construction machinery for sale in NZ
Keep up to date in the industry by signing up to Deals on Wheels' free newsletter or liking us on Facebook.