Product feature: Doosan DX480LC crawler excavator
---
North Shore-based The Digger Collective has recently added a Doosan DX480LC crawler excavator from AB Equipment to its line-up
North Shore-based The Digger Collective specialises in small to large residential, commercial, and rural earthmoving and excavation projects throughout Auckland and the Waikato.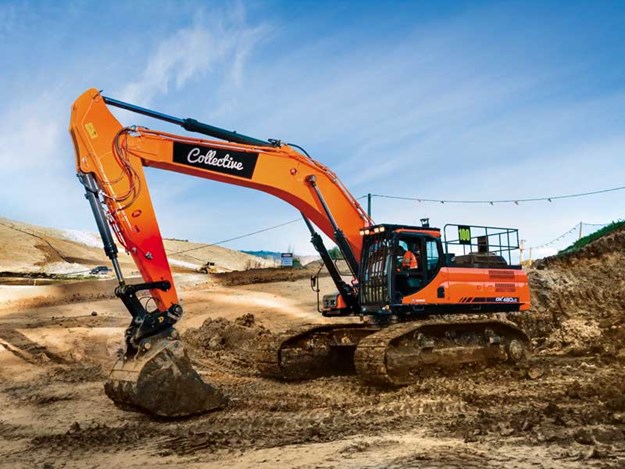 The company has an extensive fleet of diggers, bulldozers, loaders, tip trucks, concrete cutters, and breakers and has recently added a Doosan DX480LC crawler excavator from AB Equipment to its line-up. One of their current projects north of Auckland involves a lot of bulk earthworks.
"We have five 40-tonne dump trucks operating at the site, and in order to keep them working at peak productivity, we needed a larger excavator than what we had in our current fleet," says managing director, Keegan Webster.
"We looked at other comparable machines but it was the simplicity of the Doosan that sold us."
The Doosan DX480LC is commonly referred to as 'The Beast', and according to the manufacturer, provides power, performance, and productivity that is unmatched by any other machine of this size.
Its new six-cylinder 'common rail' engine and new e-EPOS controlled hydraulic system have combined to create an unbeatable hydraulic excavator, with a cost/performance ratio that makes this model appealing.
"For us, the tier 3 'common rail' system is perfect as it makes the Doosan DX480LC a machine without too much complexity to maintain," says Keegan. "We do a bit of work in the Pacific Islands where climate and weather conditions are more suited to an engine with fewer electronics, which means the easier it is to service, the better."
The machine is a Long Carriage, or 'LC', model with an expandable track frame to reduce width for transport.
"We opted for extra wide tracks, which are providing greater stability on the softer clay areas. In this line of work, being safe and stable is very important to us. This also gives our operators added confidence when slewing or digging with the 2.86 cubic metre bucket over the side, which means that we can move a lot more dirt, quicker. It was exactly what we were looking for."
Improved ergonomics, increased comfort, and excellent all round visibility are other features of the Doosan DX480LC excavator. The Digger Collective's operator, Alan Wainscott, is thoroughly impressed with the new machine.
"It boots off inside the cab of the machine for sure, there's heaps of room, and the interior is very well-thought-out for operator comfort." Alan also noted a significant improvement in fuel economy as well as the smoothness of the Doosan DX480LC excavators' power delivery.
"It packs some serious grunt and the controls are very intuitive; it really is a smooth machine to operate."
Keegan recently went on a tour of the Doosan factories in Korea, seeing the quality control procedures of each manufacturing plant left a lasting impact.
"Their values and lean manufacturing systems align well with our company culture and long-term strategy. Both Doosan and AB equipment are companies that we know will back us entirely going forwards."
The Digger Collective currently has various projects on the go, including a number of subdivisions between Auckland and Waikato and a range of work on the Southern Corridor Motorway.
Prior to The Digger Collective being formed, director Keegan Webster, along with school friend Simon Long started The Labour Collective—a labour hire and recruitment company. They've now taken this a step further with The Digger Collective, which has been in business for around three years.
"Both companies complement each other perfectly," says Keegan. "It's great to be able to quickly access a pool of drivers who we know and who are familiar with the way we work."
For more information, contact AB Equipment on 0800 30 30 90 for the location of your nearest AB Equipment branch throughout New Zealand.
Keep up to date in the industry by signing up to Deals on Wheels' free newsletter or liking us on Facebook.