Product feature: MultiOne articulated loaders
---
The Italian-built MultiOne is one of a number of multi-attachment articulated loaders now available in NZ, distributed by Jacks Machinery
The latest shipment of MultiOnes seems to be going down a treat in the Bay of Plenty, and we were lucky enough to catch the last one as it was being prepped prior to heading off to a new owner. With more on order, New Zealand distributor Jacks Machinery was keen for us to take a closer look at what all the fuss has been about.
History
The first MultiOne rolled off the assembly line in 1998; the new MultiOne company came out of the genes of its agricultural equipment forefather C.S.F srl, which dated back to 1969.
The multifunctional capabilities of the first MultiOnes saw the product quickly gain acceptance with users, being awarded first prize at the 1999 EIMA Show, said to be Europe's largest agricultural and landscape event.
From there, MultiOne grew as a business, purchasing its attachment supplier Zappator in 2011, and is now a sizeable international manufacturer with more than 10 series of mini loaders, covering some 19 different configurations and more than 170 different attachments.
With distributors in many places across the globe, Whakatane-based Jacks Machinery is one such company that saw the benefits of the MultiOne brand, especially in the agricultural market and the contracting industries.
New Zealand models
There are 10 models available to the New Zealand market, from 20 to 75hp, with the 4.2 and SD models we were looking at placed at the smaller-sized end of the range.
While specs for both machine are similar, the SD places the operator at the rear of the machine, which is behind the pivot point and allows for easier manoeuvrability in tight areas.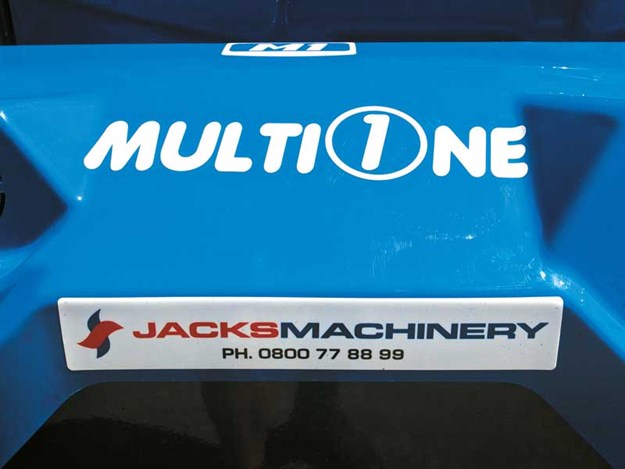 As an alternative, the 4.2 model has the operator in a more traditional seating arrangement, which is above the pivot point and probably a setting those who have operated articulated loaders before are used to.
Both models would have a number of separate benefits depending on their intended application.
Other than the numerous attachments which we'll get to soon, the telescopic boom is a feature that gives the MultiOne significant benefits over some of its competitors, having a horizontal reach of 480mm when fully extended and a maximum height of 3000mm from ground level to bucket pin centre.
While the machine is only new to the local market and seeing good sales in the horticulture industry, Jack Machinery reckons there's no reason why it should not also become popular within the construction sector.
Power
Power is provided to the MultiOne 4.2 and SD models through a four-wheel-drive hydrostatic system via a Kubota D722 engine that outputs 14.9kW (20hp).
This enables a top speed of 14km/h and gives a lifting capacity of 820kg or 700kg when the machine is sitting in an articulated position. Yanmar and Kohler also supply engines to the range, with EV options available and arriving soon. On standard tractor profile tyres, the machine has an outside turning radius of 1890mm and weighs 940kg in its base form.
Easy-change hydraulics
One of the MultiOne's most impressive features would have to be the hydraulic coupler unit, said to be unique in its design. Located on the lifting arm of the machine, operation of the unit requires the user to lift a lever, which disconnects all of the attachment hydraulic hoses at once, these being housed in one block.
It's easy, not messy, and doesn't even require gloves, although, one should never work around any hydraulic fittings without the correct protective clothing. Connecting the attachment is just as easy and reverse to the disconnection process: slide the hose block in, close the lever, and you're ready to go.
Versatile
There are more than 170 attachments made for the MultiOne range of loaders, although, calling them loaders is probably not entirely correct considering the selection of work options available.
Construction contractors are able to choose from a large list: 4in1 bucket, demolition grapple, pallet forks with side shift, harrows, excavator arm, backhoe, auger, grader, dozer, trencher, concrete mixing bucket, cold planer, paver finisher, breaker, demo jaw, crusher bucket, sweeper, aerial work platform; the list is seemingly endless.
Type comparisons
Helping to promote the use of MultiOne equipment in the construction industry, the manufacturer has put together a number of informative videos, with a comparison between a MultiOne and skid steer being one which is quite interesting.
Using similar-sized machines, Multi-One says that a 4.2 loader has 400% more outreach, 10% more height, and 80% more bucket capacity than a similar-sized skid steer, while weighing 10% less.
There are a number of other comparisons on the animated video that could be interpreted a bit differently, but overall, it demonstrates a local market gap available for the MultiOne.
Coupled with the numerous agricultural and landscaping attachments, the MultiOne could almost be called a multi-tool for contractors who want to add versatility to their fleet and do a bit of work at the weekends around their yard or lifestyle block.
Should the machine get uptake with contractors, a whole new type industry could evolve, especially with the numerous attachments available, adding considerable versatility to the scope of work businesses could undertake.
MultiOne 4.2 specifications
| | |
| --- | --- |
| Weight | 940kg |
| Engine | Kubota D722 |
| Power | 14.9kW (20hp) |
| Fuel | Diesel |
| Transmission | Hydrostatic |
| Speed (max) | 14km/h |
| Aux. hydraulics oil flow | 31L/min |
| Max lift height | 2750mm |
| Tipping load | 1020kg |
| Lift capacity straight | 820kg |
| Lift capacity articulated | 700kg |
| Breakout force | 800kg |
For more details, call 0800 77 88 99 or visit gotojacks.co.nz.
Keep up to date in the industry by signing up to Deals on Wheels' free newsletter or liking us on Facebook.