Product feature: Hidromek HMK140LC excavator
---
WBL Civil Landscapes recently added a Hidromek HMK140LC to their equipment fleet and now that it has put some hours on the clock, the Ed thought it was time to get some feedback on how it was performing
Located on the north-west outskirts of Auckland, WBL Civil Landscapes (a division of Wilson Baling Ltd) are one of the latest owners of a Hidromek excavator. Delivered in mid-January, their new 14-tonne machine has clocked up a decent amount of hours on digging work around its home region.
"We had heard about the machines when Deals on Wheels first started advertising them around the end of 2017," says WBL Civil's general manager Brook Harland.
"To be honest, I was a bit sceptical at first but had a closer look at them when we attended Fieldays (National Agricultural Fieldays®, Mystery Creek) last June."
It's here Magnum Equipment director Liam Field picks up the story."Brook and his boss came onto our stand, had a good look around the machine, and asked us some pretty direct questions," he says.
"The upshot of it was that we sent a demonstration machine to them and not long afterwards they placed an order."
Brook says the demo machine exceeded their expectations and they placed an order for a 14-tonne Hidromek HMK140LC excavator with a few changes, such as double-piping, wider grousers, and a longer 2.6-metre arm.
"What I didn't expect was that Liam allowed us to keep the demo machine until ours arrived, which was another reason we felt good about doing business with Magnum," says Brook.
Machine in action
On the West Auckland site the WBL Civil crew were working on the day of our visit, their task was a relatively easy one. They had taken over a semi-finished site from a prior contractor, which is sometimes not an easy transition to manage.
"I think the last guys tried to do this work at the wrong time of the year. Now that it has dried out sufficiently, things are progressing well," says Brook in a manner that contains no malice towards the previous contractor.
While the site is probably not the best venue for demonstration of the Hidromek HMK140's capabilities, it does provide a good viewing arena to watch the machine in use as it shuttles between prepping compactable clay for a padfoot roller to create a parking area in the soon-to-be a storage yard and loading spoil onto six wheeler tippers for disposal at a landfill site.
Exceeding expectations
During a quick break to allow us a look-over of the machine, Brook shows us some of the features of their new Hidromek.
"I really like the air-conditioning. Today, it's something like 30 degrees outside, and inside the machine, it's like an icebox, which is probably something to do with all the vents located around the cab," he says.
Moving around the machine, Brook points out the numerous work lights, commenting that it provides a safer working environment.
"If you buy a machine these days, you're lucky to get a couple of lights on it.
"Look at this one, there are nine bright work lamps that light up this thing like a Christmas tree, and while none of us like working in the dark, it's something we do a lot, especially in winter.
"Another thing I like is the quality of the build," as he opens a side door to the pump filter bay and gives the door a thump to demonstrate its sturdiness.
"Hear that?" he says. "You can hear the difference between this and other brands that use lighter material."
Completing his circuit of the machine, Brook is standing once again alongside the cab and shows us the unusual windscreen wiper configuration, which is a lot different from most other brands we have seen.
"This is pretty cool and shows the thought that has gone into the Hidromek design," he says. "They have made a double-wiper system on one arm where one takes care of the top screen and the other clears the lower screen; it's very clever and effective."
After taking up more of Brook's time than we originally envisaged, we came away having learnt a bit more about Hidromek machinery, especially the 14-tonne machine of WBL Civil's.
"Compared to the rest of the fleet, the machine was a bit of an oddball, but we thought the risk was worth taking. We're happy with its fuel economy and digging power, and it's a very good machine to spend the day in operating," says Brook. "I'd say that we're happy with the outcome." 
Hidromek HMK140LC excavator (2.3m arm) specifications 
| | |
| --- | --- |
| Weight | 14,550kg |
| Engine | Isuzu AJ-4JJ1X97/88EC |
| Power | 73kW(98hp) @2000rpm |
| Max torque | 385MM @1600rpm |
| Main pump | Kawasaki double variable disp, axial piston pumps |
| Max flow | 2 x 130L/min |
| Pilot pump | 20L/min |
| Overall length | 7890mm |
| Max dig reach | 8190mm  |
| Max dig at ground level | 8040mm  |
| Max dig depth | 5390mm  |
| Max dump height | 5900mm  |
For more information, contact Liam on 021 334 098 or visit magnumequipment.co.nz.
Watch the Hidromek HMK140LC excavator in action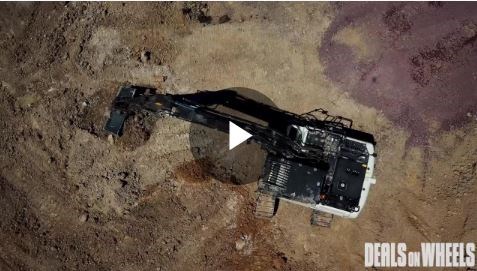 Keep up to date in the industry by signing up to Deals on Wheels' free newsletter or liking us on Facebook.