Profile: Race4Life Trust
---
With Race4Life Track celebrating its 12th anniversary, the Ed finds out more about the Race4Life Trust that's seen support from a number of community-minded industry sponsors
The Race4Life Trust, formally established in 2015, provides wishes for members of the public who receive palliative care.
It's pretty much what most people think it is— the Trust grants someone a memorable treat such as a helicopter or a plane ride, maybe a trip to a special beach to hear the sound of the ocean, or, in some cases, it will extend to a full-on wedding.
The wishes are extremely varied but all are significant and require a considerable amount of organisation by the Trust wish co-ordinators and support from sponsors, whether it be finances, donated goods and services, or just old-fashioned hands-on-the-ground.
For those of us a little too shy to ask exactly what palliative care is, the Ministry of Health describes it as 'care for a person of any age who has a life-limiting illness'. As I see it, this essentially means the focus is on a person with an illness that could significantly reduce their lifespan and requires ongoing care.
In the case of Race4Life Trust, people in palliative care can apply for a wish for themselves, through a friend or family member, and if the application fits within the Race4Life Wish List Policy and Trust guidelines, the recipient can be on the receiving end of a memory that in probably most cases would be near impossible to achieve.
Strong support
Founder and general manager of Race4Life Trust Viv James says a number of businesses connected to the construction and contracting industries have been strong supporters of the organisation since its earliest days.
"Hicks Brothers, Woods, the Hugh Green Foundation, Humes Pipelines, Envirowaste, Gough Group, ICB Retaining & Construction, Treescape, and Hiway Stablizers are some of the industry supporters of what we do," Viv says.
"I think that so many of these loyal supporters are aware that their industries are all about people. Through their connection with Race4Life, they are in a position to give back to the wider community and make a huge impact on people's lives.
"It is a win-win situation with businesses seen to be supporting such a good cause. Race4Life and all of their wish recipients benefit greatly from the level of support given. We are honoured here at Race4Life to be privy to humanity at its best."
Last year, more than 130 wishes were provided to worthy applicants, and Viv says the Race4Life Trust wish co-ordinators are on track to substantially exceed that target in 2019.
"I would say we could top 200 wishes this year, so our growth has been phenomenal," she says, before adding, "but none of this is possible without support from our sponsors."
There's significant organisation and infrastructure behind the scenes to ensure all recipients receive the wish they envisage.
"It is heart-warming to witness the kindness and compassion at the centre of the wish. Our wish co-ordinators do an absolutely fantastic job to provide the very best outcome for our patients and their families," says Viv.
It is here where the construction and contracting industries have been stepping up to the mark with support and is where the Race4Life Trust has been reaching out to new sponsors.
"Those in the construction industry and the Motorsport world have been our staunch supporters over the years and give our Trust a certain X Factor. The generosity shown is simply stunning.
"With the growth of the Trust in the last year, we would love to branch out to other businesses and encourage them to join us at our fundraisers and events, maybe participate as a sponsor, help out as a volunteer or just take it all in as a bystander. Many friendships have been forged through our work. There is a certain magic about it," Viv says.
Viv says that some businesses like to have a more direct sponsorship role. They gather staff together each month to discuss a selection of wish applications before deciding which one they would like to sponsor.
This selection process allows each member of the staff to have an active play in what is the nominated wish of the month. Plus, it continually brings their awareness to the responsibilities of giving back to the wider community and reflects the high integrity of their employers."
Annual event      
With events and occasions held across the country, Viv says there's an opportunity for businesses to become involved nationwide whether in a small or more in-depth capacity.
"We love to involve our sponsors as much as possible, in many aspects of our organisation. Our annual Race4Life event is a great testament to this with more than 400 volunteers joining us on this magical day at Hampton Downs Raceway," says Viv.
On 12 March this year, Race4Life Track Day celebrates its 12th anniversary. High-octane rides are available to more than 80 palliative care patients who will travel from as far as Wellsford in the north and Tauranga in the south, for the brilliant event.
The day provides recipients with the thrill of riding around the circuit in race cars, prestigious cars, and some classic versions as well. Rides in trucks, on motorbikes, and in a helicopter have all been thrown in for good measure. Special catering for patients and an all-day barbeque for volunteers all add to the high-energy atmosphere, as described on the Race4Life website.
The Deals on Wheels team, with videographers in tow, will be at the event. So stay tuned on dealsonwheels.co.nz and our Facebook page for photos and videos.
For more information, visit race4Life.org.nz or contact Viv on viv@race4life.org.nz.
Watch Race4Life Hampton Downs Track Day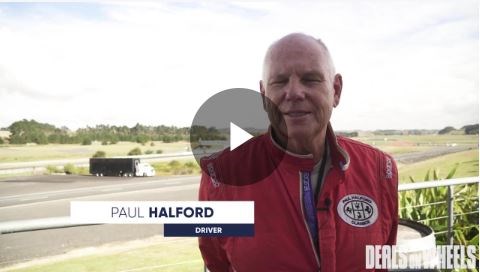 Keep up to date in the industry by signing up to Deals on Wheels' free newsletter or liking us on Facebook.