Product profile: Pacific Cameron PC20-2 compactor
---
One Kiwi-owned business has improved the efficiency of heavy compactors with the release of the latest Pacific Cameron soil compactor
If you're from the upper North Island, the name Allan Cameron should be instantly recognisable, what with him being a successful contractor with a long-standing pedigree in large-scale earthmoving and civil engineering projects.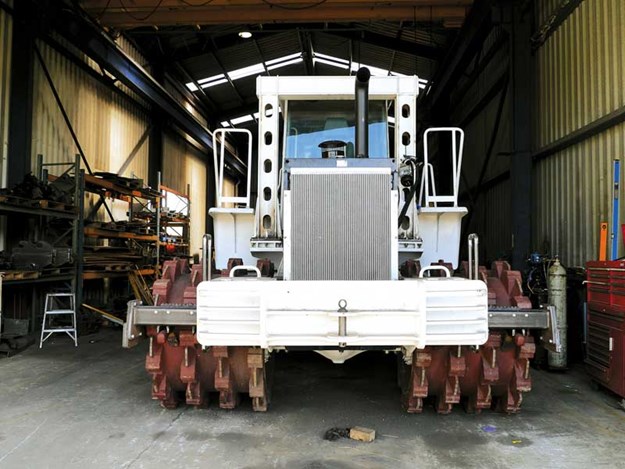 As Allan was carving a more-than-enviable niche in his industry of choice, the mechanical side of heavy equipment was an area that he paid special attention to, especially when it came to making machinery more efficient to use and cost-effective to own.
The culmination of this experience and many years of innovation is the reason we are taking a look at the latest 20-tonne Pacific Cameron PC20-2 compactor being assembled at the BS Engineering workshop in Auckland. Encompassing a few design upgrades over its predecessor the CC20, it is sure to gain the attention of those in the heavy compaction market.
Engineering innovation
To the untrained or inexperienced eye the Pacific Cameron PC20-2 may appear to be much like any other heavy-duty soil compactor, but the thought and engineering innovation behind the Down Under-built piece of machinery belie all outward appearances, and prospective buyers need to take serious note.
"I started down this path a few years ago where we worked on improving the Caterpillar 815 and 825s we were using on civil engineering work," Allan says. "We put some of my earlier ideas into a number of second-hand units and as word got out, we began selling them, eventually to around six countries."
Allan says the next obvious move was across to new machinery, and Hyundai compactors were modified with design enhancements and sold with new-machine warranties.
"We continued refining the ideas, and over the past few years, it has led to where we wanted to be, which was building our own machines and to our specifications," he says.
"It has given our Pacific Cameron machines a strong point of difference by providing faster, concise and effective compaction, which in turn has lessened fuel burn by some 19% when compared with similar machines from other manufacturers."
Less drag, better compaction
There are a number of differences that make the Pacific brand of compactor stand out from the crowd and these should be quickly noticeable to experienced operators, not only visually but from the feel of the machine when in use (more on that shortly). The most outwardly noticeable change for many would be the wheels, or drums as they are
usually called. Pacific Cameron compactors run four rows of feet per drum on the rear and three rows on the front, as opposed to the industry norm, which is up to five rows on both drums.
With the feet being offset between front and rear drums (and some cleverly calculated weight distribution), even compaction is achieved, and with less ground-contact drag, associated fuel burn is reduced, says Allan.
"We have a lot less drag than our competitors—like more than 40% less."
However, some may ask whether having fewer feet in contact with the ground means not as much fill is being compacted. Allan addresses this point with an explanation of the high ground pressure compression cap that sits atop each foot.
"These caps add double the pressure as the foot enters the fill, then it balances out as the drum rotates with the machine moving forward, so as the fill tightens up at the finishing stage, the caps do their job again, providing a tight finish," he says.
Floating cleaners
Offering even bigger gains in drag reduction, the cleaners that remove fill from between the rows of feet on the drums have been changed from the usual fixed unit to a full floating design.
Cleverly, the floating cleaners are engaged into use when fill begins to build on the drum; the more fill, the harder the cleaners work. Additionally, they are easily adjusted by swapping a couple of shims in what should take no more than two or three minutes.
"The normal practice in the past has been for manufacturers to fit fixed cleaners, which, unless constantly adjusted, can have the unintended effect of compressing fill against the drums," says Allan. "However, our floating cleaners swing away from the drum when not in use, eliminating build-up of fill on drums and thus significantly reducing drag and wear."
Self-cleaning plates
Another very important feature is the small vertical 'blades', or self-cleaning plates as they are correctly called. The simplicity of these multi-tasked plates needs to be seen to be appreciated.
Acting as cleaning devices, they help prevent the build-up of fill between the feet; additionally, they break up slabs in the fill. Lastly, as alluded to earlier, they provide a smoother ride (or feel) for the operators when moving over haul roads.
Moving fill
The compaction of fill often requires the use of a dozer blade to keep levels consistent, and the front end of the Pacific PC20-2 has not been forgotten when it comes to engineering innovation.
Strength of the front-end pushing unit is evident with oversized pins, bushes and arms. Says Allan: "With weight not being an issue, we have been able to manufacture a big, strong unit.
"The tilt is unique, having 10 degrees either way with a parallelogram lift," he says. The lifting system provides an advantage over a traditional dozer blade as it allows the blade to remain at 90 degrees to the ground, thus adding efficiency when working with sticky materials.
Power train
The Pacific PC20-2 comes with a Cummins Tier 3 179kW (240hp) engine, with ZF (ZF Friedrichshafen) transmission through to upgraded planetary axles that are supplied by wholly owned Caterpillar subsidiary company SEM.
"We are very confident that we have a strong driveline," says Allan, "and seeing the drag is so low, the machine does it easy and there is no stress, with all the temperatures at the bottom of the scale."
Summary
Allan is confident the design and engineering innovations have culminated in a strong, well-made product that offers efficiencies and significant fuel savings over similar-sized competitor brands. It is one he says has been well proven during operations.
"Now we have reached our intended destination with a product that has all our past developments, which results in a compactor that does the job with ease. Low drag, low stress, low temperature, low fuel burn, low purchase price, and a two-year warranty," he says.
The development of leading-edge equipment such as what we've seen with the Pacific Cameron PC20-2 compactor is innovative design and construction at its finest. It is certainly a piece of equipment more New Zealand and Australian companies should be looking to.
We'll be following this story up in an upcoming issue with another looking at a Pacific Cameron compactor at work.
Pacific Cameron PC20-2 specifications
| | |
| --- | --- |
| Engine | Cummins 6CTA8.3-C240 |
| Net power | 179kW (240hp) |
| Torque | 1143Nm |
| Hydraulics | 17Mpa |
| Fuel tank | 410L |
| Length | 6950mm |
| Height | 3520mm |
| Width | 3500mm |
For more information, visit pacificsoilcompactors.com or contact Allan Cameron on 021 733 880, sales@pacificsoilcompactors.com
Watch the Pacific Cameron PC20-2 compactor in action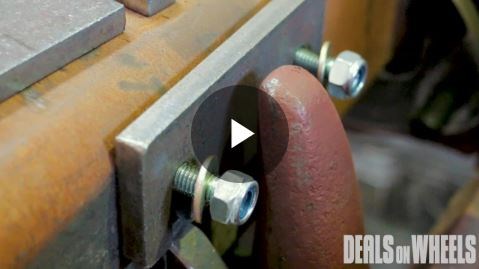 Keep up to date in the industry by signing up to Deals on Wheels' free newsletter or liking us on Facebook.