Product profile: MIMICO provides Metso crushers and mobile screens
---
HG Leach has partnered with MIMICO to provide the company with the capability to manufacture various grades of sealing chip in a completely mobile operation
At HG Leach & Co's Matatoki Quarry, just south of Thames on New Zealand's North Island, their mobile crushing spread is in full flight.
HG Leach has partnered with MIMICO to provide the company with the capability to manufacture various grades of sealing chip in a completely mobile operation.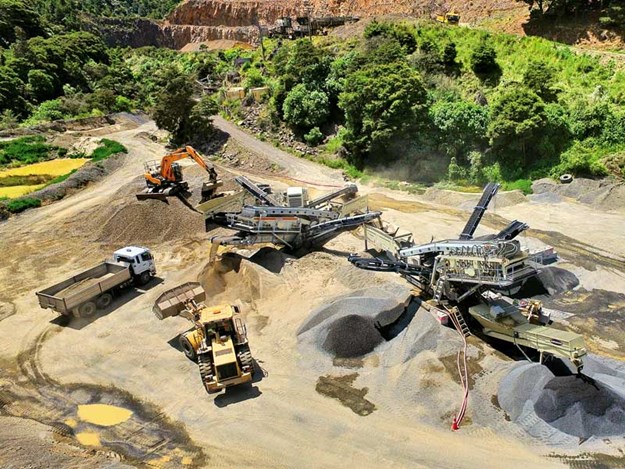 The operation at Matatoki is set up in two parts. "The initial unit consists of a Metso LT106 jaw crusher, a Metso LT200HP cone crusher, and a Metso ST2.4 mobile screen, which are manufacturing the feedstock to then go to the mobile chip circuit," explains Garth Taylor, MIMICO's Crushing & Screening business manager.
"The mobile chip circuit consists of a Metso LT7150 Barmac VSI crusher, a Metso ST3.8 mobile screen, and a Metso ST4.8 mobile wash screen. That wash screen is also followed up with a Superior Industries 30" x 24' fine material washer. This plant is making the various sealing chip grades for roading aggregate."
Flexibility and quality were key factors in HG Leach choosing to go down this path for their operation.
"This also allows HG Leach the ability to move plant to their various quarry sites and to also be able to manufacture sealing chip for other customers using their contract crushing capabilities," Garth says.
HG Leach & Co Ltd is a well-established, community-focused, family company. "I'm a fourth-generation Leach," Ricky Leach, plant and maintenance manager for HG Leach says. "The company was formed back in 1952 by my great-grandfather, my grandfather, and my great uncle.
"We have four sites in the Thames Valley supplying aggregates locally and around the region."
As well as their operation at Matatoki, HG Leach also operates quarries at Tirohia, Tahuna and Waitawheta. These locations, along with the company's reputation for outstanding quality and its highly effective transport fleet, have all combined to allow HG Leach to expand its operations beyond their traditional area of operation and into areas of high demand.
The company is no stranger to big jobs. "Last summer, we came off one of the biggest jobs in the whole 66 years of the company, supplying Rip Rap to the washed-out coast road north of Thames," Ricky says. "This involved north of 70,000 tonnes of product."
HG Leach values the relationships they hold with key suppliers. This includes MIMICO, the New Zealand distributor of Metso and Superior Industries' equipment, parts and service support.
"We've had a very good relationship with MIMICO since 1996. We're two family businesses working together with very similar family values," Ricky says.
"We can just jump on the phone—it could be the service manager, it could be the maintenance fitter, it could be the managing director. We get an answer straightaway. We're half an hour away from their [Matamata] site, which gives us very good service and also that relationship works very, very well."
Keep up to date in the industry by signing up to Deals on Wheels' free newsletter or liking us on Facebook.