Cover Story: Hidromek and Leica iCON Excavate 3D
---
Hick Bros Civil Construction Ltd is using a Hidromek HMK220LC on an Auckland construction site so Deals on Wheels went along to see it in action
If you look at social media commentary, there's been an admirable amount of interest in the Hidromek brand since its introduction to the New Zealand market a little over 12 months ago by Kiwi-owned distributor Magnum Equipment. The Turkish-built machines are making in-roads by steadily filling yard space in contracting fleets.
What's more is that some of the more cynical among us have been issuing post-inspection stamps of approval after casting critical eyes and operating skills over the machines in the flesh, which, as we all know, has nothing at all to do with the marketing hype that surrounds launches of new products.
On the site we visited, Hick Bros are using two Hidromek excavators: a 32-tonne HMK300LC and the HMK220LC, which weighs in at 23.5 tonnes. It's the smaller (relatively speaking) machine we focussed on the day of our visit, as it has been fitted with the latest Leica iCON Excavate 3D machine control system. But, before we jump too deep into things, let's recap on how things got to this point.
"As we run a large fleet of machines through our hire division, I was looking for an alternative to what was available in the local market but also something that could withstand the demand required from our hire customers," Liam Field, Magnum Equipment managing director says.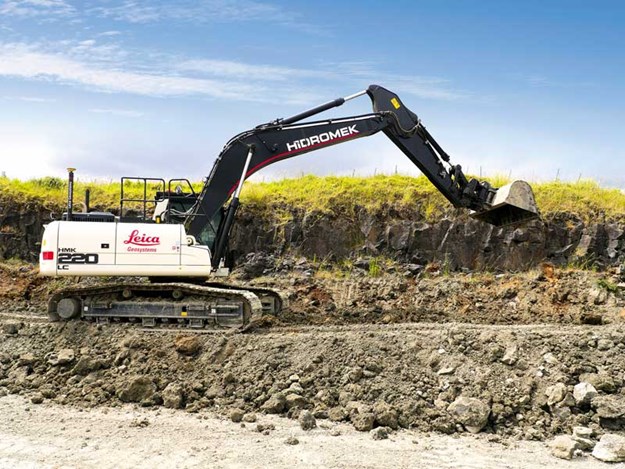 "It wasn't until I attended the Bauma Show in Munich that I found what we were looking for—Hidromek, or 'Hee-dro-mek' as it is pronounced."
Fast forward from the end of 2017 when the first machines arrived to today and the local market has been responding well to Hidromek.
"Critical for us was finding a machine that could compete with the top tier brands, as it was important that buyers and hire companies experience no loss of quality when transitioning to Hidromek; in fact, the opposite can be said, with operators telling us that the comfort and balance of these machines are superior to some of the well-known brands they have used in the past," Liam says.
However, respect from operators is just one piece of the story, albeit an important chapter in the development of Hidromek as a brand of substance and choice in the marketplace. Fuel economy and durability are two key factors that are usually foremost with new machine purchasers, and it's here that Liam says the Hidromek excavators are proving their worth.
"These machines are very economical to run and I've heard that from a number of different people. It's all the small savings that add up in the end," he says.
Leica iCON Excavate 3D
So, looking at taking things to the next level, Magnum Equipment upped the ante and partnered with survey equipment supply company Global Survey Ltd, suppliers of Leica machine control technology.
"For us, it was a matter of putting our money where our mouth is and showing purchasers that not only are we supplying what we believe is one of the best brands of excavator available worldwide, but we are also installing top-of-the-line 3D machine control technology," Liam says.
Global Survey managing director Ray Copeland agrees. "With this first Hidromek machine, we have installed the latest generation Leica technology. The unique cable-free control panel allows the operator to visualise the jobsite in 3D.
"The new control panel and sensors are more than capable of keeping pace with the best operators in the business," he says. Ray says it takes about a day-and-a-half to fully install a system and train an operator.
"Selling a piece of technology is one thing, but training, support, and after sales service
is a very important aspect of what we do. There's no point in selling something and leaving users high and dry when they need help, and for this reason, we have support staff all around the country," he says.
Operator's opinion
And it's at this point we should probably introduce operator Hayden McDermott; experienced and with a massive chunk of hours under his belt, he's more than well qualified to comment on the Hidromek/Leica equipment combination.
"To be honest, this is a pretty good office to be in for up to 13 hours a day," he says. "This (Hidromek) 220 breaks out well and seems to be really well-balanced, which I am told is due to the wide arch on the dipper arm that transfers more weight to the undercarriage.
"The track motor, boom, and slew all operate in sync; that's all major to me and I really rate a digger that can do all that."
The Leica iCON Excavate 3D machine control system installed in Hayden's excavator too gets a positive review.
"I used the previous generation system, which was good, but this latest one is better in my books, as the display is clearer and navigating the menu is easier with a different layout," Hayden says.
"I also like how it can be removed by undoing one clip and there are no cables to unplug. If I wanted to, I could take the head unit across to another machine and be up and running in seconds."
Hayden also points out that the head unit can be stored in a small protective case when not in use.
"Some systems have massive storage cases and they take up a whole car seat, but this Leica one gets put in a small box that doesn't get in the way."
Verdict
The Magnum Equipment/Global Survey machine and technology partnership received a positive review from an experienced operator.
Things will advance further in 2019, with Leica and Hidromek collaborating so that machines will be available from the factory Leica 3D ready, so it's only fitting Liam from Magnum Equipment has the final word: "We've proven ourselves now; they've ordered a second one, which is being installed as we speak."
Hidromek HMK200LC specifications
| | |
| --- | --- |
| Engine  | Isuzu AL-4HK1X |
| Power | 128kW (172hp) @2000rpm |
| Operating weight | 23,500kg |
| Emission class | Tier 4 interim |
| Pumps make | Kawasaki  |
| Pumps type  | Double variable displacement axial piston pumps  |
| Max flow  | 2 x 234L/min  |
| Pilot pump  | 1200mm x1800mm |
| Max reach at ground   | 9880mm (2920mm arm) |
| Max dig depth | 6670mm  |
| Max dig height   | 9560mm  |
| Max dump height  | 6890mm  |
For more information, visit magnumequipment.co.nz or globalsurvey.co.nz.
Watch the Hidromek and Leica iCON Excavate 3D in action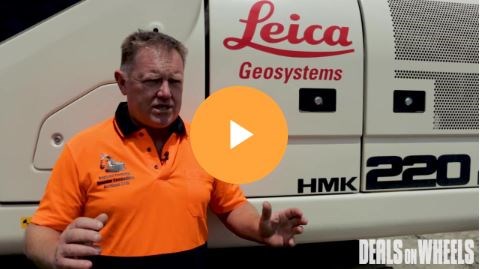 Keep up to date in the industry by signing up to Deals on Wheels' free newsletter or liking us on Facebook.