Porter Press Extra: HR Cement
---
This Hyundai HL760-9 wheel loader has been proven faultless for its owners, with robust aftersales support to match
As far as test cases go, this one is pretty extreme. Mount Maunganui-based HR Cement recently replaced a previous wheel loader that had proven thoroughly unreliable with a new Hyundai HL760-9.
"It was purchased with planned expansion to our operations. Pretty soon, this loader will be working 24/7," HR Cement production and logistics supervisor, Wiremu Lawrence says.
"We're already a full-time operation and the engine in this thing is rarely switched off. It has proven a very dependable machine, especially given the environment it's working in, which certainly isn't the best for mechanicals."
Robust and reliable
The Hyundai HL760-9 has been with the HR Cement team for around five months now, with Wiremu saying it hasn't missed a beat. That fact becomes even more noteworthy when considering just how continual the workload is for the 14 full-time staff on-site here.
An average day will see the loader shifting around 450-tonne of clinker and feeding hoppers with between 16 and 17 tonnes of lime and gypsum in order to keep up with demand. This is a hectic facility that never shuts, so machine reliability is a priority.
So, there's all that. And then you step inside the materials store and realise what sort of environment the Hyundai works in—and the operating parameters that this environment demands—and you gain even more respect.
"We did a fair bit of research before opting for this machine and Porter Equipment was excellent at offering advice," Wiremu continues.
"Because of the abrasive and dusty environment it is working in, we've completely tricked it out with robust filters and pre-filters. There's a separate radiator for the air conditioning system alone, and another pre-filter helps keep the windscreen clear.
"The material the loader is shifting is so abrasive that we can only air wash the machine and blow all the dust and debris out. You can see what happens when you travel across the yard on a wet day and water sticks to the material that builds up on the bodywork; it sounds strange but it's actually the best line of defence for the bodywork to not hose it down."
Working predominantly inside an enclosed environment, the Hyundai HL760-9's bright spotlights and reversing camera are also indispensable.
Ongoing service
The service regime on a machine working in such an environment has to be pretty robust, too. Wiremu says Porter Equipment has been excellent in this regard, bedding in a 20- to 30-hour service programme to ensure the Hyundai remains in top condition.
Unlike an identical machine with the same hours on the clock, but working in a different environment, HR Cement's Hyundai HL760-9 has already had four scheduled services completed.
"Porters are very good at communicating when the next service is coming up. They try to schedule it to suit us, but if there is any overlap with work required, they'll arrange a loader while the Hyundai is offline. I think that's a pretty good example of how a big outfit like Porters can help their customers and take the hassle out," he says.
Fail-safe performance
Wiremu reckons the differences between this machine and its predecessor are like night and day.
"The loader is so smart. Not long after we got it, a sensor light came on, so we called up Porters and they were literally here within five minutes. It turned out there wasn't an issue as such; just the machine warning of a potential issue, which we sorted out.
"That sort of fail-safe stuff is really important. We can't afford for the machine to go down; in fact, when it isn't loading the hopper, it is engaged in yard tidying and other tasks around the place, so we really depend on it to perform consistently not just in the materials store but everywhere. If it kind of looks after itself by alerting the driver about any potential issues, then that's good."
The Hyundai HL760-9, with its 3.3 cubic metres heaped load capacity in the bucket and eight-metre footprint is actually bigger than the HR Cement team need right now. But with major expansion work to the plant on the horizon, Wiremu says the company wanted to ensure the machine purchased now will also work for them in one, two, and three years' time.
"In the last seven years, we have really grown, and we have some key clients we supply to now," he says. "Once our expanded plant over the road is built and working, we'll be producing double our current capacity. It will be a big operation and reliability will be paramount.
"Over and above the certainty this gives us, it has already improved our efficiency too. That's a good result any way you look at it."
Video: Hyundai HL760-9
Click here to watch the Hyundai HL760-9 wheel loader in action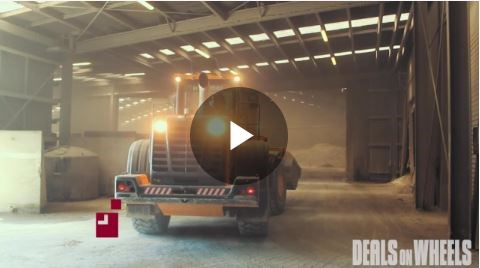 Keep up to date in the industry by signing up to Deals on Wheels' free newsletter or liking us on Facebook.