Cover Story: New Genie XC models
---
With updated features and technology, the new Genie XC models are gaining popularity
When it comes to telescopic and articulating booms, Genie has well and truly consolidated its position in the New Zealand construction and rental markets. According to local distributor Youngman Richardson & Co Ltd, innovation and reliability are the key to the popularity of the Genie Access Equipment range.
"Since the launch of the Genie SX-135 Xtra Capacity (XC), interest in this type of boom lift has increased appreciably," says Youngman Richardson & Co Ltd sales director, Phil Fairfield.
"Feedback from customers over recent years has directed Genie's engineering efforts towards allowing for more people and equipment to fit in the platform. The latest Genie SX-85 XC boom provides the solution with a platform capacity of 450kg, enough for an extra person and more equipment and materials."
Coming in 2019 will be new additions to the range of Genie XC machines. The next model to be launched will be the Genie S-65 XC boom lift followed by the Genie Z-45 XC boom lift. All these models have been designed with customer return on investment as the key driver.
New Genie S-85 XC boom designed for heavy lifting
With the ability to perform a wider range of heavier lift tasks on construction and industrial job sites, the Genie telescopic S-85 XC boom now offers a dual lift capacity of 300kg unrestricted and 454kg restricted.
"New to this generation of telescopic booms, the Genie XC models feature automatic envelope control," Phil Fairfield says. "This is the ability to automatically retract as the booms reach their operating envelope, allowing for simple platform positioning and an enhanced operator's experience.
"The Genie S-85 XC is also equipped with a load sense cell that continuously checks the weight in the platform and limits the operating envelope to match the load chart while boasting the ability to do zero load field calibrations."
The Genie S-85 XC boom also boasts an expanded working zone because of a new chassis tilt sensor incorporated into the machine's function.
"This unique chassis tilt-sensing technology gives operators access to different ranges of motion based on the chassis angle. And it's engineered to automatically cut out specific lift and drive functions of the machines when the tilt activation setting is reached."
The model also features the new Genie Lift Power™ 7kW generator solution to provide reliable power solutions for customers worldwide.
First S-85XC boom lift purchased by Pro Services
Evolving from high-end industrial rigging and fabrication company Rich Rigging, Auckland-based Pro Services has confirmed its penchant for Genie machines with the recent purchase of the first S-85 XC boom lift in New Zealand.
Co-owned by Murray Rich and good friend Neil Radley, Pro Services has an extremely varied client base from the movie industry to commercial-construction and infrastructure projects. According to Murray, the Genie S-85 XC boom lift will appeal to most industries because it has a more significant basket rating.
"The basket rating is 454kg, which enables the operators to have their tools in the cage as well as comfortably being able to carry two larger men if they weigh 120kg each." Quality is a word synonymous with both the Genie brand and Pro Services.
"The Genie S-85 XC boom lift is a fantastic product that our team enjoys operating. As we grow the business, our client base is requesting more Genie products, and we'll happily support their requests," Murray says.
"Pro Services won't be weighed down by processes. If a machine is safe and can provide our customers with a solution, we're in," Neil adds. "We like working with Genie and their New Zealand distributor, Youngman Richardson & Co, because both companies understand the rental market, and they are responsive when we need them on board."
New Genie SX-135 XC boom lift goes further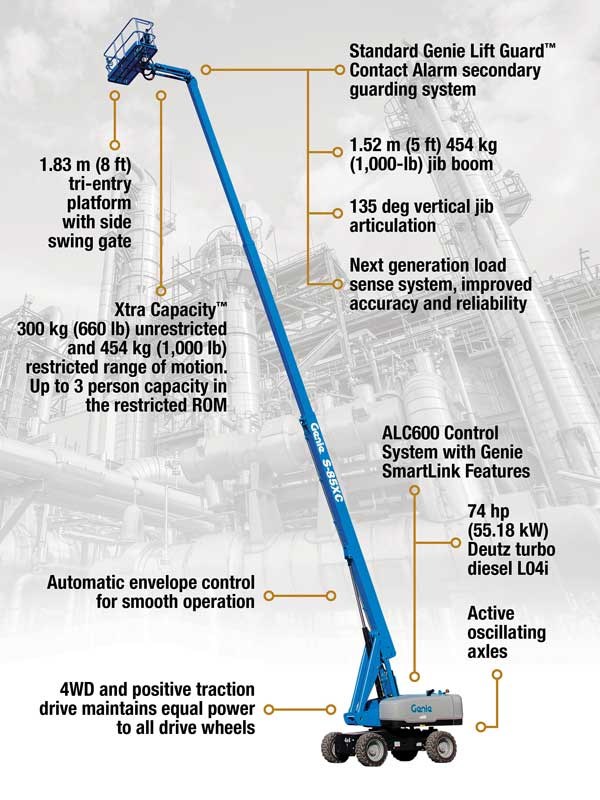 The new Genie SX-135 XC self-propelled telescopic boom lift delivers incredible industry-leading outreach and capacity. The first model in the new Genie Xtra Capacity family, the Genie SX-135 XC boom lift is packed with features, including 27.43 metres of outreach, 300kg unrestricted lift capacity, the ability to work six metres below grade and a 3.94 x 4.11-metre compact footprint.
"With three metres more outreach and 32% more capacity than a typical self-propelled boom of this size, the Genie SX-135 XC boom lift is ideal for rental and structural steel customers working on challenging job site applications," Phil says.
"Thanks to its unique up-and-over style capability, this model is easily able to navigate obstacles at height."
Built to safely and quickly lift operators to the full platform height of 41.15 metres in 2.5 minutes, the Genie SX-135 XC boom lift will position workers and gear exactly where they are needed. The Genie SX-135 XC boom's innovative design means that it offers a three-metre greater outreach than any other self-propelled boom on the market.
To accommodate the Genie SX-135 XC boom lift's increased capacity and range of motion, Genie engineers developed a new hydraulically Telescoping Jib-Extend design that is robust enough to handle all of the up, over, out, and below tasks. And when the job is done, the jib can to be stowed under the primary boom for ease of transport.
Designed with transportability in mind, the Genie SX-135 XC boom features the new Genie mini XChassis™ axle design, which extends and retracts the axles. The Genie SX-135 XC model offers dual lift capacity, giving the ability to also work with up to three people on board while still leaving room for tools and job-site materials.
At your service
Youngman Richardson & Co Ltd has always been committed to customer support and has the workshop facilities and a professional team of mobile mechanics to match. Purpose-built mobile service utes, based in Auckland and Christchurch (Wellington opening in early 2019), have been specifically fitted out to handle planned and unplanned maintenance across all equipment.
More efficient workplace layouts have been created to improve service times and the company's reputation for its fast turnaround of parts is second to none.
For more information about the new product range, contact Youngman Richardson & Co Ltd 09 443 2436 or for South Island enquiries, call 03 341 6923.
Keep up to date in the industry by signing up to Deals on Wheels' free newsletter or liking us on Facebook.