The impact of the one billion trees programme
---
Deals on Wheels writer Patrick Cox takes a look at the impact of the one billion trees programme on forestry
Recently, I visited a farmer friend of mine from the Ruakituri Valley off the Frasertown Tiniroto road between Gisborne and Wairoa.
The farm borders Te Urewera National Park. There were two reasons for my visit: one, I dropped a big old tree for him 20 years ago and it had been sitting in the old aeroplane hangar filleted and drying—good things take time—and so we graded the wood and de-filleted into its appropriate grades to see if we could find a market for it. Also, the opportunity to fill the freezer with venison is never to be passed up.
It was while having a cuppa tea when the conversation got around to forestry and that was when he told me that the one billion trees programme is hitting the Wairoa district and there's a major concern as to the impact it will have on the farming community and the small town of Wairoa—a town struggling to survive, with the major employer being the freezing works.
There were two sawmills in the town, but both closed down when the railway got washed out around five years ago. The coalition government has now pushed to have the railway opened again, for no other reason that I can see, in anticipation of the current forest coming up for harvest.
A forestry company bought large numbers of farms on the south side of Wairoa in the 90s—the last time the government made a push for more forestry. Many of these were planted down to the edge of the Waiau River, which will be of a major concern now that they have started harvesting, and we do not want to see Tolaga Bay incident repeated.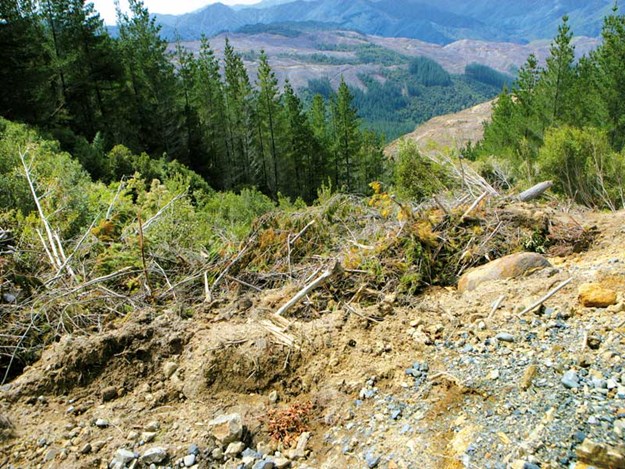 The Hawke's Bay Regional Council (HBRG) are pushing the one billion trees programme with the Productivity Commission's report calling for two million hectares of pasture land in and around Wairoa and north to Gisborne to be planted in trees.
They would like to see a reduction of residue from farms entering the Wairoa and Waiau Rivers and see forestry as a means of achieving this. Prospective foresters are being asked to only consider land that's least prone to erosion, which means all the flat to rolling country is under threat. If the sheep and beef farms are reduced by half, that would probably be the end for the freezing works and inevitably bring about the demise of Wairoa.
Rural communities are the bread basket of this country. I remember reading some years ago that New Zealand has the potential to feed 35 million people. Forestry, on the other hand, although being our third biggest export earner, does not employ many people and from memory, only employs approximately 6000 people nationally. In the 90s, 75% of forestry workers were from out of Wairoa.
Currently, it's not known if there is a logging crew based in Wairoa, with all the loggers based in Gisborne and Napier Hastings. Siviculture practices have changed over the years, and there's less pruning and thinning done today.
This whole push for forestry comes down to the Government meeting its carbon credit targets at all costs. There is a discussion document called the Zero Carbon Bill and the talk is around increasing the value of carbon credits from $300 to $500 a tonne.
The only issue with this is once a forest has reached its peak biomass, it will no longer produce carbon credits while these forests spend the next 30 years growing. How is this going to create jobs? The ones that will make money will be the speculators trading in carbon credits.
Now here's the scary part—New Zealand stands to lose up to 50% of all back-country sheep and beef farms to forestry and country where a big percentage of Kiwis find their recreational needs.
There is some stunning country out there that has been farmed for generations with farms being passed down to family members. The prospect of wilding pines spreading into our national parks will escalate beyond our ability to control them and this, in turn, will cost the country millions of dollars. At least this will create some employment I guess in the control of the wilding pines that are already a problem in some areas.
As a nation, we need to think carefully about what we're doing in our pursuit of carbon neutrality. Once these farms have been converted to forestry, they will be lost forever.
Converting a forest back into a farm would be a huge undertaking—all the fences would be gone, cattle yards rotten and collapsed, house either removed or left to rot where they stand. Redeveloping the land, removing all the stumps, fertiliser, and so on—it just wouldn't be viable. Once converted to forestry, the Emissions Trading Scheme (ETS) requires this land to be permanently under forestry.
Two hundred odd years developing New Zealand to what it is today disappearing just because the government needs to balance the carbon credit book by off-setting all those industries that are burning fossil fuels and cannot contribute towards the ETS.
Local and regional councils need to take steps now to protect their rural communities by limiting just how much land can be converted to forestry. Wairoa will not be the only target in rural New Zealand for the one billion trees programme.  
Keep up to date in the industry by signing up to Deals on Wheels' free newsletter or liking us on Facebook.