Porter Press Extra: Hewlett Road Machinery
---
This machine hire entity trusts in Porter Equipment-supplied Hyundai and BOMAG equipment to ensure its customers have reliable machine hardware at their disposal
Founded by Geoff Phillips in 1983, Hewletts Road Machinery has been a pivotal source of hired hardware for construction companies of all sizes in the Western Bay of Plenty for decades now.
Today, the machine rental firm—sited on the busy Mount Maunganui road they're named for—boasts a large fleet of machines.
Like any hire company, Hewletts Road Machinery operations manager Mason Phillips says that the less they see of individual machines on the yard, the better. The company enjoys a loyal customer base, with the bulk of its gear generally out on longer-term hire around the city and further afield.
"We've been investing in Hyundai crawler excavators, BOMAG road construction equipment, and other machinery supplied by Porter Equipment for some time now," Mason says. "We have a variety of Hyundai excavators out with clients, including 14.5-tonne Hyundai R140LC-9s and 12.5-tonne Hyundai R125LCR-9s.
I believe our customers like using these machines because they're good no-nonsense diggers that are tough, simple to operate, and—especially in the case of the 12.5-tonners—relatively easy to transport around urban environments and subdivisions."
Ready to go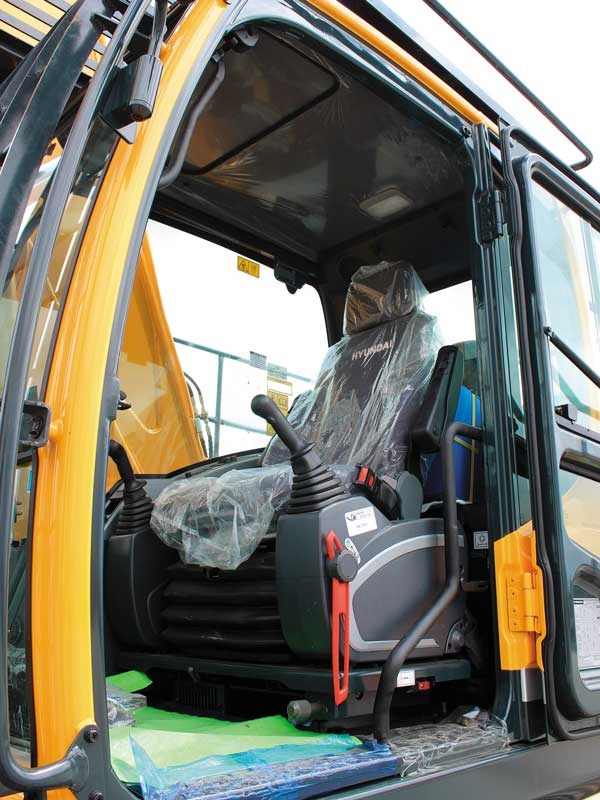 Mason says the Hyundai excavators represent good catch-all machinery for both his own company and his clients.
"Hyundai diggers are spec'd properly straight out of the box, so we know what we're getting and—probably more importantly for our clients—we know the machine will arrive ready to run, so there are no delays getting them wherever they need to go."
All Hyundai excavators that Porter Equipment supply to Mason and his team arrive with drop valves, quick hitches, tilt buckets, and full ROPs protection.
Comfortable compaction work
Hewletts Road Machinery also trusts in rugged BOMAG single drum and articulated tandem drum rollers for its hire fleet. With so much road construction and infrastructure work happening in the Western Bay of Plenty in recent times (most notably the Tauranga Eastern Link stretch of SH2), Mason says the company's BOMAG gear has been in constant demand.
More BOMAG equipment is about to be added to the fleet, with the imminent arrival of two BW177 rollers to complement their BW213 model.
Power and performance
Another new addition to the Hewletts Road Machinery portfolio represents something a little outside the ordinary—a Hyundai R210LC-9 sporting an extended long-reach boom and stick assembly.
"This isn't an every day machine, but whenever we have customers with specialised requirements or where we can see a need developing locally for machines offering specialised abilities, we'll assess what's available," Mason says.
"In this instance, the long-reach Hyundai is a machine that could be used for both demolition work or for subterranean or sub-marine excavation work. We'd never order this sort of machine without having identified a ready end user for it, as is the case with the machine being delivered by Porter Equipment on this occasion."
Regardless of whether the Hyundai R210LC-9 wears a bucket or impact attachment at the end of that extra-long arm, Hyundai's 'dash-9' excavators feature increased pump output capacity to ensure optimum performance from their hydraulics systems.
The manufacturer's advanced CAPO (Computer Aided Power Optimisation) system tunes the engine and pump power to optimum levels, regardless of the workload being undertaken, monitoring coolant and hydraulic oil temperature at the same time. The CAPO system will alert the operator should temperatures fall outside pre-set levels.
Other standard features include a Power Boost Control System, which can increase the digging force by up to 10%, and a Pump Flow Control System, which minimises pump flow when in neutral to reduce power loss. Conversely, it will then deliver maximum pump flow to the actuator to increase speed during normal operation.
Meanwhile, the Hyundai R210LC-9's boom and arm holding system uses holding valves to prevent the boom lowering during extended periods in the neutral position.
Porter connect
While Hewletts Road Machinery has an established reputation for getting machinery where it's needed in a timely manner, the family business is also quick to react if anything untoward occurs with one of their hire fleet.
In order to be able to offer quick turnaround on servicing to his many clients, Mason says Porter Equipment's reliable parts and service back-up is vital.
"Having Porter Equipment's parts and service back-up makes it easier for us to guarantee the performance of the gear we're putting out on-site with our customers. It means parts can be sourced very quickly through the local Porter Equipment depot and one call can usually sort anything out of the ordinary.
"Running similar machines also means there's a commonality to parts and servicing that makes it easier for us to estimate when a machine will be back in action. That sort of information is vital for our customers when they're using a hire machine to plug a gap," Mason says.
"We might not be the end users, but we still rely on new gear from Porter Equipment to do what's expected of it. We're very happy with the service offering they provide; it means we can offer the same level of support to our own clients."
Keep up to date in the industry by signing up to Deals on Wheels' free newsletter or liking us on Facebook.