Porter Press Extra: Hyundai's mini crawler excavators
---
McKenzie & Parma has found the perfect balance with a machine that delivers on power but also operates easily within confined urban worksites. That machine is a Hyundai mini crawler excavator.
McKenzie & Parma celebrated 25 years in business in 2018. It has grown steadily since its formation by Ian McKenzie and Parma Pandaram back in 1993 to now field a team numbering 120 and with the completion of a multitude of complex projects achieved during the intervening years.
The multi-disciplined civil contracting firm has a varied machine fleet on the books. But Hyundai mobile plant, supplied by Porter Equipment, has been a feature of the fleet from the very start. General manager Chris Rose says that Hyundai excavators work well in the often-confined work sites the civil contractor has to complete tasks in.
"We always look to Hyundai for our gear; they make a great compact digger that is ideally suited for tight project sites in the city," he says. "The bulk of our work is within Auckland and often on sub-division or commercial project sites, so if we aren't dealing with tight spaces, we'll be dealing with busy worksites with a lot of machinery and people on them; usually both."
Those tasks McKenzie & Parma undertake are as varied as the jobsites. A quick look at their long list of completed work in recent times reveals an array of projects both big and small that require high levels of skill and reliable gear in equal measure.
Known for its work as one of Auckland's largest self-performing drainage companies and as lead contractor on a number of stormwater and sewer projects, McKenzie & Parma's back catalogue of work also extends to siteworks, roading, utility installation, landscaping, and earthworks.
The location within which I caught up with one of the company's mini excavators was an effective case-in-point. McKenzie & Parma's eight-tonne Hyundai R80CR-9 is currently sited at a large shopping mall in Auckland's south-east.
An extension to an existing building to provide more parking space for shoppers has seen a new multi-level structure rise from the ground. While the steelwork takes shape overhead, McKenzie & Parma's mini excavator is at ground level working on drainage.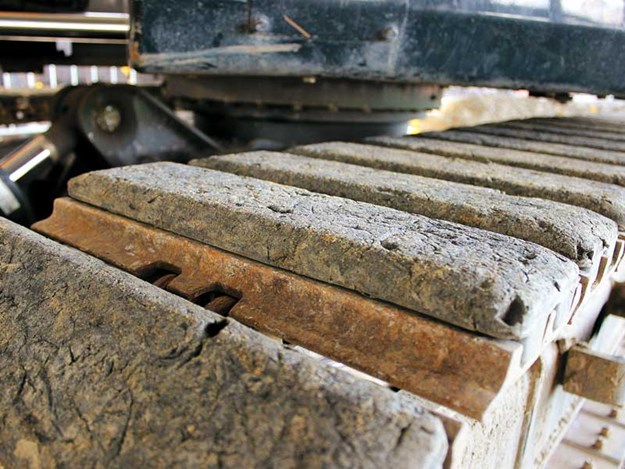 It's immediately obvious why the civil contracting firm would utilise a machine of the Hyundai R80CR-9's dimensions in this environment.
While the scale of the project is large overall, the site reveals itself to be much more complex and with far less wriggle room for big machines. With the next level of the structure above meaning, there's an enclosed covering overhead, along with plenty of supporting beams spaced at intervals along the periphery, the space the mini excavator is working in isn't as open as it appears from the edge of the site.
The Hyundai R80CR-9 has a cab height of just 2.6 metres and the total machine width is 2.3 metres. But it still offers a maximum digging height of 6.7 metres and a maximum digging depth of 3.7 metres, meaning it'll shift dirt with the best of them when required but is nimble enough to manoeuvre around with ease. Good line-of-sight from the cab helps too.
Hyundai has six mini excavators in its line-up of sub-nine tonne crawler excavators, with the Hyundai R80CR-9 being the largest. But with 60hp, a standard blade and bucket capacity of 0.28m³, many civil contractors have opted for this eight-tonner as an ideal mix of required grunt from a compact footprint.
McKenzie & Parma also has a slightly smaller Hyundai R60CR-9 tucked into a nearby corner between a couple of containers here as well. This is the kind of environment where bigger isn't necessarily better.
 "Porter Equipment has a good range of machinery with Hyundai," continues Chris. "I really like the Hyundai machines and you can't beat those guys for their back-up support. We're continually on the move and we have heaps of work on all over the city.
"But I know that if we ran into any difficulties with any of the machines they've supplied to us, Porter Equipment would sort it out for us pretty sharpish."
So, next time you're battling Saturday afternoon traffic at your local mega-mall, searching for that elusive parking space on level three, remember the worker ant machines that helped build the structure in the first place. They might not be the biggest, but in places like this, they certainly work the best.
Keep up to date in the industry by signing up to Deals on Wheels' free newsletter or liking us on Facebook.