Product feature: Dymax Tree Shears
---
The Dymax Tree Shears helps improve operator safety, says Treescape NZ, who currently operates 14-inch and 18-inch Dymax Tree Shears
The 18-inch (450mm) shear was put through its paces at a recent roadside powerline clearing project on SH16 near Kumeu, which involved the felling of 30-metre-high Casuarina trees.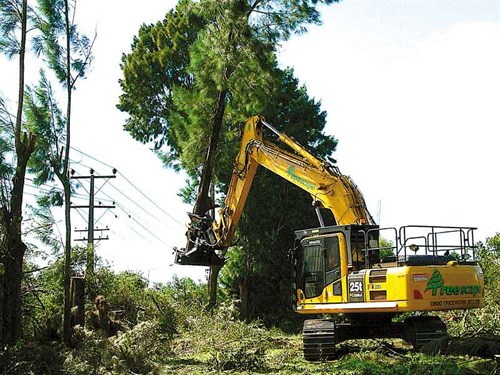 "The Dymax Tree Shear takes the man working up high with a chainsaw right out of the picture," site manager Corrin Spittle says. "Because the Shear lets us hold the tree securely, shear it, then lift it and put it down exactly where we want to, it gives us the extra control and safety that we need particularly near busy roads or power lines."
In addition to control and safety, the Dymax Tree Shear also delivers an average cutting rate of between 100 and 180 trees an hour.
"For a project like the Kumeu one, what would previously have taken close to two weeks can now be completed in around two days with the Dymax Tree Shear," Paul Herbison of Boss Attachments says.
"As well as reducing time on-site and the need to de-energise or work around live power lines, it also dramatically reduced the impact on a busy state highway. Motorists, property owners, and site teams, all benefitted from the reduction in delay, increased safety, and greater productivity. In an enclosed property setting with no power lines, the job would have been concluded even faster."
For more than 130 years, the Dymax brand has been at the sharp end of product development and manufacture of quality equipment for a number of industries including rail forestry and the construction sectors.
Today, their range of Tree Shears and other attachments for the forestry sector are seen by many as one of the recognised global leaders for proven design and uncompromising performance.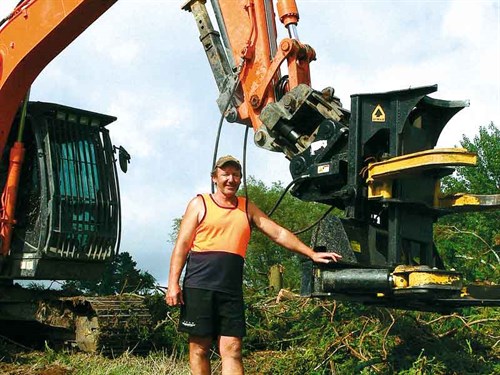 Bob Sharpe, whose contracting business is based in Huntly, is another contractor who has benefitted from his recently purchased Dymax Tree Shear.
Bob says that even though he's "still in learning mode, the attachment is super-efficient, very easy to operate, and only needs minimal maintenance".
"Also, instead of swinging a chainsaw in all sorts of weather, I'm now operating safely from inside an air-conditioned cab with the radio on," Bob says. Depending on the size of the trees to be removed, Bob operates the 16-inch Dymax Tree Shear with either a 13-tonne or 20-tonne excavator.
All Dymax Tree Shears for excavators feature dual grapple arms that secure the tree prior to shearing. Options include a bunching arm, tilt or rotator, custom-build gatherer that cuts multiple stems in specific operations, and  a hydraulic tilt rotator that provides side-to-side tilt, allowing operators to adjust to the tree trunk or limb when working on uneven ground. 
Dymax Excavator Tree Shears come in a range of 250mm to 600mm cut sizes and are suitable for use with a wide range of excavators or skid steers.
"Dymax is a sixth-generation family-owned company, being relatively unique in today's global market place," Paul says. "Their commitment to the delivery of quality, best engineered solutions to meet their customers' ever-evolving needs is as strong today as it was when the business was founded." 
Keep up to date in the industry by signing up to Deals on Wheels' free newsletter or liking us on Facebook.