Cover Story: Volvo demonstrates big gear
---
The Volvo Ocean Race provides a quality setting for Volvo product distributors to showcase their products. DOW went to see what's in store.
New Zealand Volvo CE (construction equipment) distributor TransDiesel took centre stage recently by combining with other local Volvo product distributors to celebrate the race yachts completing their Auckland leg of the nine-month Volvo Ocean Race.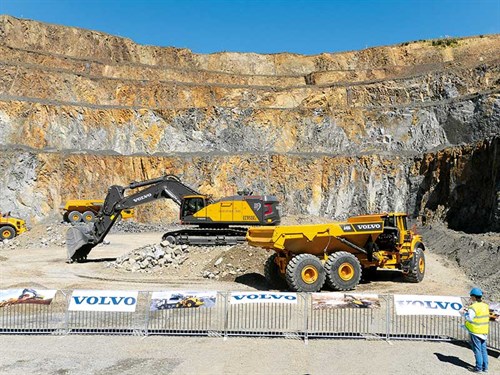 Teaming up with Australian distributor of Volvo CE products, CJD Equipment, the team at TransDiesel used the setting to host selected guests with a few days R&R, which included time on the water watching the race boats in action.
Open Day at the Stevenson Resources quarry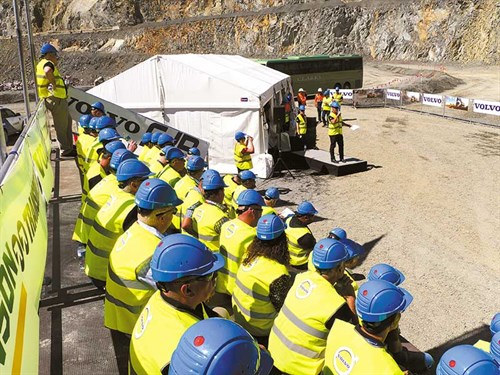 Along with the upmarket race event, TransDiesel scheduled an invite-only open day into the comprehensive timetable at Stevenson Resource's quarry located near the Bombay Hills on Auckland's southern fringe, where TransDiesel had gathered four large pieces of Volvo kit.
The group setting not only provided quality business networking opportunities but it also enabled a close-up look at the latest Volvo technology and gave guests a chance to find first-hand information on the Scandinavian equipment manufacturers' construction equipment range from a number of assembled Volvo product specialists.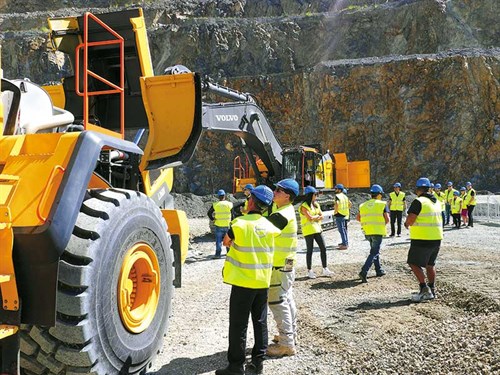 Donned in branded Volvo safety garb, the visitors were treated to a well-planned, choreographed demonstration of Volvo muscle, courtesy of the latest Volvo L260H (34-tonne) wheel loader, A40G (30.7-tonne) and A60H (43.4-tonne) articulated dump trucks—or haulers as Volvo likes to call them—and the impressive EC950E (89.6-tonne) crawler excavator.
Prior to the practical demonstration, TransDiesel general manager of sales and marketing, Paul Harris, updated guests on the progression of the New Zealand-owned business since taking on the Volvo brand some seven years ago.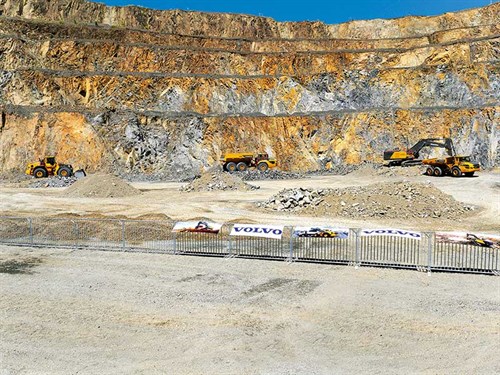 Of notable interest was the significant increase in staff numbers and opening of new branches, which incidentally now tallies up to 16 sales and service centres, including dealers located throughout the country—all on the back of what the company says is the increasing popularity of Volvo construction equipment in New Zealand.
Singapore-based Volvo CE region executives also attended the event and were able to provide guests with an update on the brand and key areas of advancement for the business, particularly in the heavy equipment market—their recent acquisition of Terex rigid dumpers being an example of Volvo's commitment to the industry.
Another example of the Volvo brand leading the way was the recent release of the A60H articulated dumper; its 55-tonne payload capability makes it what Volvo says is the largest production hauler available. Stevenson Resources recently put three A60Hs to work and were kind enough to take the machine off-duty for a few hours, so it could take part in the demonstration.
The Volvo EC950E excavator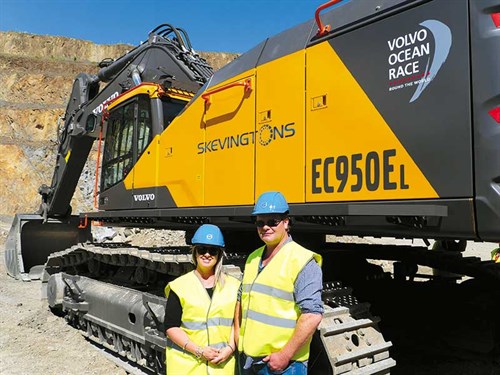 Making its first appearance in New Zealand was the just landed Volvo EC950E excavator. Purchased by Palmerston-based Skevington Contracting Limited, the machine will soon be put to work in an Otago mine.
Skevington company directors Blair Skevington and Angela Jarman were pleased with their new purchase saying that the EC950E would help elevate production capacity. "This is the first time I have had the opportunity to see the new machine close up," Blair says.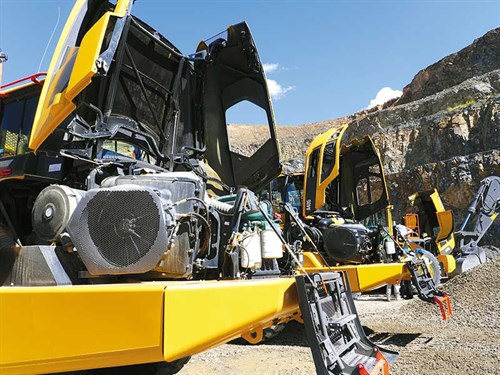 "The EC950E will take over from a smaller machine, and we're really interested to see how it goes. It's not the cheapest gear on the market, but Volvo's reputation speaks for itself. It will get prepped to head south as soon as the demonstration is over."
A post-event follow-up with TransDiesel says guests engaged with the Volvo products well and the company is having discussions with a number of interested parties who can see economy of scale that larger Volvo construction equipment can provide.
Volvo A60H Specifications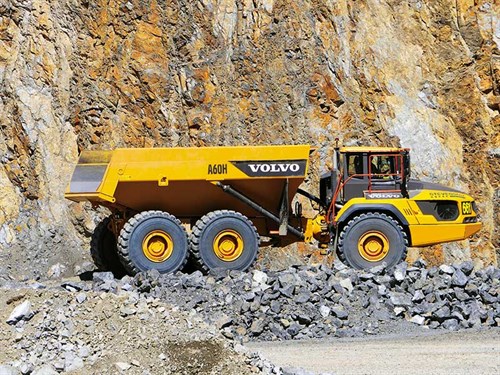 Payload capacity: 55,000kg
Body volume, SAE 2:1 heap: 33.6m3
Gross weight: 98,400kg
Engine: Volvo D16F
Max gross power: 495kW@1800rpm
Max torque: 3200Nm@1800rpm
Volvo A40G Specifications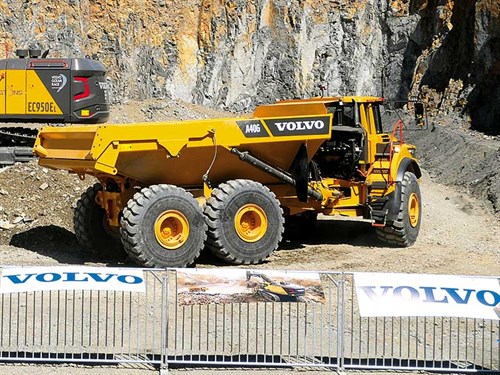 Payload capacity: 39,000kg
Body volume, SAE 2:1 heap: 24m3
Gross weight: 29,800kg
Engine: Volvo D13F
Max gross power: 350kW@1900rpm
Max torque: 2575Nm@1050rpm
Volvo L260H Specifcations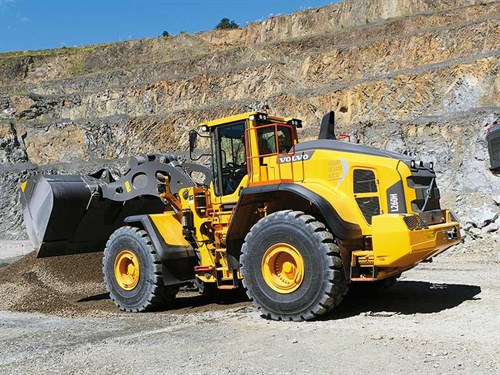 Bucket capacity (GP heaped): 6.8m3
Operating weight: 23,770kg
Engine: Volvo D13E
Max gross power: 310kW@1500rpm
Max torque: 2343Nm@1100rpm
Volvo EC950E Specifications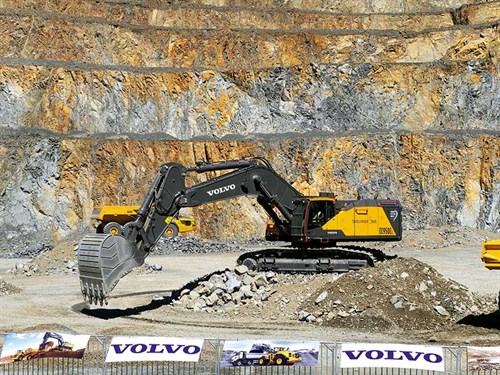 Bucket capacity (GP heaped): 4.7m3
Operating weight: 91,800kg
Engine: Volvo D16E
Max gross power: 450kW@1800rpm
Max torque: 2650Nm@1350rpm
For more information visit transdiesel.co.nz.
Keep up to date in the industry by signing up to Deals on Wheels' free newsletter or liking us on Facebook.