Porter Press Extra: Sandvik QE241 scalper
---
GSL push on with a sports field upgrade project, despite some decidedly unsportsmanlike weather. Thankfully, their new Sandvik QE241 scalper is up to the task.
There isn't much that Christchurch's GSL can't do. That acronym stands for Grounds & Services Limited, which seems aptly all-encompassing.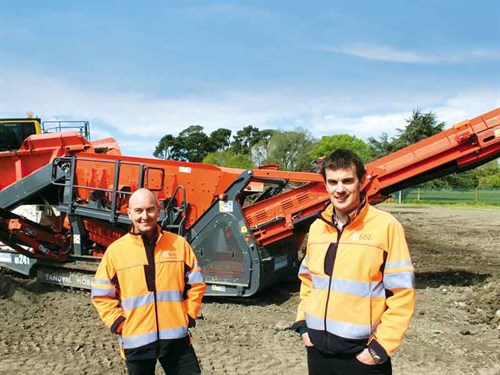 Although the company originated as a landscaping consultancy 18 years ago, its portfolio has broadened extensively during the intervening years.
GSL, a growing business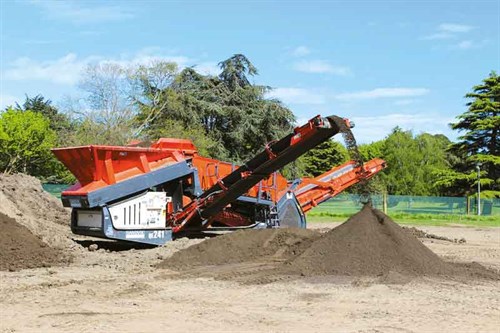 "We've diversified a fair bit over time," GSL's South Island manager, Andrew Ward, says. "We still complete a lot of the more traditional tasks, such as weed spraying, mowing, and general maintenance, but we're also involved in a lot of specialist project work, such as stream realignment work and storm water basin construction.
"In May this year, we also commenced a Network Outcomes Contract [NOC] with Downer Construction, which sees us responsible for fence-to-fence maintenance on a section of South Island roading including the high-profile route of SH75 to Akaroa."
Andrew says the NOC has changed the way in which GSL works, with the 120-strong company transforming into a true 24/7 operation in order to fulfil the varied components of this large-scale road maintenance contract.
"The NOC sees us looking after vegetation throughout the year as well as gritting and snow-clearing during the winter months—tasks that we have to be flexible and immediate in our response to—and all the level two traffic management associated with such work," he says.
GSL has increased its roster by 25 new staff members in the last three months, so it certainly represents a big leap forward for the company. Closer to home—in Christchurch's famous Hagley Park, in fact—Andrew shows me some of the more day-to-day work GSL also continues to engage in, and the machinery they're using to do the job.
Using the Sandvik QE241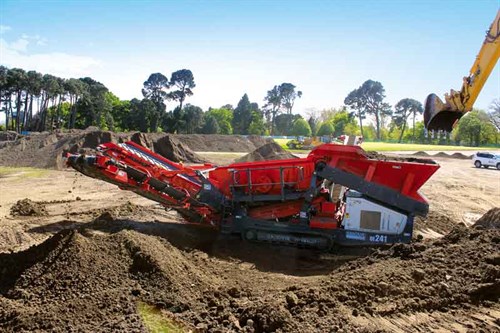 A sports field upgrade ahead of next year's Golden Oldies Rugby Festival at Carlton Corner within the large metropolitan green space, has seen a team from GSL screening 6000 cubic meters of dirt with a recently acquired Sandvik QE241 scalper. The work requires GSL to bring in new topsoil and raise the ground level, having already completed a new irrigation system install.
The particularly wet 2017 winter has seen GSL working hard to make up for time lost during weather interruptions, especially now with spring upon us and the narrow window for prime grass growing having arrived. But Andrew says the Sandvik QE241 has been a real asset during the final push. Around a thousand cubes remain to be screened.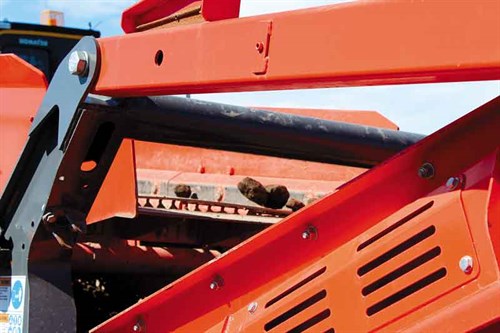 "The rain has been relentless this winter, so we've had to work double hard whenever we have a dry day. The Sandvik has been invaluable, though, as it's pretty good at handling wet, sticky soil. We needed to process big volumes, so that's why we opted for this model.
"The fact it has three-way split conveyors works really well. You only have to see how much rubbishy material it's pulling out of the dirt to know it's doing the job," Andrew says.
The Sandvik QE241 is also tracked, which means it's much easier to transport around the large seven-hectare site, or on and off road transporters when it has to be relocated.
Strong relations with Porter Equipment 
Andrew says the Sandvik name represented rugged reliability for GSL when they were looking to purchase the screen (it's the only one on the company's varied machine fleet), but the fact the machine is backed by Porter Equipment counted for a fair bit, too.
"The relationship we have with Porters is solid, and we know they really do back their gear with their word. We run a pretty sizeable fleet, but it isn't every day you invest in plant as big as this, so having Porter Equipment behind it made things a lot easier.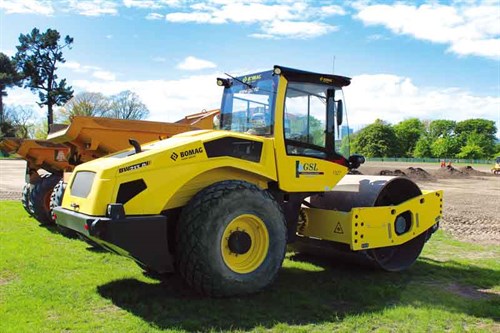 "We also run two BOMAG construction rollers—a seven-tonner and a 12-tonner—which we also purchased through Porter Equipment. We bought the 12-tonner to complete some remediation work up at Kaikoura following the earthquake there, but there was a delay in the machine arriving from overseas.
"Porters didn't even hesitate to get us up and running with a loan machine until our one arrived. They're flexible in this regard and having the capability to supply machines from their various divisions means that we were well-looked-after until our BOMAG arrived."
GSL looking northwards
The day I caught up with Andrew at Hagley Park, the large 12-tonne BOMAG was on its way north to help complete some more roading maintenance work GSL has on the go along busy State Highway 7. In fact, despite covering almost every nook and cranny of the South Island in some shape or form, the focus for GSL right now is very much northward. "We'd like to expand into the Auckland market," Andrew confirms.
"There is so much activity on up there, and it's where all the growth is happening. So, we'll be looking at opportunities in the North Island for sure, especially around some of our more specialist abilities, like waterway construction and stream realignment."
"At the end of the day, these machines are macro-level stuff. But what we actually do is micro-level," Andrew concludes.
"Our machines need to tread lightly because any dirt we touch needs to be able to have something grown in it. Regardless of what area we expand in, or where, we still have to be able to justify every big purchase, and we have to know that whatever we're buying is suitable for the sort of work we do, whether it be screening soil or mowing grass or anything else.
"These new machines from Porter Equipment definitely fit the bill."
Read more features on Deals on Wheels.
Keep up to date in the industry by signing up to Deals on Wheels' free newsletter or liking us on Facebook.