Product feature: Cosben Telescopic Arm
---
The Cosben Telescopic Arm can help deliver significant reductions in equipment and labour resources
Boss Attachments is the exclusive dealer for the Cosben brand throughout Australia, New Zealand, and the South Pacific region, and the introduction of two telescopic arms to NSW projects later in the year will be a game changer for the way deep dig-outs are handled in Australia and New Zealand.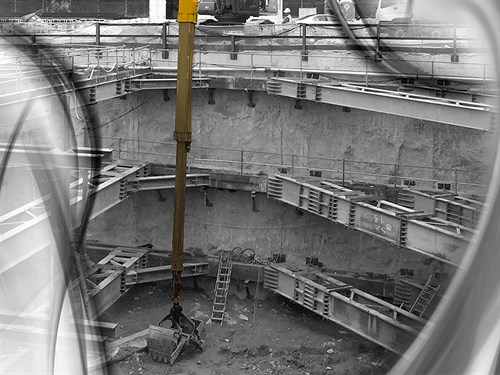 "Traditionally, these deep dig projects have been really equipment- and labour-intensive," 
Paul Herbison of Boss Attachments says. "Now, however, instead of multiple excavators and cranes, a single Cosben Telescopic Arm fitted to a standard excavator can reach depths of 42 metres in a one man-one machine type operation."
The two planned Sydney projects will involve two different-sized units. The first, with an 4 stage telescopic arm and attached to a Komatsu PC490-11 will deliver a conservative extraction rate between 60 and 70 tonnes per hour while operating at 42 metres.
At project two, using a shorter mast, the conservative extraction rate will be 160 to 200 tonnes per hour at a depth of 25.5 metres.
"This type of productivity is unbeatable when you're operating at these depths," Paul says. 
Cosben was founded in 1976, and the company has grown to become an international attachment leader. The company's international reputation has been built upon an uncompromising commitment to innovative product development and build quality.
The telescopic arms feature a unique hydraulic cylinder with multi section arm, and this advanced technology creates greater digging power for increased production and performance, allowing excavation to a depth of 40 metres (16 stories) underground or under water.
All Cosben attachments are manufactured using extremely high strength steel, and each production stage is closely monitored by technical experts.
A welding robot that, with the positioning of appropriate jigs, ensures uniform measurements and a perfect union between the device and the work machine.
The slim construction of Cosben Telescopic Arms means that they are ideally suited for foundation works, narrow excavation shafts, metro stations, underground parking, underground renovations, and canal clearance.
A clamshell-shaped bucked can be equipped with cameras for precise monitoring. These are designed for use with any excavator from six tonnes up to 80 tonnes. Model options include masts of 20 to 40 meters and a range of bucket sizes.
"Cosben Telescoping Arms are absolutely unique," Paul says. "The performance benefits that they deliver are really impressive, and in long-term, they will promise to provide many advantages for a number of pending projects here in New Zealand."
For more details, contact Paul Herbison on 027 290 8306 or visit bossattachments.co.nz.
Keep up to date in the industry by signing up to Deals on Wheels' free newsletter or liking us on Facebook.