Porter Press Extra: Madill Forestry Equipment
---
Tama Rakau Logging has recently invested in the purpose-built power of Madill forestry equipment as they work the steep slopes of the remote and rugged East Cape
Specialised logging machinery manufacturer, Madill, states its tough machinery was engineered for the West Coast—the West Coast of the US, that is. But down here in Godzone, there are a few examples of the big red and white machines on the East Coast, too.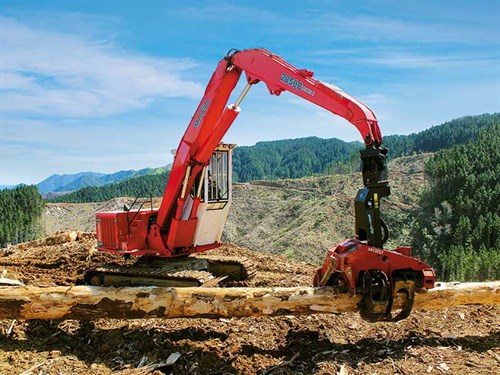 I'm thinking specifically of East Coast-based Tama Rakau Logging's impressive Madill fleet.
Perched high up on a ridge with perfect views of White Island puffing away out in the Bay of Plenty, brothers Andrew and Shane Wood have not one but two Madill log loaders, along with a Madill swing yarder doing the hard hours on the steep slopes for them.
When I visited Andrew and Shane's crew, the machines were sited on one of two plantations the company is currently working. The two blocks straddle State Highway 35 near Potaka, which is almost exactly half way between Cape Runaway and Hicks Bay on the northern-most tip of East Cape. The blocks total 1300 hectares of steep, rugged country.
Tama Rakau Logging and their big wins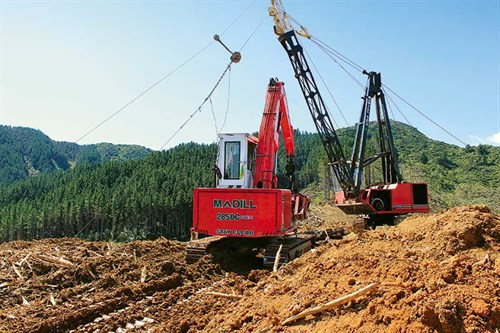 The Tama Rakau boys (there are 15 team members in all, spread across two crews) have been up here for the last 12 months, and there's enough work between the two blocks to ensure they'll be located here for the next few years.
Andrew and Shane have been in the forestry industry for around 20 years now, with Tama Rakau Logging having been in business for nine years. Before the current location, the guys worked forestry blocks behind Whakatane and also at Kaingaroa.
The Potikirua plantations were a big contract to win, though. With equally big through-put expected, Andrew says he knew he needed good gear for the job—a decision that led him straight to Madill and the forestry specialist's New Zealand distributor, Porter Equipment.
"Madill machines are basically bushman-proof," he says. "It's pretty hard going up here, but they're up for it. We don't have time to be mucking around with machines that break down.
"The fact they've been designed to do exactly what we're using them for is good to know."
Madill models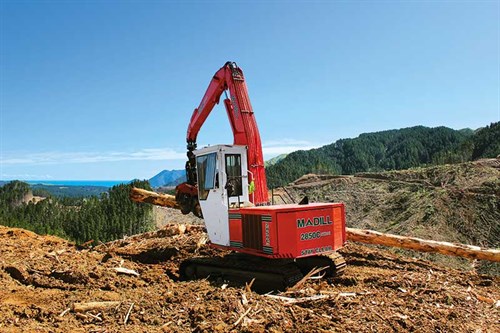 Tama Rakau's frontline log loader is a 40-tonne Madill 2850C Series II, which features a 300hp Cummins diesel and a maximum boom reach of 12 metres (40-foot).
The Whakatane-based company runs a three-roller processing head on the big red and white beast, which has only been on-site for a month.
There are three models of Madill log loader in all: a 2250C Series II and a range-topping 325hp 3800C Series II in addition to the one on these pages.
Every model conforms to the Madill blueprint— no-nonsense machines with just the right amount of operator comfort and safety equipment onboard. The cab area is constructed of toughened tube framing and features heavy-duty grating to protect the operator from objects flying up from the processor head.
The cab's forward-sloping design increases visibility through the marguarded windows, while the main entry and exit is at the rear of the cab, away from the business end.
Operator comfort
It's a straight-ahead design outside to ensure the best protection for the driver. However, inside, Madill allows for the sort of creature comforts that make long days in the forest that much better and help to mitigate operator fatigue, too.
To that end, you'll find a pneumatically-suspended operator's seat with ergonomically-designed arm rests and joystick controls in there. The heater and air-condition systems are also engineered for the sorts of temperatures the West Coast of the United States can summon up in an average winter or summer season.
Tough built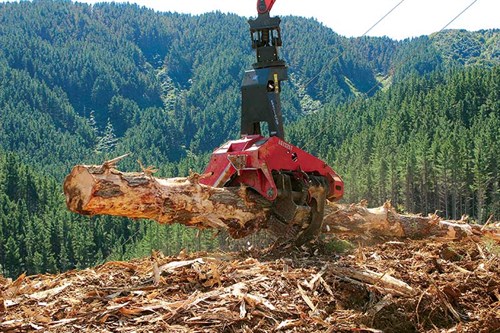 Forestry is a hard game, though, so the Madill 2850C is probably looking as good now as it ever will. Take the swing yarder it's working alongside as an example of a tough machine still producing the goods after several years in the bush.
Tama Rakau's Madill 123 has been superseded by the newer Madill 124 these days. After eight years in the bush, it has a few scars to show for the hours on it, but it's still hauling logs across the sheer gullies around here without any drama.
Like its excavators, Madill makes sure there's both plenty of room and plenty of outward visibility in the toughened cabs of its swing yarders.
Madill's purpose-designed swing yarder has been made keeping reliability and longevity in mind. These sorts of machines aren't something any logging contractor wants to update every three or four years and, as such, are built simply and ruggedly for maximum performance across decades, rather than a handful of seasons.
Hyundai excavators
In addition to the Madills, Tama Rakau Logging has also been operating Hyundai excavators for some time. A new Hyundai R290LC-9 has been on fleet for six months and has recently taken over on the ridgeline from an older 2003-era 'dash 7' Hyundai.
"Obviously, the new machine has been great so far, but it's basically brand new. Mind you, that old [2003] Hyundai has never given us any grief, so I expect the new one will be the same," Andrew says.Another reassuring factor in having Madill and Hyundai equipment in the forest is the service and technical backup provided by Porter Equipment, which Andrew says he has always been impressed with.
"They have every part on the shelf. There's none of this 'we have to air freight it in' business. Mate, if we lost a couple of days production because we were waiting for a machine part to be flown into New Zealand from somewhere overseas, that'd be a major for us," Andrew says.
"The other aspect of sourcing machinery through Porter Equipment that works well for us is the finance arrangements they can put together.
"They make it easy to get into gear that is going to work hard for us. We're on a seven-year finance deal with the new Madill, which is the same length of time we have with another machine [from a different distributor].
"Well, I can tell you right now which one will be working well and worth more at the end of that seven years," he smiles.
Keep up to date in the industry by signing up to Deals on Wheels' free newsletter or liking us on Facebook.