Product feature: Zaxis-5 mini excavator range
---
Hitachi boasts an impressive line-up of mini excavators, ranging in size from the ZX10U-5 through to ZX65USB-5
Produced at state-of-the-art factories in both Japan and the Netherlands, Hitachi has always been at the forefront in the development of technology and has aimed for even greater efficiency in their Zaxis-5 range.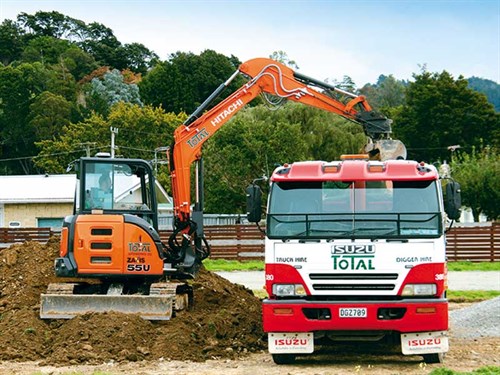 Zaxis-5 mini excavator features
Hitachi says the design of the Zaxis-5 mini excavators came from listening to the needs of customers, resulting in a range of exceptionally versatile, comfortable, and easy-to maintain machines, which provide a fast, powerful, and fuel-efficient performance on any job site.
The mini excavators are intended to have a huge impact on earthmoving, utilities, and general and road construction projects. Each model, ranging in size from 1110kg to 6600kg, has been designed to function efficiently and safely in narrow job sites due to their short-tail swing radius.
The reduced tail swing that doesn't hang over the crawler tracks prevents damage from contact with job site obstacles, which, in turn, reduces expensive repair costs.
With enhanced versatility for a wide range of applications, a low-noise stack muffler has been fitted to the rear of the cab for quiet operation, which is an increasingly important consideration for urban and residential projects.
Each model has an auto-shift travelling system, which automatically reduces the speed of the excavator according to the travel load. This is useful when the blade is used for landscaping or when the machine is moving up a slope. The Zaxis-5 range has enhanced fuel-efficiency due to its advanced energy-saving system.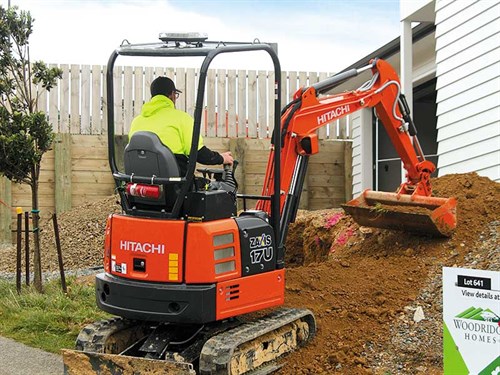 This combines the ECO mode, auto idle, and isochronous control features of the excavators to reduce fuel consumption significantly. The optimised location of the cooling system and engine fan also improves performance by decreasing the temperature within the cab and reducing the risk of the excavators overheating on dust-filled job sites, such as demolition.
Maintenance of the Zaxis-5 mini range is easier, thanks to the convenient cleaning features and easily accessible parts. The radiator cover now has a handle and hinge, instead of bolts, which allows for easy inspection. Minimal space is required to open the compact sliding engine cover, which is convenient if the excavator is parked in a restricted space.
Operator comfort has been an important consideration with a more spacious and comfortable cab design, wider seat, additional air-conditioning vents, and a larger door and front window for easy access and enhanced visibility. 
These excavators also come equipped with various safety features, such as TOPS (tip-over protective structure) and FOPS (falling object protective structure), in order to function safely in narrow spaces.
"Regardless if owners are contractors, plumbers, electricians, or landscapers, these machines are built ready to tackle whatever their worksite throws at them," CablePrice equipment manager, Alex Kelly, says.
For more details on the Hitachi Zaxis-5 mini excavator range, contact CablePrice on 0800 555 456.
Keep up to date in the industry by signing up to Deals on Wheels' free newsletter or liking us on Facebook.