Husqvarna helps Green Way add value
---
Extra value is provided by Green Way as they offer customers with a floor preparation service once the deconstruction is completed
From deconstruction to reconstruction, Auckland-based building services company Green Way Limited has recently added a further string to its bow with the purchase of a Husqvarna P680 Dual Drive Grinding machine and a DC 6000 Dust Collector.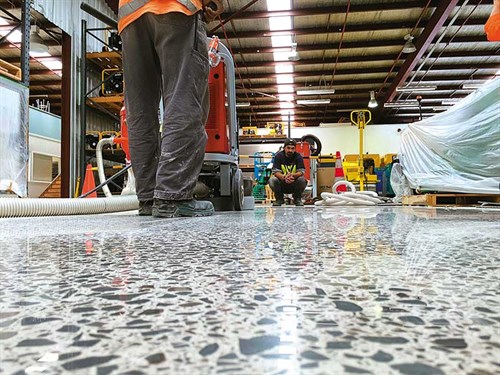 "We decided we could add extra value to our business by providing our customers with a floor preparation service once the deconstruction was completed," Green Way Limited director, Wayne Green, says.
"We're there anyway, so it seemed only natural for us to finish the job off ready for any rebuild. Currently, 70% of our work is in deconstruction as opposed to demolition. Therefore, it made sense to provide an efficient alternative to work that would normally have been done by a separate contractor," Wayne says.
Youngman Richardson says the PG 680 concrete floor grinder is a good choice for both industrial and commercial applications. It easily fits through a standard door, making it accessible to most job sites without sacrificing power.
The company adds that the planetary drive system and Dual Drive Technology™ gives the PG 680 an outstanding removal rate and makes for an excellent choice for concrete floor preparation and repair as well as all polishing and grinding applications both wet and dry. It can also be used for the Hiperfloor concrete floor polishing system.
Moreover, the company says the new DC 6000 is an efficient dust collector to match the highly productive PG 680. The DC 6000 is developed with patented cyclone technology featuring automatic filter cleaning. The cyclone technology enables constant high air flow and high productivity.
Youngman Richardson & Co Ltd provided on-site training in the form of helping the company with their first couple of jobs. According to Wayne, this was helpful and gave Green Way operators the confidence to operate the equipment effectively from the word go.
Since then, Green Way has prepared a 500 square metre floor in the Fletcher HQ Campus complex and is quoting on another a large project in Auckland.
For more information, visit yrco.co.nz.
Keep up to date in the industry by signing up to Deals on Wheels' free newsletter or liking us on Facebook.