Product feature: Bobcat E20 excavator
---
Auckland landscaper R Mildon Landscapes has been using the Bobcat E20 excavator and says it offers extra reach, has an exceptional digging force, and is powerful
There are a number of reasons that are attracting customers to the new Bobcat E20 excavator, but for Auckland landscaper R Mildon Landscapes Ltd, it's the reach of the digging arm.
According to owner Richard Mildon, the Bobcat E20 excavator has the X-factor over most other competitor machines, which, in most cases, have a shorter reach. "We do a lot of retaining wall work, so the extra reach comes in real handy for backfilling on larger projects," Richard says. "As well, the automatic swing brake in combination with the smooth hydraulics makes for precise and safe controllability."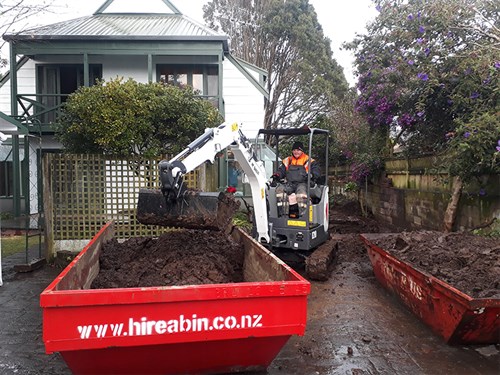 The Bobcat E20 also has an exceptional digging force and is powerful. "It took out a tree stump recently, which I didn't think was possible. Made short work of it, no worries. Our company recently acquired an auger attachment and have plans to add a power thumb and possibly a quick hitch or power tool," Richard says.
R Mildon Landscapes Ltd are paving and landscaping specialists who embrace all aspects of residential landscaping, including paving, excavations, retaining walls, plant installation, decks, steps, fencing, and ready lawn.
With 30 years' experience and a strong focus on domestic work, attention to detail, and delivering a service that's second to none, R Mildon Landscapes has undertaken various commercial projects, including Auckland's Viaduct Precinct and contracting to various Auckland Council and City Care services. The company also contracts to numerous civil works firms throughout the greater Auckland area.
The Bobcat E20 has undergone some major changes in recent times with a redesign to the machine weight. As well as amendments to some of the other specifications, practical steps have also been undertaken to ensure that it meets the maximum requirement for legal towing behind a utility vehicle. Other modifications have also been made to ensure the Bobcat E20 excavator has a competitive edge when it comes to lifting, digging, and operator comfort.
This new generation of Bobcat E20 excavator features a new hydraulic system, increasing reliability, efficiency, and precision control, yet retains the well-known Bobcat digging and lifting power. The new engine models provide an optimum match for the refined hydraulic system, resulting in lower fuel burn.
Another feature of Bobcat is the retractable undercarriage, which reduces the Bobcat Excavator E20's width to less than one metre for working in confined areas. As well, the body of the excavator remains inside the track width when expanded out to 1360mm.
The Bobcat E20 excavator has a strong bodywork and counterweight that gives operators the best protection possible. The operator station meets demands for increased room, comfort, and visibility.
All daily service checks are accessible through the rear bonnet. Also, the Bobcat E20 excavator can be configured to the operator's requirements, as it's supplied with a pattern charger as standard. A full range of approved attachments such as hydraulic clamps, buckets, breakers, and augers allow you to get the most out of your excavator.
"We've been involved with AB Equipment now for some time having previously bought several IHI excavators from the company in the past," Richard says. "We're very happy with their level expertise and professional and would recommend them to anyone looking to purchase an excavator."
For more information or a demonstration of the new Bobcat E20 excavator, contact AB Equipment on 0800 30 30 90 for the location of your nearest Bobcat dealer or AB Equipment branch throughout New Zealand.
Keep up to date in the industry by signing up to Deals on Wheels' free newsletter or liking us on Facebook.