Product Feature: Dymax Tree Shear
---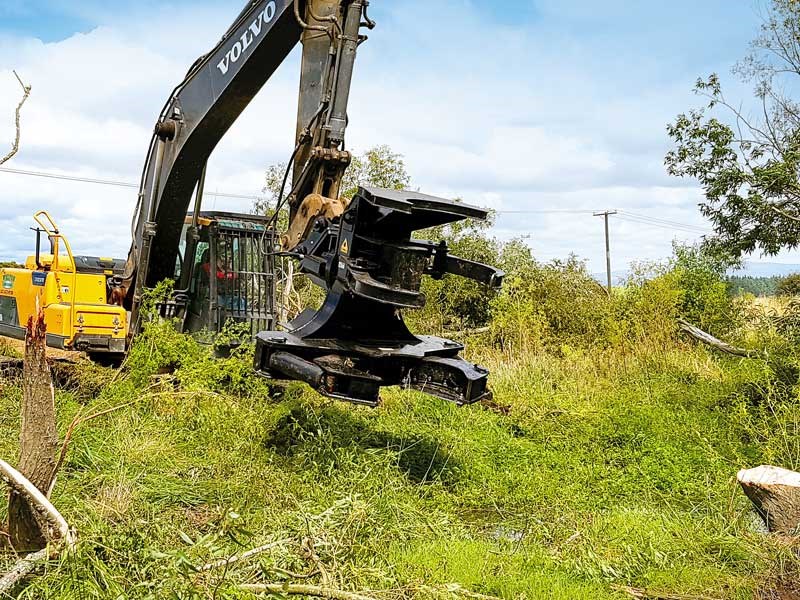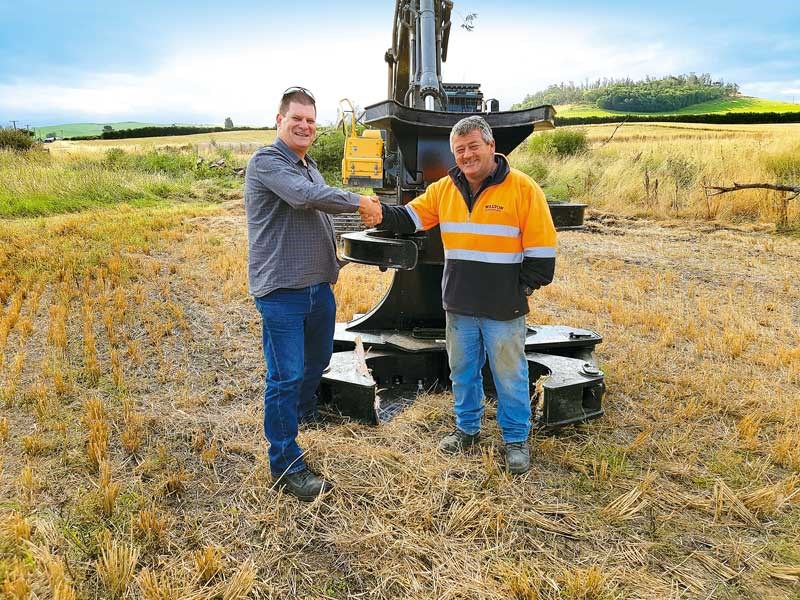 DOW checks out Oamaru-based contractors, Walton Earthworks Ltd and their recent purchase of a 20" Dymax Excavator Tree Shear
For more than 130 years, the Dymax brand has been at the sharp end of product development and manufacture of quality equipment for a number of industries. Their range of Tree Shears and other attachments for the forestry sector has made them one of the recognised global leaders for proven design and uncompromising performance. 
"Dymax is a family-owned company that is unique in today's global marketplace," Paul Herbision, managing director of Boss Attachments NZ, says.   
"Their commitment to the delivery of quality, best-engineered solutions to meet their customers' ever-evolving needs is as strong today as it was when the business was founded."
For Oamaru-based contractors, Walton Earthworks Ltd, the recent purchase of a 20" Dymax Excavator Tree Shear has been a real game changer.
"We're using it for removing riverbank willows, tree extraction, and topping," owner Tim Walton says, "And it has provided benefits in so many ways."
Tim's list of those benefits included the following:
Safety—"Much reduced risk for workers when they are working under power lines or near buildings."
Faster—"Jobs that would have taken three days with a chainsaw and a digger can now be done in one and with just a single operator."
Better performance—"The twin blades do a really fantastic job cutting both sides cleanly without any stripping."
Quality—"It's pretty much indestructible."
"Plus—of real importance—on the service side, Boss have been bloody fantastic to deal with. Any time I've had a question, Paul and the team have responded immediately," Tim says.
Dymax Excavator Tree Shears are said to be the perfect tool for forest utility work, hazardous fuel removal from forestlands, plantation thinning of acacia and eucalyptus, biomass fuels production, and trimming limbs and trees for roadside maintenance and site development or alongside railroad tracks.
In plantation thinning operations of acacia and eucalyptus, a Dymax Excavator Tree Shear can average between 100 and 180 trees per hour cutting rates and can produce more volume of wood than competing models. Cutting rates are subject to tree spacing and operator skill.
The Dymax Tree Shear features two-shear arms with replaceable high strength and abrasion-resistant steel cutting knives. 
The dual shear arm design can deliver a stronger performance in tough applications such as hardwood shearing compared to single shear arm models that are prone to twisting and bending.
All Dymax Tree Shears for excavators feature dual grapple arms that secure the tree prior to shearing. 
Options include a bunching arm gatherer that cuts multiple stems in specific operations and a hydraulic tilt rotator that provides side-to-side tilt, allowing operators to adjust to the tree trunk or limb when working on uneven ground.
Dymax Excavator Tree Shears come in a range of 10" to 20" sizes and they are suitable for use with a wide range of excavators or skidsteers.
"In addition to their outstanding performance, the Dymax focus on customer service is absolutely in a class of its own, and Boss Attachments is really proud to represent them in New Zealand, Australia, and the South Pacific," Paul says.
For further details, contact Paul Herbison on 027 290 8306 or visit bossattachments.co.nz
Keep up to date in the industry by signing up to Deals on Wheels' free newsletter or liking us on Facebook.