Where are the wood choppers?
---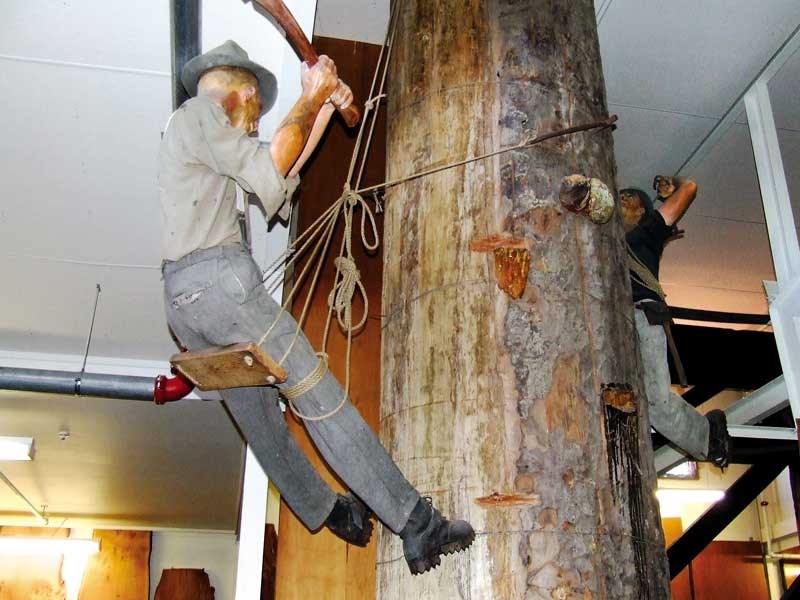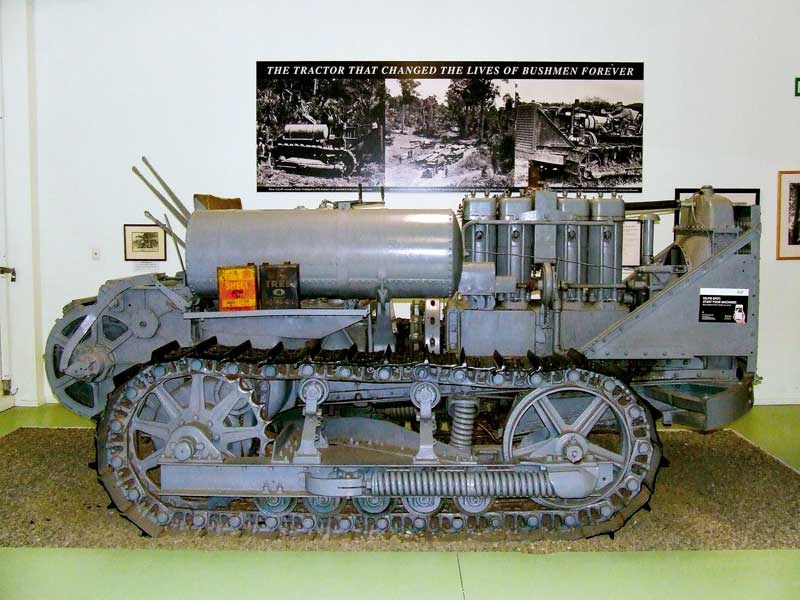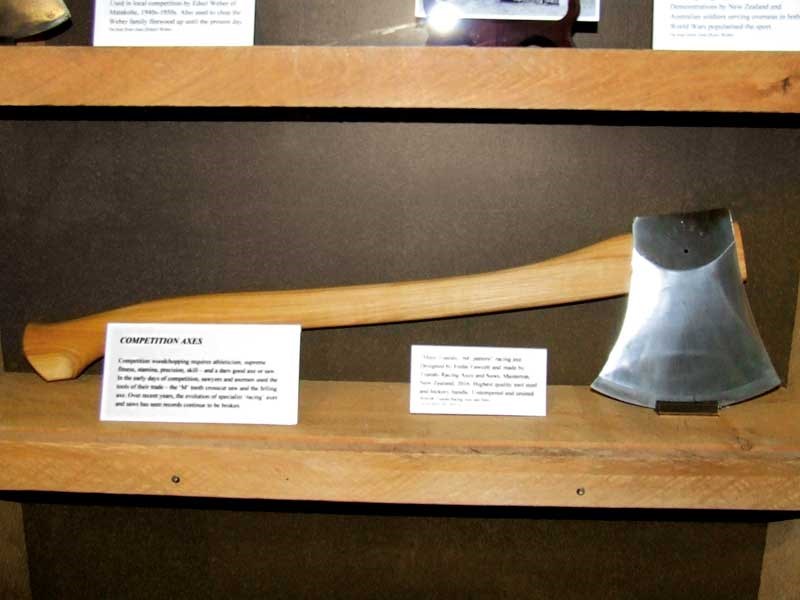 A modern racing axe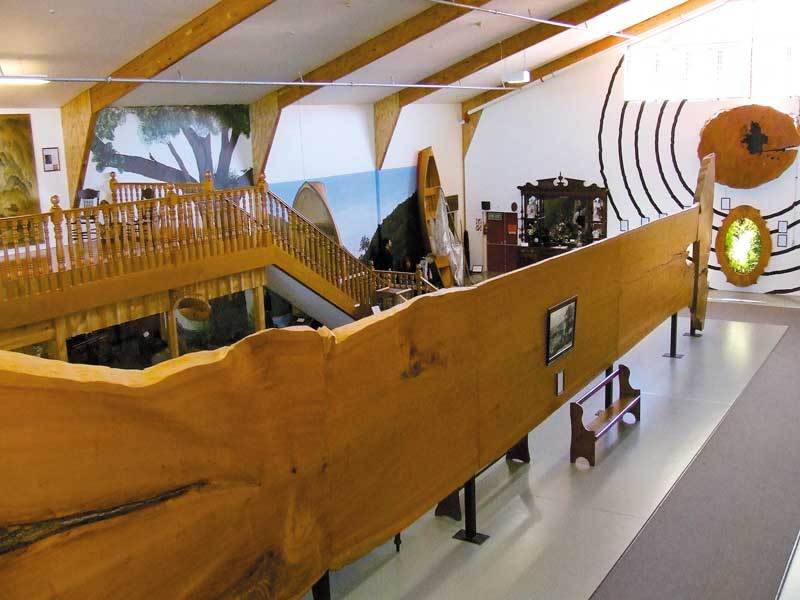 In his latest column, Patrick Cox talks about the difference between old and modern-day loggers
After last month's article where I spoke about technology in logging, I have gone back to the beginning. I took time out during Waitangi weekend to visit the Matakohe Kauri museum and have a good look at where our industry started. For those who have not visited the museum, it should go on your list of things to do, especially loggers of today. The displays and tools, machinery, photographs, and the history of our industry is simply amazing. I got five dollars off my entry fee for flashing my gold card. Not many places gets us gold card holders a discount.
One thing that came to my mind when wandering around and comparing the difference between old and modern-day loggers  is that you don't see many axemen these days. It was not so long ago that you could find an axe somewhere among the logging crew. It was not unusual at smoko times to see a budding axeman practicing chopping.
Wood chopping competitions were the norm with many events 30 odd years ago at field days, school galas, A&P shows to name a few. In my career, I was fortunate to work my logging crew next to the great Sonny Bolstad, a great bear of a man, as strong as 10 bullocks, hands the size of dinner plates and a world champion axeman. He went on to win many New Zealand and world chopping events. Sadly, Sonny's life was cut short by a tragic accident while working in Kaingaroa forest in the central plateau. His wood chopping legacy lived on with his son David. But in November 2011, David collapsed and died after a wood chopping event. It was a huge loss to the sport. 
Late in 2016, I was listening to the news and wood chopping came up. Being from Northland, I listened to the achievements of Jason Wynyard, wood chopping legend, son of another champion axeman Pae Wynyard. Jason comes from Keretu in the Bay of Islands, who is another great New Zealand sportsman who most New Zealanders probably have never heard of. I guess wood chopping is not up there with the likes of All Black rugby, tennis, golf, and many other high-profile marketed sports the Kiwis like to follow. In his sport, Jason would have been up there with any other renowned sportsperson from New Zealand or the world
He has won more than 230 world championships and he was crowned the best individual wood chopper in the world for the eighth time. If wood chopping were an Olympic sport, it would that mean he would have won eight gold medals.
In this year's Queens New Year Honours list, Jason was made a member of the New Zealand order of merit for services to wood chopping. Turning professional in 1996 and still chopping 21 years later shows the resilience of a true New Zealand sportsman. Wood chopping events are made up of varying chops, from the standing block, underhand, tree felling, single hand saw, double hand saw, stock standard chainsaw to hot chainsaw. The most important part of a logger's equipment in the past was his axe.
At the Dargaville field days this year, the modern logger's sports will be on show. The logger's sports started in 1999 at Dargaville, but the format has changed over the years as technology has changed the face of logging. There is one event called 'Live chainsaw carving'. Why do we call it live? It's a bit like live band here tonight; I have never seen a dead band! Moving right along. These are the following competitions:
The Bar Fit: A time trial where competitors reassemble the bar and chain on a saw
The Speed Cut: Where competitors race to make three cuts into a log
The Delimb: Where competitors have to cut 24 'branches' off a two-metre log quickly, in the fastest time
The Wood Split: Where competitors have to saw five blocks, stand them on their end and then split them cleanly with an axe in the fastest time. Interestingly, when you look at last year's results, you'll see Jason's name in the results.
Getting back to the Kauri museum, all kauri logging halted in 1898, 120 years ago. Walking through one of the main halls is a huge kauri slab on edge, depicting the full length of the tree. The Balderstone kauri was spared from logging and stood on a farm at Kaiwaka. Unfortunately, it was hit by lightning and died.
The decision was made to fall it and recover the timber. 58m³ was milled from the tree and the centre slab donated to the museum. You look at this huge tree and wonder how our modern bushman would cut this down with the equipment we use today. It is not until you walk upstairs and look down on the display and you look to the back wall with black rings drawn on the wall that the penny dropped. Painted there were the sizes of the biggest Kauri trees recorded in New Zealand. The Balderstone Kauri was in the middle and the smallest.
'The kauri ghost grew at the head of Tararu Creek in the Coromandel in the 1870s, It was 8.54 metres in diameter with a girth of 26.83 metres. Next in line was the 'Father of the Forest,' with 7.27 metres in diameter. Coming in at number three was 'Kairaru' from Tatamoe, Dargaville—killed in a bush fire in 1886—measuring 6.40 metres in diameter.  Number four was a living legend, 'Te Matua Ngahere', still standing in Waipoua forest on the west coast—a 10-minute walk on a good track if you want to see the giant with its 5.22 diameter trunk. And our most famous 'Tane Mahuta'—a baby among the giants of the past—at just 4.38 metres diameter.
The biggest pine I cut down was just 1.5 metres in diameter; massive in modern logging terms. Modern chainsaws will handle this, no problem, Most loggers today will be felling trees between 50cm to 85cm with the exception to the rule in Mohaka forest between Napier and Wairoa where they experience good growth and it is not uncommon for trees to grow up to one metre.
Our old bushman with their axes and handsaws certainly had skills that are missing from our loggers today. That's why it is great to see the likes of Jason keeping those axe skills alive.    
Keep up to date in the industry by signing up to Deals on Wheels' free newsletter or liking us on Facebook.