Drones and logging
---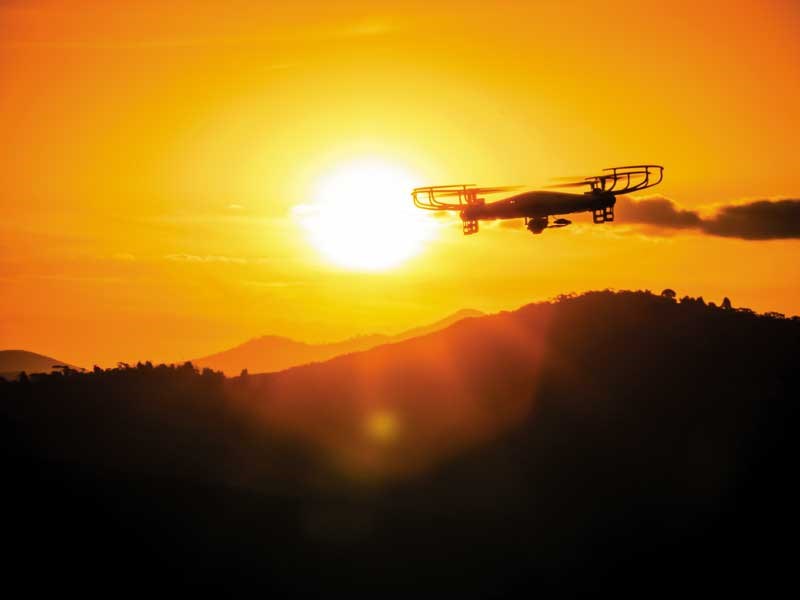 In his latest column, Patrick Cox talks about the potential future that drones could play in the logging industry
Here we are well into 2017 and it makes you wonder where the holidays went. With just the statutory days off, there was just enough time to break out the surfcaster and get the line wet. Getting the bait out past the surf gets harder and harder as the years pass, so there had to be a solution out there somewhere—maybe you could buy a torpedo, use a kite, and lots of other options, but if you like holding onto the rod to play your fish, then there is no other way. Surfcasting is the ultimate way to fish and the cheapest, so how do you get the line out to where the fish are?
The idea of using a drone looked like a good option and a quick Google search will show that it is quite popular. There are fishermen already out there developing the technique of taking the line out. But when
I mentioned this to my partner, I got the big no, as it was not considered fishing. My response—we have come a long way since we used flax strings with a  bone hook on the end, so drone casting could be on the agenda.
There has been a substantial amount of research done, and that's when I realised the potential for using drones in the logging industry. I called my son, knowing he had purchased one for his son for Christmas and hoped to borrow it to use in the bush. This is where you realise just how much technology has injected itself into our workplace. I have touched on this in previous articles. We have computers in machines, all oils levels are checked by sensors, auto grease systems, air conditioning, suspension seats, revolving seats, radios, and DVD players to name a few.
Compared to what was used 30 years ago, the technology used now is mind-boggling. Mobile phones with a camera are a standard equipment and have been so for some years. You can take photos of a breakdown and send it to your mechanic, saving time spent heading to town like in the old days and also thousands of dollars. Some problems can now be fixed even remotely by satellite while sitting in the machine. Remote control machines are already here and being trialled. So how far can we go with this? We have watched the movies with the van parked on the side of the road with controllers inside controlling people and machines alike.
It is difficult to imagine a van parked on a skid site with operators inside remotely controlling their respective machines. So how does a drone fit into this?  To date, drones have been used just for photography. In a logging operation, they could relay topography, area cut, the position of machines, and visual inspections of the machine.
When a contractor employs a new operator, he normally has all the right modules, but as I found in the past, when employing a new guy with all the qualifications under the sun, he just did not cut the mustard. The first day I put him on a machine, he promptly drove it into my partner's ute. It was some weeks before we managed to get rid of him and then he went to ACC to claim for injuries to his teeth. He convinced ACC he had smashed his face against the side of the skidder after hitting a stump.
We looked into the matter in order to avoid a penalty. The day this turkey claimed to have hurt himself was a day we did not work at all, and therefore, his claim was disallowed. This is where a drone could come in handy when putting a new operator into your system. Use the drone to photograph him working. You have the technology to relay this back to your phone, checking that he is what he says he is.  Drones will give you accurate data on how much of the block you have cut, what you have cut for the day, and match it to your day's production. In the old days, blocks were walked before felling started. Do we need to do that now? Can we save time by analysing the block before starting? Would this be quicker if we worked out the location of landings and the best route for the roads? I might be missing the boat here, as many of these things are probably already being done.
As my son pointed out to me, when flying a drone, aviation rules apply. Will this introduce another new module to the already bulging loggers training book? In the last 30 years, there has been huge technology changes. We used to go to the bank and draw the wages in cash to pay the men. Now it is a simple bank transfer. Cash flow books were done by hand, bills were paid by cheque, and phone calls were made at night when you got home. Today, texting is an efficient way of communicating. My first introduction to extra technology was when I complained to the guy who sold a mobile phone to me. It was the size of a brick. I told him it was bloody useless, as it did not work where I worked.
I got told to shut up and buy a pager. This little gadget—as small as a box of matches—sat on my belt and received messages in the middle of nowhere. You phoned my number and a real person answered and took a message. She then sent it to the pager as a message. If it was important, I would find the nearest landline to reply. Today's world is so different. Growing up with technology is the norm.
With technology available everywhere, there is one other thing we could sharpen up on right now. Diesel tanks now have monitors, so the diesel supply company could receive a text to say how full the tank is. They can then make sure that their clients never run dry. Can we introduce technology to this tool that would contact the owner or the security company the instant fuel was taken from the tank outside of working hours? We would then have a better chance of catching the mongrels that keep stealing diesel. Food for thought. 
Keep up to date in the industry by signing up to Deals on Wheels' free newsletter or liking us on Facebook.