Restoration feature: Wabco 101F
---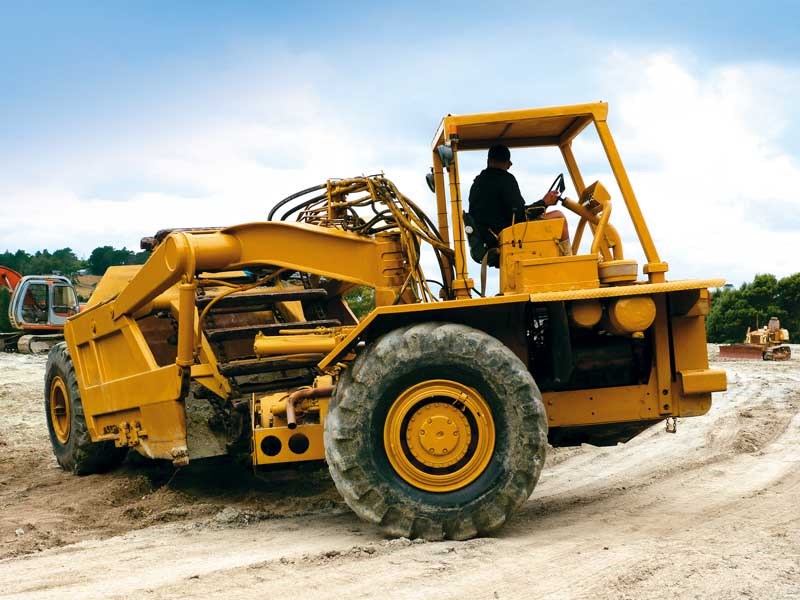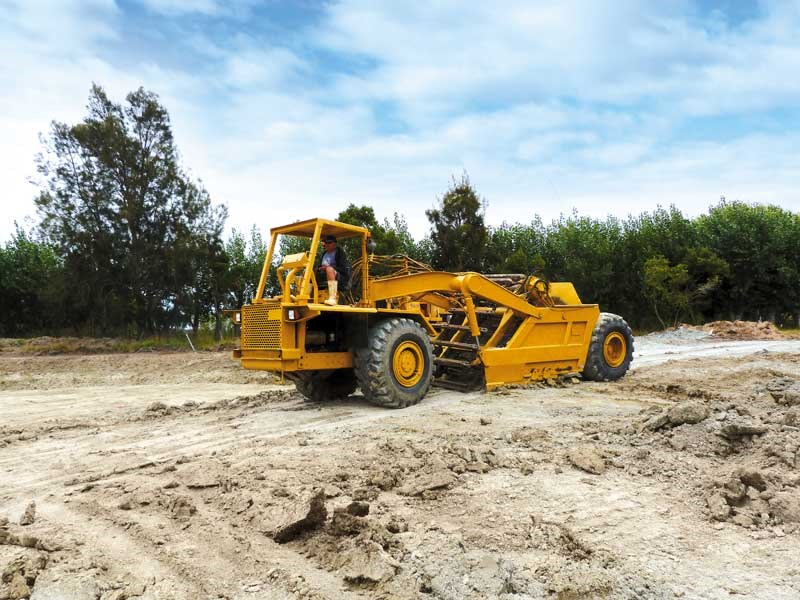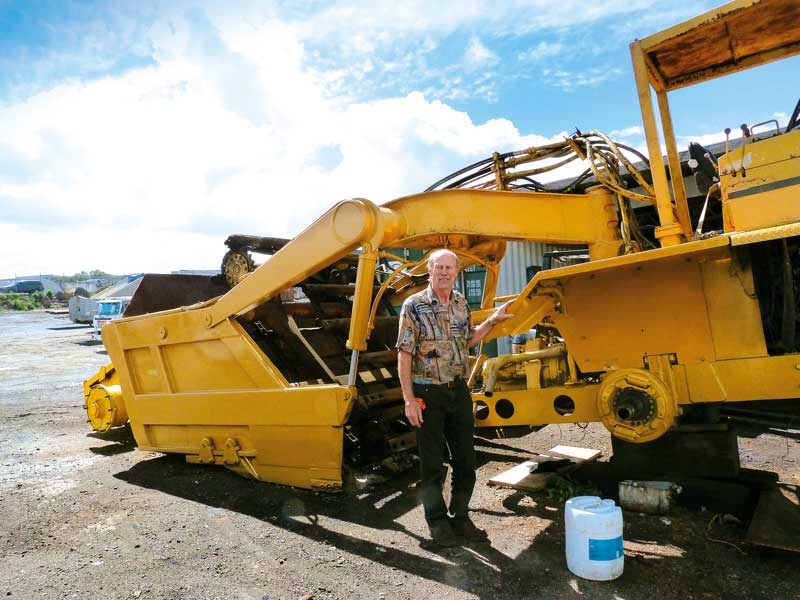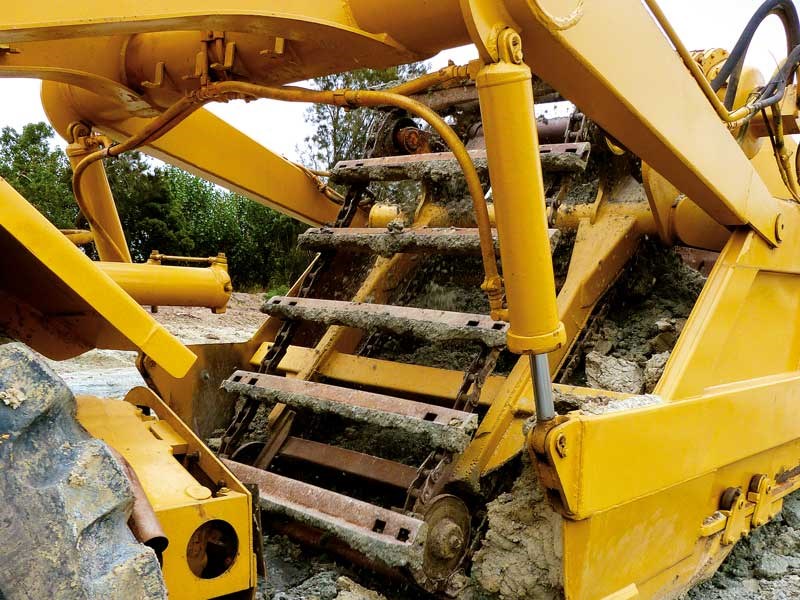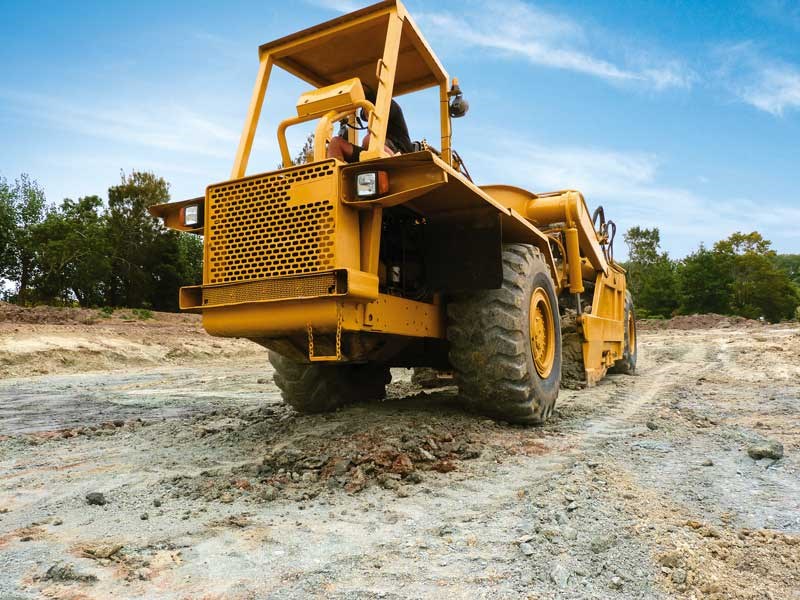 DOW checks out the restoration of a Wabco 101F
I got on the phone with the Ed to see if the project was worthy of a story and the upshot of it was that an article appeared in Issue 261 of the magazine.
The article prompted me to do a bit of research on scrapers, which were originally pulled by two horses with the driver walking behind the contraption in the same way you'd operate a horse and plough.
To recap the story for the benefit of those of you who are unable to get hold of the copy of the June 2015 issue, WABCO is an acronym for Westinghouse Airbrake Company, a firm that started out in life by manufacturing airbrakes for US railroad companies.
Another American entrepreneur, RG Le Tourneau, who had started out in the 1920s as an earthmoving contractor and who, in fact, had played a major role in constructing the massive Hoover Dam and the Boulder Highway in the Nevada Desert, refined the scraper, eventually selling his entire shares to WABCO.
Returning closer to home, Jim Coxhead has owned this particular machine for quite a few years and has used it in the past on a commercial subdivision in Wiri. However, he says that it had sat around for quite some time before he made the decision to give the old machine a makeover.
When I first saw the motor scraper in BS Engineering's yard about a year and a half ago, its engine hadn't been fired up for some time, it had no wheels, and was badly in need of some general TLC, not to mention a good coat of paint.
At the time, Jim had a mechanic working on it, replacing and repacking bearings as a filler job in between attending to customers' needs. Yet another repair that needed to be made before the restoration could be signed-off was to rebuild the gearbox that operates the elevator.
The repair was a little too intricate to be repaired in-house but Jim knew just the right man to do the job, so out came the gearbox and off it went to Ian Sergeant Contracting in Pukekohe.
Ian has owned many WABCO machines and has come to be known as an expert in their repair and maintenance. Needless to say, the gearbox came back in 'as new' condition.
However, despite the apparent mountain of work to be done before the old machine was operable again, Jim told me to go ahead and write part one of the story, as he reckoned they "should have the old girl up and running in a month's time".
To cut a long story short, the old quotation about the best-laid plans of mice and men came into play.
Now, restoring old motor-scrapers might be a lot of fun but attending to matters of commerce, Jim reckoned, rated higher up the scale of importance and the old 101F simply had to take a backseat for a number of months while BS Engineering got to work attending to an ever-increasing workload.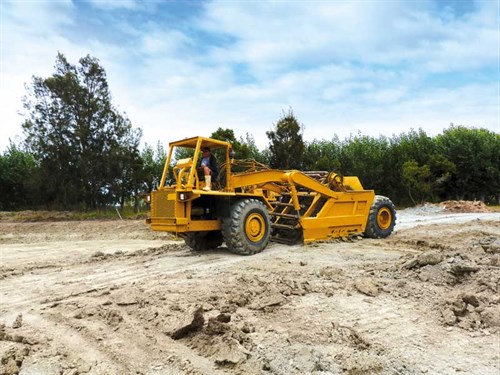 Jim explained that BS Engineering had outgrown its old premises at Manukau City and needed to relocate its operation to a new and much better site at 6 Ponui Place, Mt Wellington.
While the move to new premises would necessitate the fitting of the motor scraper's wheels simply to get it on the transporter, it's fair to say that pretty much nothing else was done to the old machine for the next 15 or so months.
However, back in January this year, while talking to one BS Engineering's customer, Jim identified a possible use for the old WABCO 101F.
Tom Shepherd, owner of Shepherd Contracting Ltd, told Jim of a job he was working on at Redvale on Auckland's North Shore, which would give the old motor scraper a chance to strut its stuff. A deal was struck between the two men in which Tom would transport the machine to the building site once the final push was made to get the machine operational.
I was particularly keen to get up to the site and watch the old machine in action, given that since the age of 15, I've had an intense interest in WABCO motorscrapers.
I had a school holiday job driving a little bulldozer back in the 1960s when it wasn't frowned upon for young people to cut their teeth on machinery in the workplace and my boss had a WABCO 111A, which was slightly different to Jim's 101F.
The WABCO 111A was steered by electric motors, which were operated by two tiny dash-mounted switches about the size of your thumb and the combination of the sensitivity of the switches and the bounce that occurred through the balloon tyres made them a bit difficult to steer. Several operators had been killed because of the difficulty in keeping these machines in a straight line and they earned the inauspicious title of 'widow makers'.
Jim's 101F by comparison has conventional steering and is powered by a Cummins 504 instead of the 111A's Detroit 6V72.
Walking into Tom Shepherd's Redvale building site, I was transported back in time to my school holiday job, when I caught sight of the WABCO machine as it sat there waiting to be fired up.
As the machine's owner was unable to get away from his engineering shop on the day, contractor Tom Shepherd asked his operator Steve if he wouldn't mind climbing into the driver's seat to give me a demonstration of what a 50-odd-year-old machine was still capable of.
The engine roared into life at the first push of the button and it was only a matter of moments before Steve was filling the nine cubic yard bowl and spreading the load at the far corner of the building site.
For me, it was a sight to behold, and I could've sat there watching it working for quite some time. It was a real trip down memory lane!
While it's fair to say in a lot of instances, scrapers and motorscrapers have largely been replaced with a combination of diggers and dumpers, there is still a lot to be said for scraping off a layer of dirt in one area and then depositing it in a nice even layer some distance away—all with the one machine and at speeds of around 50km/h.
I, for one, am very pleased that there are still people out there who are prepared to put in a lot of time, effort, and money to preserve our technological heritage. Thanks, Jim Coxhead and BS Engineering.
Keep up to date in the industry by signing up to Deals on Wheels' free newsletter or liking us on Facebook.