Porter Press Extra: Landscape Concepts
---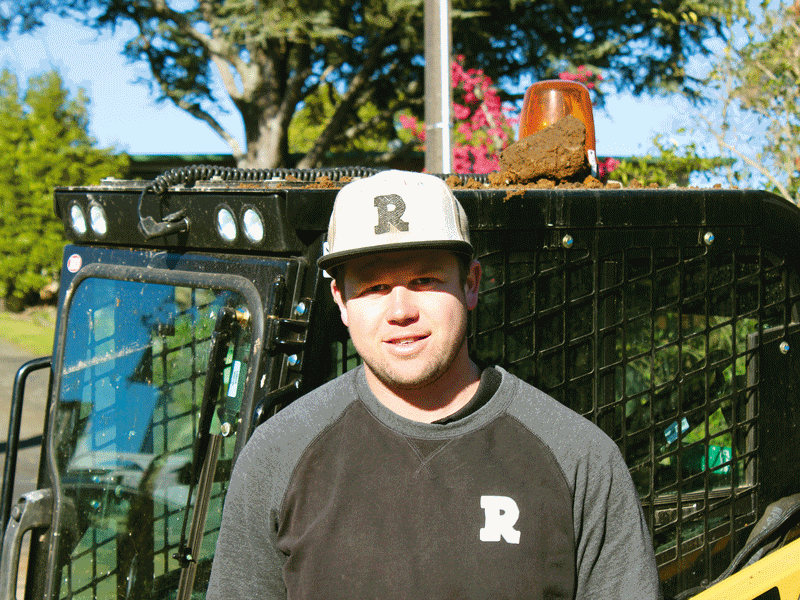 Richard Boobyer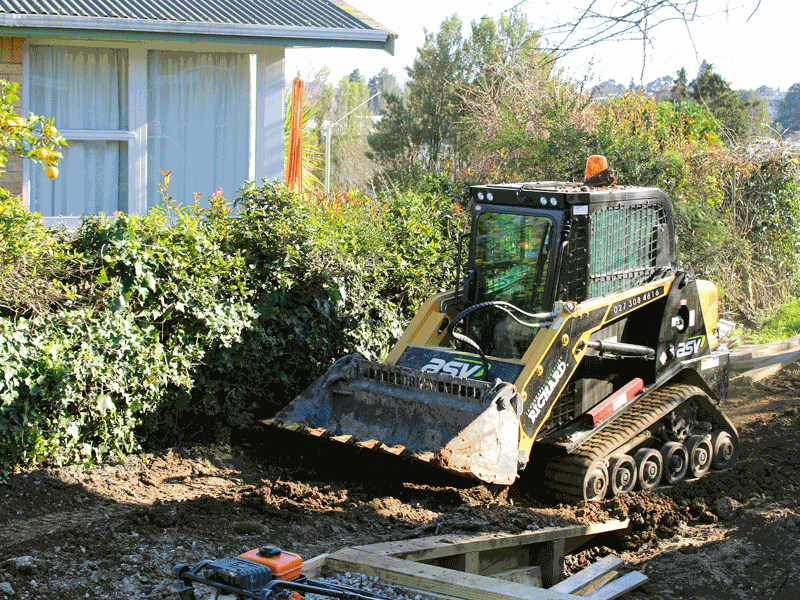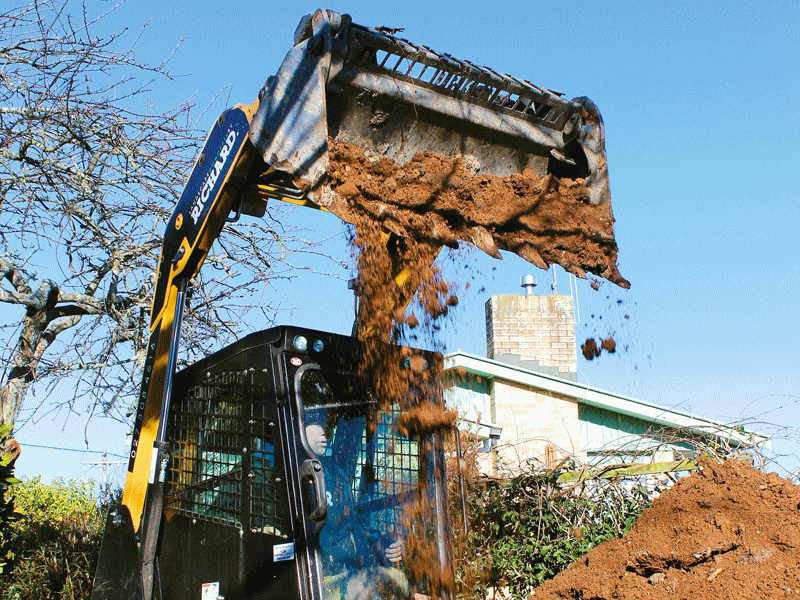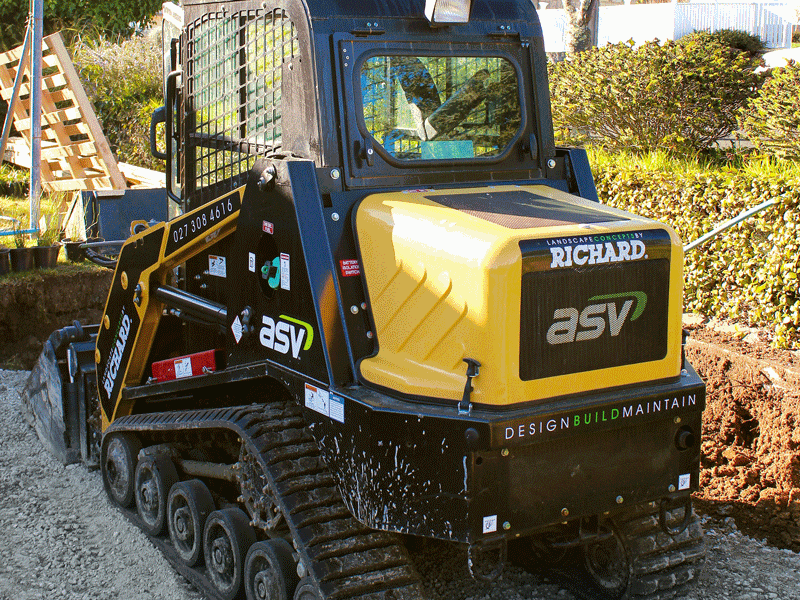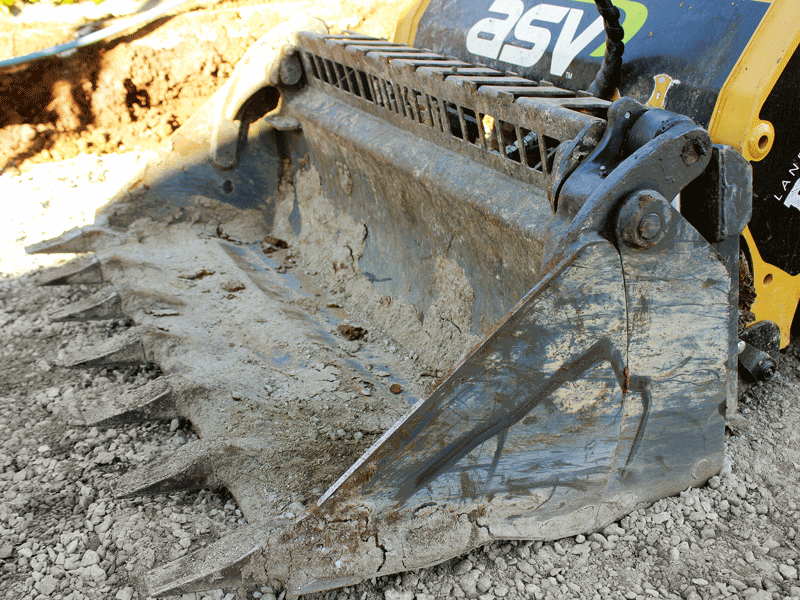 An ASV compact track loader has provided multiple machine solutions for his busy Hamilton-based landscape designer
A steadily growing business means being open to evolving the ways in which its operated. You only need to look at Hamilton-based landscaper Richard Boobyer for evidence of this.
Richard's company, Landscape Concepts by Richard, has been keeping up with the demand in the ever-expanding Waikato market, but a few changes have had to be made along the way.
For one, Landscape Concepts now boasts a full-time landscape designer to bring Richard's ideas to life with CAD-based design work. A designer himself, Richard is back on the tools full-time during the day and working on concepts at night.
"It can be pretty tough and my aim for the long-term is to be able to sit across both roles and oversee what we're completing on-site," he says."But I was having trouble finding good quality construction staff, so from a quality assurance point-of-view, I realised I needed to be back out there completing work myself.
"With the current demand we're experiencing, I see our company expanding again at some stage this year so that will be another exciting step. I like being outdoors obviously; mucking in is very much a part of my working week. But design work is challenging in a different way, and I really enjoy coming up with solutions for our clients."
A reliance on hire gear and sub-contractors also came with its challenges. As the company started to grow, Richard realised he needed to work smarter.
"In the past, we'd have hired a mini excavator or a skid steer depending on the job, but being a hire machine, we couldn't afford for it to just be sitting on site unused," he says. "Sometimes though that's exactly what happens. Whether you're waiting for material to arrive or if there are any logistical hold-ups or the weather turns nasty, you end up staring at a parked machine you're paying good money to use, but you're not actually using it 70 percent of the time.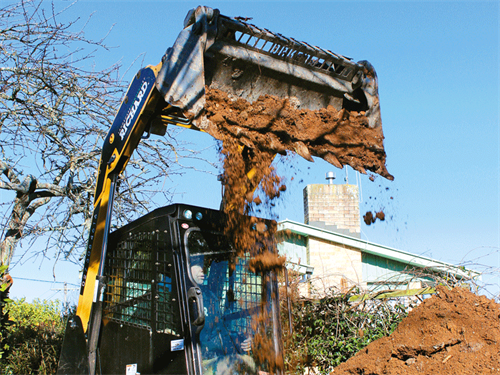 "We also used to rely on subbies a lot. This was good in a way because we had reliable contacts we could count on to get the work done. But, of course, if we were busier, it's inevitable our sub-contractors would all be busier too. We ended up spending too much time waiting for guys to show up and complete machine work, which had the potential to reflect badly on us."
Richard says Porter Equipment provided the perfect solution for his needs in the form of his ASV compact track loader.
"A lot of our work is residential—retaining wall construction, house pad, and driveway prep, that sort of thing—so my ASV works exceptionally well in these types of environments. I can sneak down the side of a house without worrying about overhanging powerlines, eaves, or trees, but I still have a really fast machine with the right amount of lifting and pushing power to get the job done."
ASV manufactures a variety of track loaders and skid steers. Richard's is the entry-level 1.6-tonne RT-30 track loader, although three-, four-, and five-tonne ASV models are also available. The company even produces a forest-spec version of its range-topping RT-120, which weighs in at 5.5-tonne and boasts a tipping weight of 4853kg.
Richard says that, for his needs, the ASV RT-30 is perfect; even better than a mini excavator. "A mini digger is useful, but I find the ASV that much nimbler in the types of environments we're usually working in.
It's so fast, and with a fair few different projects on the go, being able to get the work done and transport it to the next job quickly is important.
"Because it's small, access isn't ever an issue, and we've had a tandem trailer custom-made to transport it. The trailer is rated to three tonne, so even with the ASV, tools and materials on board, it's light enough for me to tow behind the ute." Speaking of weight, Richard says the ASV treads lightly, too; another bonus when he often needs to get across sections into backyards to work.
"I could drive in a straight line over a lawn and you'd hardly know I'd been there in this. The machine's ground pressure isn't at all invasive, so I can get it across existing surfaces to where we're working without stress or mess.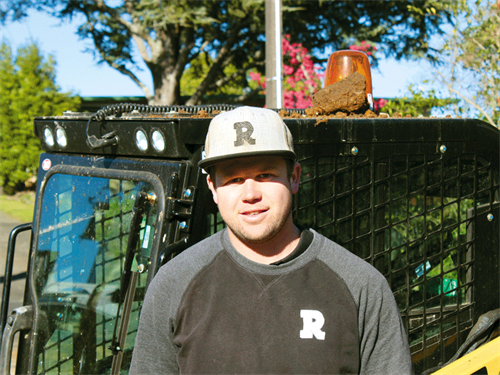 "Getting between decks and garages and pathways has its challenges, but it saves so much time to put the ASV where we actually need it rather than barrowing out dirt. Some tasks literally take half as much time as a result of using the machine."
The Porter Equipment-distributed brand features a heap of accessories to complement the track loader. Richard has invested in a new bucket ("It has gruntier teeth, although the standard bucket is still very useful") and an auger tool.
"Porter Equipment was great at getting me set up. When I first decided on getting one, I hadn't ever driven a track loader before, but it's very simple to operate. Porters offered a great package when it came time to buy too, which included technical backup, so I felt confident about buying it.
"Obviously being Waikato-based is good with Porter's essentially just down the road. But we're now at the stage where we're working over in Raglan, Cambridge, up in Whangamata, and even Auckland on occasion, so it's good to know that wherever we're at, if anything went wrong Porters can help.
"And because it's my own machine, there's no stress if it doesn't get used for a day-and-a-half. We're not paying hire fees for it to be sitting idle."
Of course, with the amount of work Richard and his team has on these days, there doesn't appear to be much of a chance the ASV will sit idle for long.
Keep up to date in the industry by signing up to Deals on Wheels' free newsletter or liking us on Facebook.