Special feature: Diggerland
---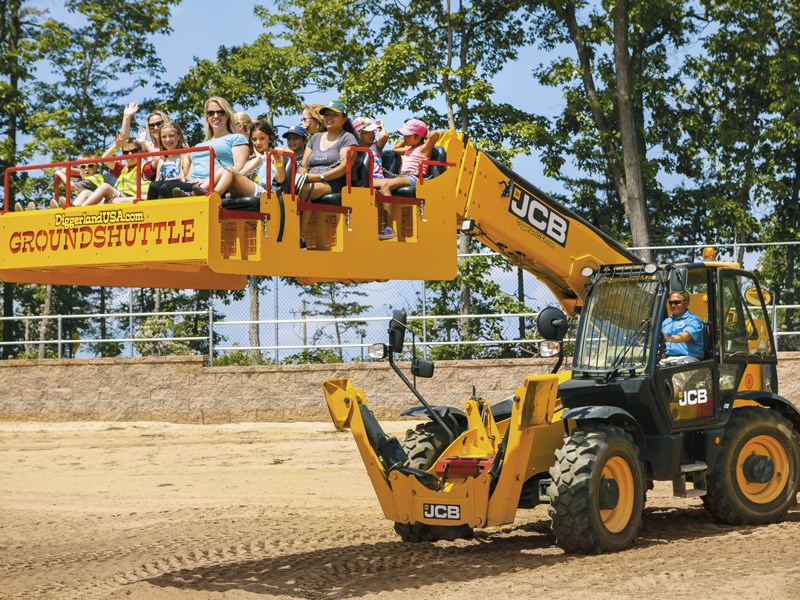 The Ground Shuttle is a reimagined JCB 540-170 Telescopic Handler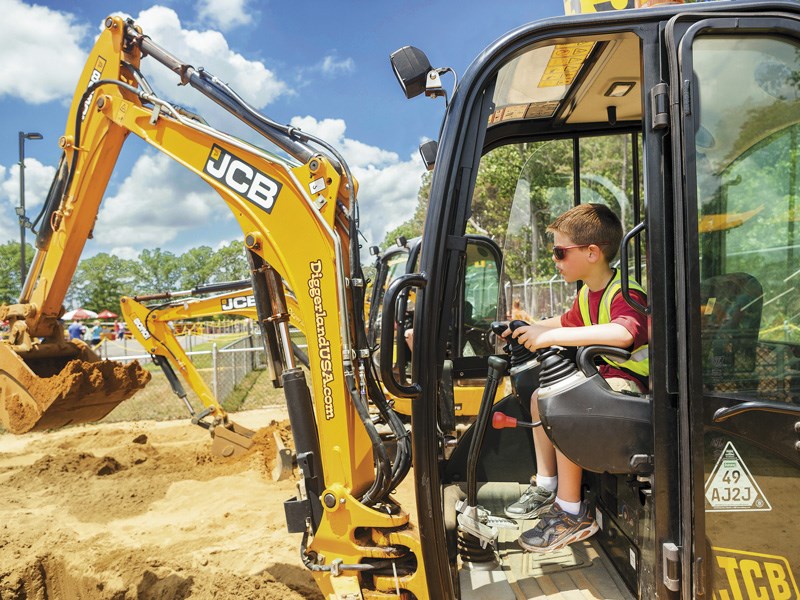 The Big Digger, weighing at a whopping 7092 pounds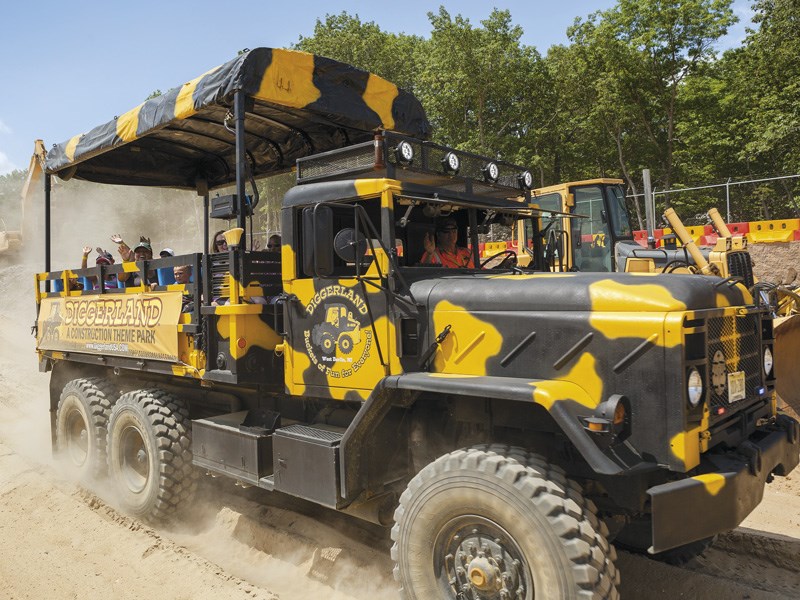 Battle Trucks take visitors on Operation Battle Truck adventures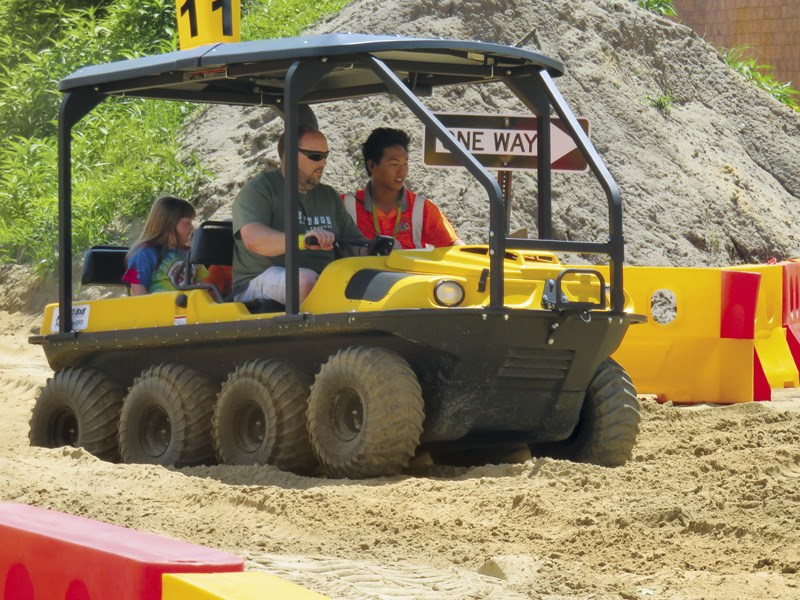 ARGOs allow visitors to get in the driver's seat and go off-road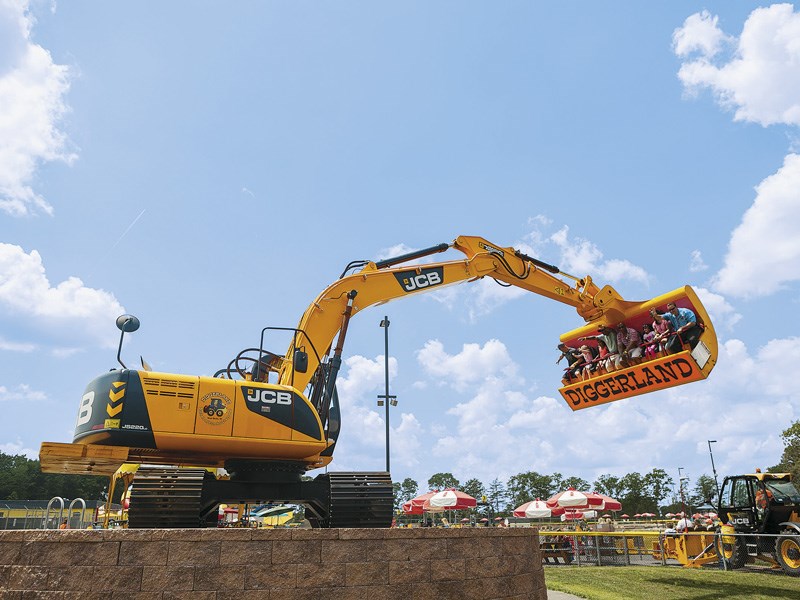 The Spin Dizzy is possibly the most fun way to use an excavator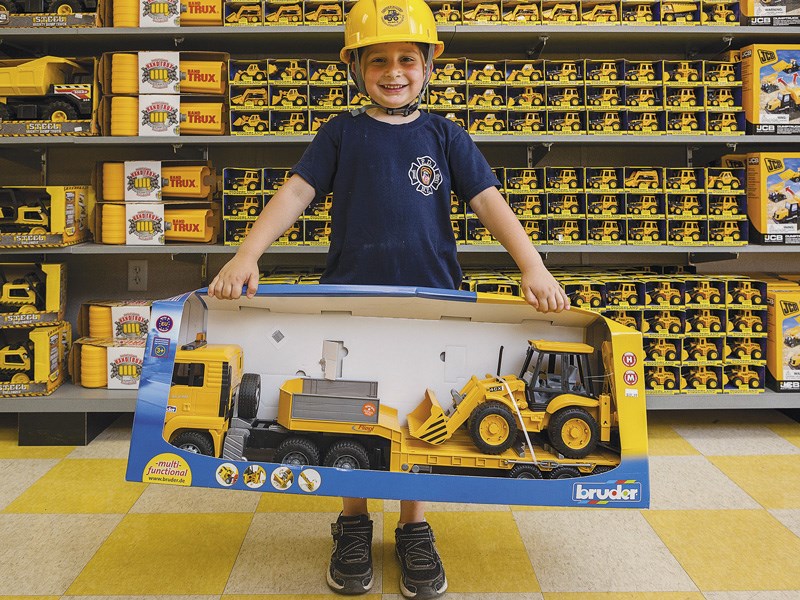 The gift shop at Diggerland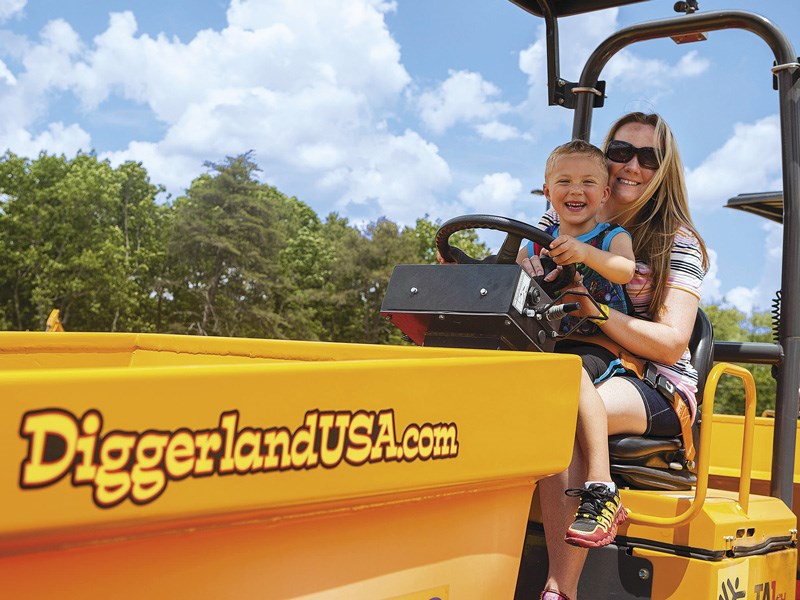 The Dumper Truck takes visitors around a specially designed obstacle course

It's all about diggers and dozers at this construction-themed park in the US
There's just something about big yellow diggers and dozers that appeal to kids of all ages. The noise, the size, the sheer satisfaction of moving around piles of dirt and sand. What's not to love? And while most kids make do with sandpit-sized diggers and dozers, a theme park in New Jersey, USA, has gone big with a construction-themed adventure park where kids and families can drive, ride, and operate real machines.
Diggerland spans 14 acres with more than 25 attractions. The majority of the rides are real, diesel-powered, full-sized construction machines. Each has had advanced engineering modifications, which makes them safe for the public and allow children as small as 92cm to operate them with little to no instructions.
The park is privately owned and operated by brothers Ilya and Yan Girlya who share a background that combines the entertainment and construction industries. Ilya, a volunteer firefighter, is CEO of Diggerland and also CEO and president of Sahara Sam's Oasis Water Park, located right next door, which the brothers founded in 2008.
"Diggerland was created to fill a gap in the marketplace," says Ilya. "The park has revolutionised the entertainment industry by using construction machines that parents and children can only dream about, allowing them to go from the unthinkable to the doable."
For kids who have a passion for all things that dig, dump, and demolish, Diggerland is a dream come true. Kids can take the controls of a real-life excavator and dig to their heart's content. They can take a skid steer out on an adventure course and drive a full-sized frontend loader. "It's not only exciting but also a great boost for their confidence," says Ilya.
It's all about safety
Of course, the first thing that tends to spring to mind when you think about your child behind the wheels of a fully functioning earthmoving machine is safety.
"All of Diggerland's rides have safety in mind. We've invested heavily in engineering and design," says Ilya. "Some safety modifications include remote e-stops, while others are more complex and integrated into our patented system." And with ride operators positioned either in the cab or along the course and ready to respond to any situation that might arise, parents can relax and let fun be the focus.
Yan, Diggerland's president, has more than 20 years of experience in the construction industry, and most recently as an owner and general manager for SAMBE Construction—a general contracting company founded by Ilya and Yan's father. Yan says the park is unique because it offers an experience that people never really grow out of. "Who as a kid didn't drive by a construction site and see the equipment and think, 'Wow, that would be awesome to drive.' We offer that by giving them the chance to finally operate heavy equipment in a safe environment."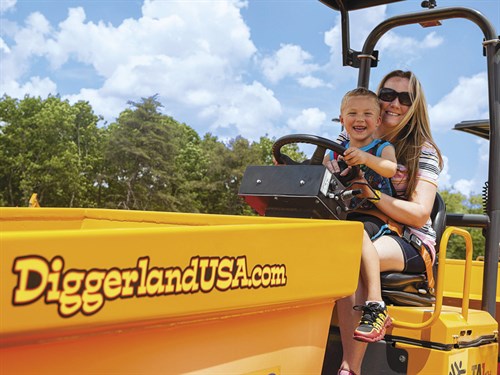 Diggerland visitors can get behind the wheel of full-sized backhoes, dig giant holes with real excavators, and operate just about every sort of construction machine you could imagine, from the skid steers to the ARGO eight-wheeled all-terrain off-roaders. Ilya says some of the most popular rides include the Spin Dizzy, Skid Steers, and Mini Diggers.
It goes without saying that Diggerland is hugely popular with youngsters—girls as much as boys. "Girls and their mums enjoy the rides and activities as much as their male counterparts, some even more so!" says Ilya.
Besides operating heavy machinery, Diggerland guests can also climb one of the world's tallest ropes courses, tackle a rock wall, and watch one of the daily heavy machinery stunt shows.
Most of the machines at Diggerland are supplied by JCB, one of the world's largest heavy equipment manufacturers. JCB is based in the United Kingdom with North American headquarters as well as production plant facilities located in the United States out of Savannah, GA. JCB is known for innovation, having invented the telescopic handler, the side loading skid steer, and the backhoe loader. In fact, half the world's backhoes are JCB machines. JCB's machines are well known for their safety and fuel efficiency.
Some of the attractions at Diggerland include:
Diggerland USA has more than 30 machines supplied by JCB that include a full range of excavators, telehandlers, skid steers, backhoes and off-road utility trucks.
Dumper Truck: The Terex TA1EH dumper trucks are 1310 pounds with 22hp and 50 maximum torque and take visitors around a specially designed obstacle course
Spin Dizzy: The specially designed three-tonne, high torque JCB JS220 is possibly the most fun way to use an excavator
Backhoe Adventure: Visitors can get behind the controls of a modified JCB
3CX backhoe and navigate through an adventure course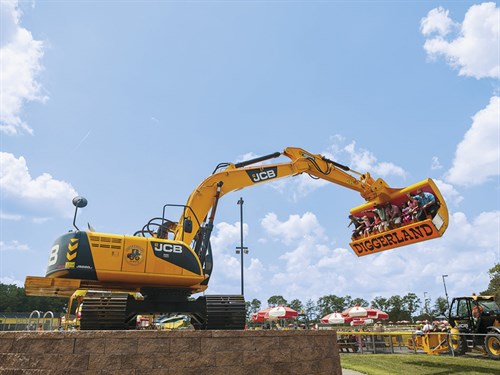 Mini Digger: The JCB 8018 mini excavator lets visitors take control and grab floating ducks from a pond, dig up hidden treasure, or have a game of extreme bowling
Big Digger: Weighing at a whopping 7092 pounds and with a powerful 26.8hp engine, kids can dig to their heart's content on the JCB 8030s
ARGO off-road: A fleet of eight-wheeled, all-terrain ARGOs made famous by their amphibious abilities and resemblance to the moon rover, allow visitors to get in the driver's seat and go off-road
Skid Steer: The JCB Skid Steer Loader 135 has a 47.9hp engine but is completely safe for young ones to manoeuvre
Battle Truck: These five-tonne military transport vehicle take visitors on Operation Battle Truck adventures
Ground Shuttle: The Ground Shuttle, a reimagined JCB 540-170 Telescopic Handler, scoots its passengers 25 degrees in all directions while 6.5 feet off of the ground. This amazing machinery weighs 26,587 pounds and features 109hp at 2200rmp.
DIGGERLAND XL
Since the park's opening in 2014, it has had loads of enquiries from adults asking if the construction gear is suitable for groups of adults. The park now offers Diggerland XL especially for over 18s, allowing them to have unrestricted fun on giant construction equipment with one on one instruction from the park's heavy equipment foremen. The park has become a popular location for corporate events and office outings.
Keep up to date in the industry by signing up to Deals on Wheels' free newsletter or liking us on Facebook.