Land Solutions' new Hyundai gear
---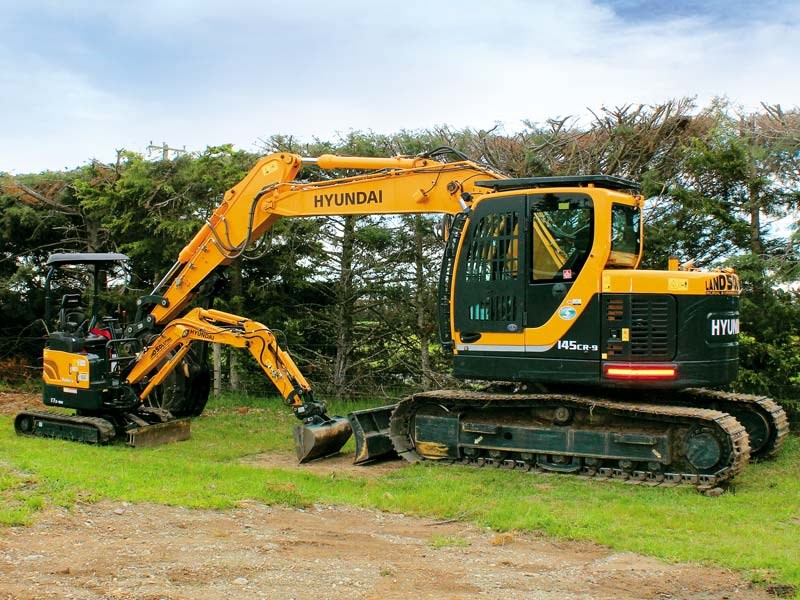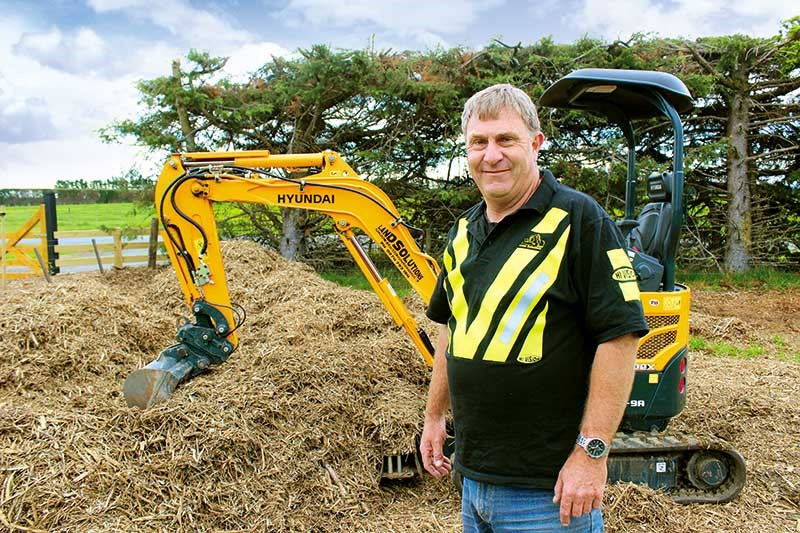 Andy Thomson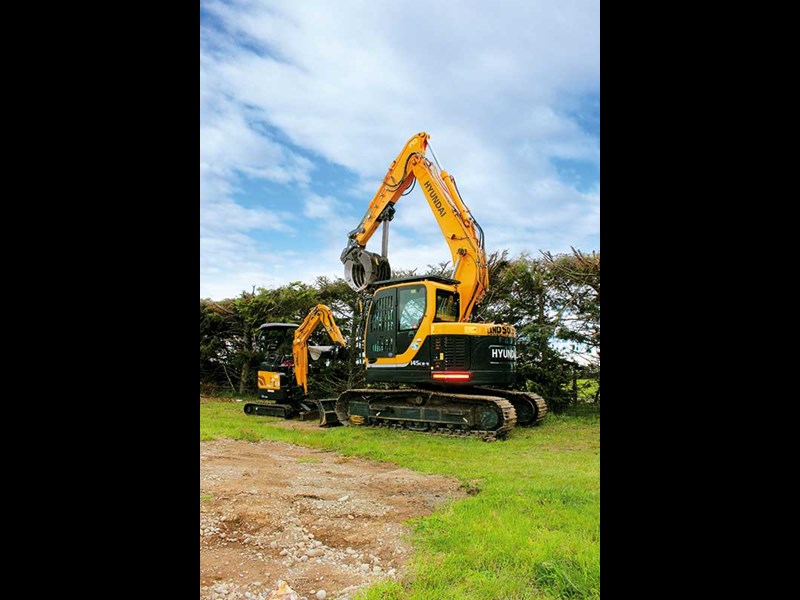 Canterbury-based operator Andy Thomson has all manner of groundworks tasks covered with two machines from Hyundai's excavator range that both punch well above their weight.
Doing this job, you come into contact with a multitude of enterprises and are exposed to all manner of company names, from the practical (John Smith Contracting rolls off the tongue) to the improbable, which politeness prohibits me from highlighting here.
As far as company names go, Land Solutions is a pretty succinct one.
Covering all manner of rural, residential, and commercial excavation and groundworks, Canterbury-based Andy Thomson is a firm believer in a diverse portfolio of skills being integral to continued growth.
Andy is an end-to-end offering; one day might see him clearing paddocks or excavating a driveway. The next, he could be burying a dead animal for a smallholder or planting native trees in a residential front yard. "I guess you could say I look after people in the one to one hundred-acre market," he says. With the establishment of Land Solutions, Andy has come full circle.
Starting out as a rural contractor many years ago, he has also enjoyed careers in the automotive sector and as a logging contractor. It was the decision to move back to rural contracting that led him to upgrade his machine fleet with a new Hyundai plant.
To help with the move and offer some advice, he looked to Porter Equipment's Noel Simons, a long-time friend and compact equipment specialist.
"I managed to scratch through the first year in business with my older machines that I had used in forestry, but I was starting to spend way too much on maintenance, so I knew I had to upgrade eventually," Andy says.
"I sold off most of my forestry gear but kept my old Hyundai R210LC-7 excavator. In the meantime, though, I was starting to pick up a lot of smaller jobs, especially where work on more compact lifestyle blocks and residential environments was concerned. I decided a mini digger would be the way to go." Andy got in touch with Noel Simons at Porter Equipment, initially looking to buy a low hours mini excavator.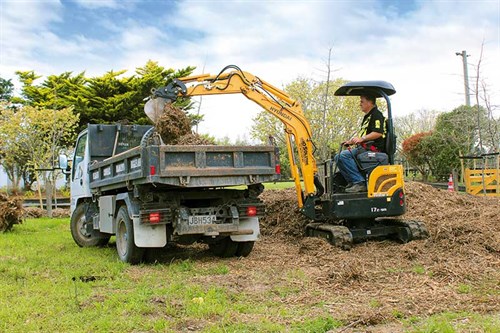 "The thing with mini excavators though, is that second-hand low hours examples are highly sought after," says Noel.
"Pretty quickly, Andy realised that the benefit of buying a new machine with a hydraulic hitch and a new machine warranty was actually going to outweigh spending a bit less on an older machine."
Andy took the excavator—a 1.7-tonne Hyundai R17Z-9A—back to his yard for a bit of a play before committing to buying it. He says the deal was sealed within an hour of hopping aboard for the first time.
"I was blown away immediately by how fast the machine is. It is a 1.7-tonne machine, but I would say its abilities are more on par with a two-tonne machine from any other brand.
"It is compact but offers up to 450kg of lifting power; that's impressive and allows me to do a heap more with it than I initially expected to do."
Also unexpected was the effect of having the mini excavator on his fleet. It has benefitted his company from a marketing point-of-view, too.
"Engaging in all sorts of groundwork activities, it's amazing how many clients see the digger and say, 'Hey while you're here, could you also…' I think if I only worked with the bigger machine, customers would be less inclined to ask about all those smaller tasks," Andy says.
The desire to upgrade his bigger machine with the appropriate health and safety specification led Andy to his new Hyundai R145CR-9—a 14.5-tonne machine that does everything his older generation 20-tonner could do and more.
"Across the board, I think Hyundai gear really punches above its weight," says Noel.
"And for an operator like Andy, why have a 20-tonne machine when a 14-tonner will still offer up heaps of capacity but with better fuel efficiency? I think for smaller operators, the R145CR-9 is a very effective sweet spot in the Hyundai range."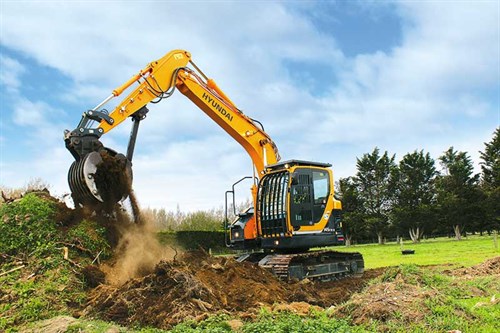 Andy says that initially he looked at the costs involved in upgrading the safety spec of his older machine in order to ensure compliance.
But once again, Porter Equipment's ability to offer comprehensively kitted out mobile equipment at an affordable price meant that a new machine with standard safety spec proved the better deal.
The Land Solutions Hyundai R145CR-9 features extra protection on the door requested by Andy—an attitude to safety he has brought with him from his time as a logging contractor.
Porter Equipment helped facilitate the extra protective structural build through a trusted third party source, ensuring the machine was back with Andy within a day and a half.
"You have to remember that the Porter family started out as contractors too, so they understand that minimising downtime is absolutely crucial for smaller operators like Andy," says Noel.
The Hyundai R145CR-9 has been working well for him since he added it to his fleet.
"Recently, we had to shift 160 tonnes of concrete—some slabs were as big as a ute—but the Hyundai shifted it all no sweat. We also had a big job shifting 500 tonnes of blue gum stumps out of a paddock a wee while ago and the 14.5-tonner made short work of that too."
By way of demonstration, Andy shifts a large two-tonne stump up onto a nearby pile; the machine picks it up like it's made of balsa wood.
After I head off, Andy will be shifting a heap of mulch before helping an offsider plant out some nearby gardens on the same property.
It's all part of that end-to-end service that his company provides. You see? Land Solutions really is a good name.
Keep up to date in the industry by signing up to Deals on Wheels' free newsletter or liking us on Facebook.