Business profile: Waste Management NZ
---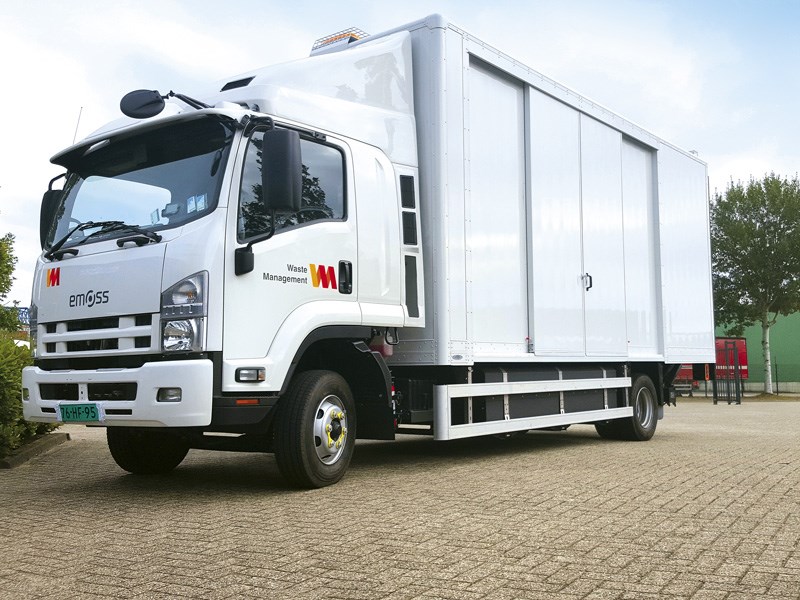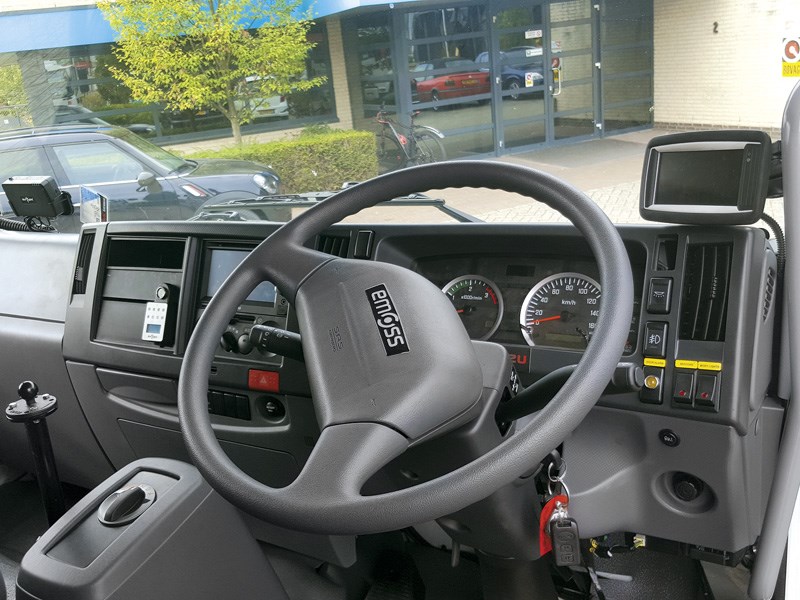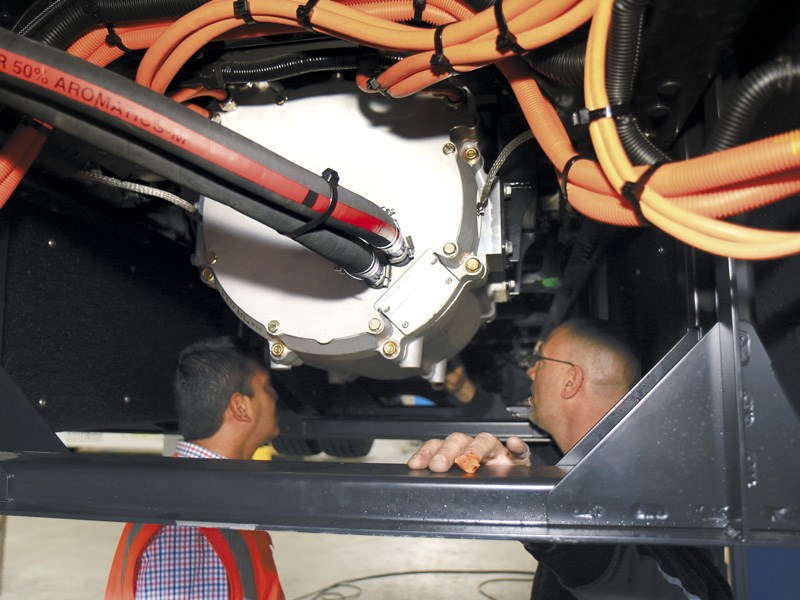 Jitesh Singh, Waste Management's fleet technical manager and EMOSS enginer inspect the electric motor and drive system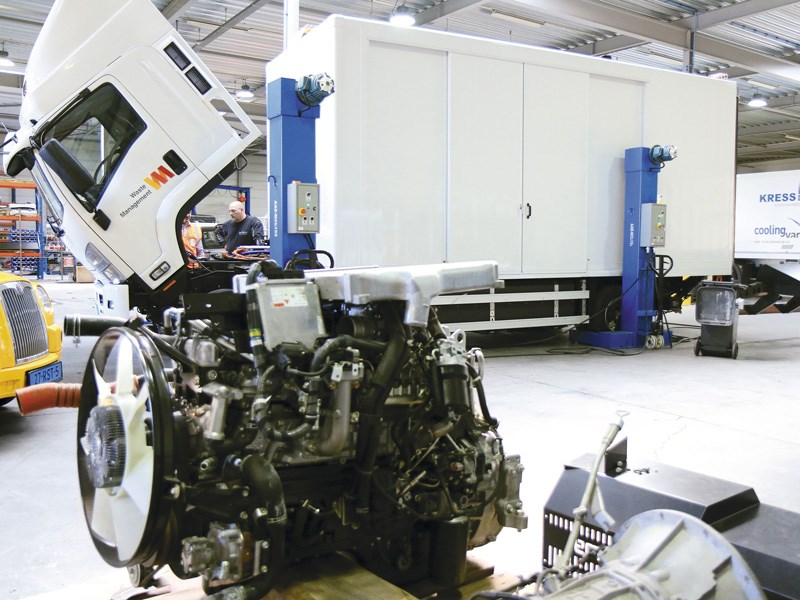 The oiriginal engine with an EV truck in the background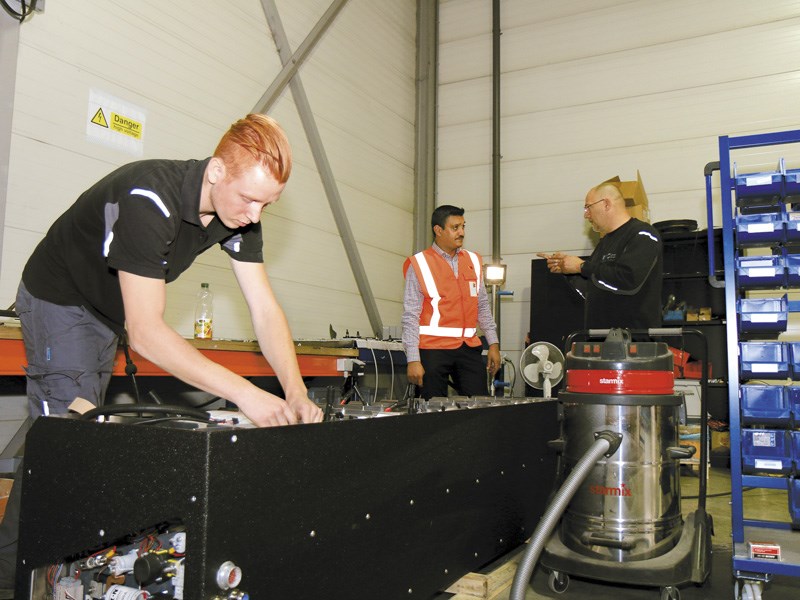 An EMOSS technician assembling a battery pack

New Zealand's first electric waste collection truck will be hitting the streets of Auckland later this month
Waste Management NZ Ltd, the country's largest waste services provider, has teamed up with world-leading electric mobility integrator, EMOSS in the Netherlands, to take the first step in converting their fleet of diesel trucks to electric power.
Jitesh Singh, Waste Management's fleet technical manager, explains the drive behind the move to electric has been the company's ongoing commitment to sustainability. "From recycling to generating energy from waste to powering our trucks to collect the waste, sustainability is at the heart of what we do," he says.
Waste Management generates power from landfills across New Zealand. The waste within the landfills creates methane gas, which is captured and put through a generator to produce electricity, which then powers the truck to collect further waste destined for landfill. Jitesh explains the cycle is the perfect example of a circular economy.
"Although we've always had that circular economy—we capture 95 percent of gas emissions from landfill, putting enough power back into the national grid to power 18,000 homes—we're now putting some of that into the trucks," Jitesh explains.
The company sent three of their fleet, a box-body, and two side-loaders to EMOSS for conversion earlier this year. Over the next six months to one year, Waste Management will put the three converted trucks through their paces during a trial period.
"In six months' time, we'll have an extremely good idea of how things are going. As far as planning for more trucks, there's a lot to consider. Our target is to convert the majority of our collection fleet to electric over the next five years, taking into account the success of the trials and our annual rebuild programme," says Jitesh.
Although electric cars are becoming increasingly common, a dearth of information about electric systems for trucks in New Zealand has made it necessary for Waste Management to lead their own charge.
"Our clients have been asking for electric trucks for some time. But it's not just a matter of finding a supplier and buying stock. They're just not readily available in the capacity we need," says Jitesh.
"In the end, we figured the only way to find out was to actually do it ourselves. So that meant heading to the Netherlands and working alongside the experts at EMOSS. I'd guess that in five or six years' time, electric trucks might be more readily available on the market, but in the meantime, this was the fastest way for us to get started. Removing the diesel engine and replacing it with an electric motor—as opposed to selling the old diesel to a third party and buying a
new electric—not only means we are burning less fossil fuel but also that we are actually removing a diesel truck from New Zealand roads."
Jitesh explains the decision to work with EMOSS was based on their proven track record of building electric vehicles. "They're operating very successfully across Europe and have the expertise of converting existing vehicles," he says.
"We've got other vehicles that we've bought from the Netherlands, and we've had no issues. EMOSS has a very solid engineering background and the service is very good. Based on that, we decided that going to the other side of the world wouldn't actually be a problem."
Once the trucks are up and running in New Zealand, the team of engineers at EMOSS can remotely access the trucks and configure the software as and when needed. Waste Management will also be sending over mechanical staff for training on the new electric systems.
With 200 cars and 800 trucks, Waste Management runs one of New Zealand's largest vehicle fleets. Each residential collection truck collects around 1200 bins per day, which equates to around 2400 stops and starts per truck each day. It is an extremely inefficient and environmental-unfriendly way to run a diesel engine.
Conversely, within an electric system, the constant stop–start cycle generates a significant amount of power from the regen brakes while also saving wear and tear on the brake pads. In fact, an electric system can actually extend the life of a vehicle.
Compared to a diesel engine that has thousands of parts, an electric motor system and controller system has only hundreds. And with less moving parts, there is less that can go wrong and less maintenance is involved.
And because the electric engine doesn't idle, rather coming on only as needed and switching off when it isn't, the trucks are efficient, incredibly quiet, and have zero emissions.
With no noise pollution from the engine, there is also scope to use the trucks earlier in the morning and later in the evening, without disturbing the neighbourhood.
The first truck, which is fully electric, is a box body truck destined for Auckland in December. It will be put straight into work once it arrives.
The other two trucks are side-loaders and will have a 'get home' package. "Driver 'range anxiety' is one of the factors we've had to consider," says Jitesh.
"It's common for drivers of electric vehicles to have concerns about having enough power. The box body is quite a simple truck. It doesn't have hydraulics, whereas the side-loaders have a hydraulic compactor and a hydraulic arm.
"Because they're using quite a lot more energy, we feel it's a good idea to have an on-board generator, just in case. However, our aim is to test and configure it in such a way that we can get through a whole collection period without relying on a second charge."
The trucks take around four hours to charge, and depending on the battery pack size, will drive 150km to 300km.
Although the initial conversion process is going to be a costly process, there are significant cost savings to be expected further down the track.
With each truck using around 125 litres of diesel per day, fuel saving is clearly substantial. And because the trucks can be configured to slow down through the motor rather than the brakes, there is also a considerable saving to be had in brake servicing and swap outs.
"These cost savings are all theoretical at the moment. That's why a trial period is essential. We need to test the systems within our business to see how well they meet our specific needs," says Jitesh.
"With such a major investment, it's important to get it right first time. Our drivers are very keen to see how different these trucks will be. They're very positive about the change which is vital because their involvement and honest feedback will be crucial to the trial."
The first truck is expected to be on the streets of Auckland in December. Keep an
eye out early next year when we will follow up with Waste Management to see how their trial progresses.
Keep up to date in the industry by signing up to Deals on Wheels' free newsletter or liking us on Facebook.