Hitching a ride in a Scania R620
---
Shaun (Wattie) Watts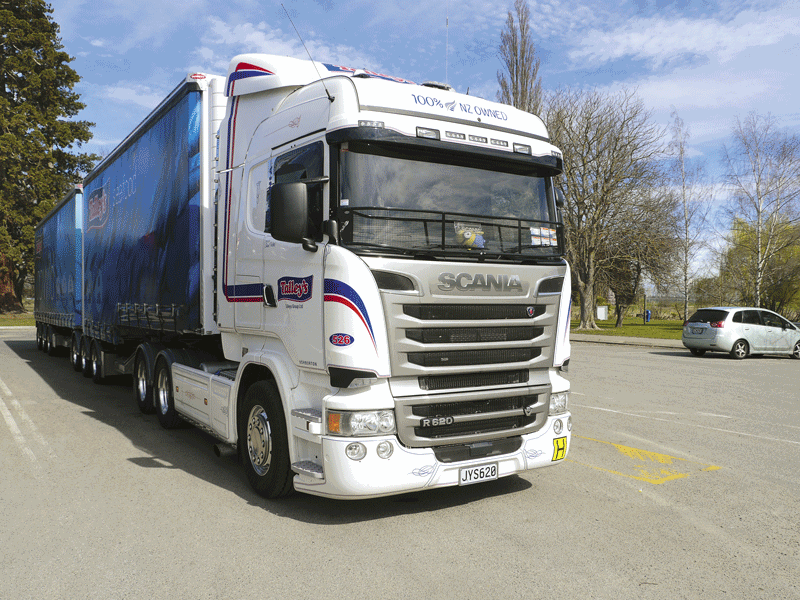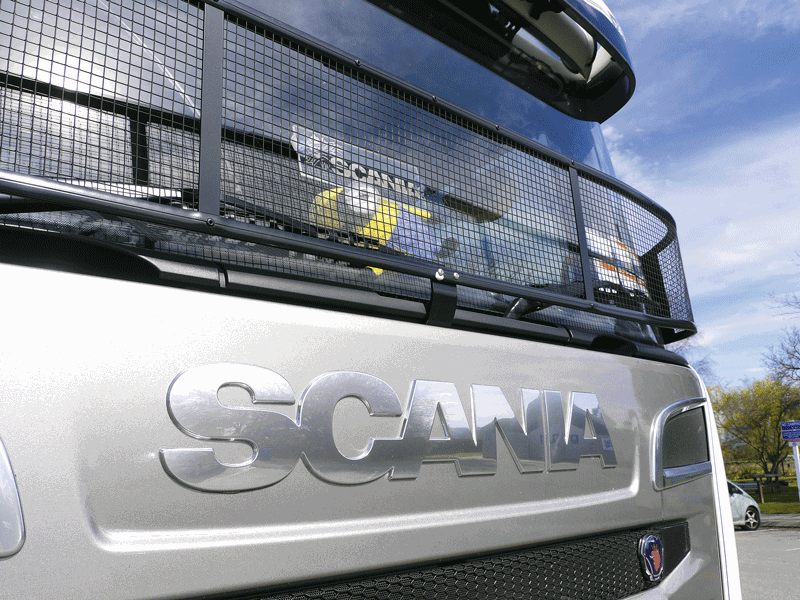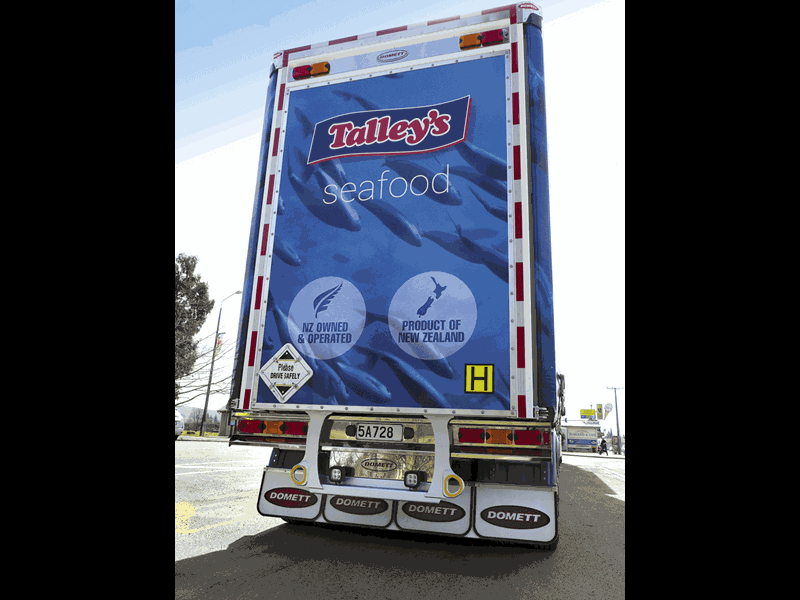 The Ed finds out more about the R620 Scania while hitching a ride with Shaun Watts
Canterbury has put on a stunner of a day for my latest excursion, as I wait for Shaun Watts (or Wattie as he is more widely known) to collect me from the Talleys Christchurch depot. It isn't too long before the 23 metre B-Train swings into the yard and we hit the tarmac bound for Motueka, some 400km away.
Due to freight timings, Watties' day has started a little later than he would have wanted, so chances are it will be long after dark before he hangs up his electronic key fob for the night.
But as it stands, we've got a good six or so hours in front of us before I get dropped in Nelson to catch my connecting flight back to Christchurch, and the timing will be tight.
Wattie plies the southern routes for Talleys, and although based out of Ashburton, a typical week will see him servicing the company freight schedule over most of the South Island as the seasons dictate.
Scania vs Freightliner
It has been just more than three weeks since Wattie first put his slippered sole on the accelerator of the R620 highline Scania, and judging by his social media posts I've been seeing, he seems pretty happy with the end product. If you remember back to DOW265, I caught up with Wattie when he was piloting a 2011 Freightliner Argosy. His new rig represents a substantial step up, both in performance and technology to his previous truck, and for a die-hard fan of American Iron, it surprises me that he has been swayed fairly quickly across the Atlantic.
Of course, we wouldn't want to diss the Freightliner too much, as one must remember that the Argosy rolled off the production line a few years earlier than this new arrival and a side-by-side comparison would not be entirely fair.
Delivering the power
The Scania is a formidable piece of machinery though. With 620hp from the Scania V8 (730hp version is also available) underfoot and a 14-speed GRSO905R transmission with two-pedal Opticruise automated gear shift system delivering all that power through 3.67 ratio, RBP735/RP735 hub reduction diffs, this rig is specced to handle the company's time-critical freight fast and efficiently.
Driver comforts
No driver comforts have been left out, with a fridge/freezer, premium audio system, television, and a comfy looking bed making for a pretty decent home on the road. Thoughtfully, the fridge is located under the bunk, so it can be easily accessed from the driver's seat. Let's also not forget the excellent audio system that provides better hands-free cell-phone quality than I've experienced in some top brand cars. Actually, as far as a linehaul Scania goes, things don't get much better than this.
Rolling advertisement
While the Scania is not all smoke and mirrors as we see with some rigs on the road, Wattie's R620 has been nicely highlighted with additional chrome and stainless accents. That along with lighting and some sharp graphics on the truck and Domett-built trailers does make the total package an outstanding rolling advertisement for the Talleys brand. And with Wattie's attention to detail—like his previous trucks, the rig is sure to be kept in showroom condition—I'd expect nothing less from him.
The bottom line
High horsepower engine outputs like what the R620 delivers were once far-off dreams for many drivers plying the tarmac, however, for Scania and other manufacturers, such offerings are fairly commonplace these days, with fleet purchasers and company bean counters coming to realise that additional power equates to less stress on timetables and drivers, all of which should ultimately impact the bottom line in a positive way.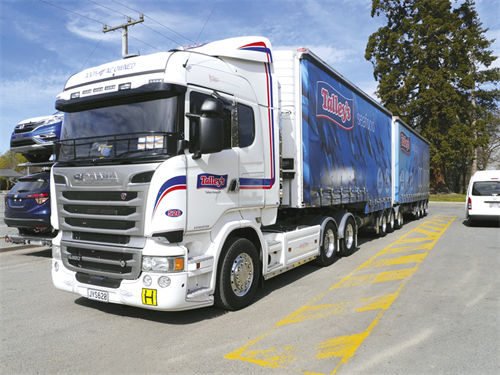 Technological leaps
Also becoming commonplace in the latest Scanias are the huge technological leaps that have reared their heads over the past few years. In the case of the rig I am travelling in today, one such feature is the Adaptive Cruise Control (ACC). Unlike your regular cruise control, this system uses sensors to automatically adjust the speed of the truck so that it follows at a safe distance behind the vehicle ahead. If the front vehicle slows down or speeds up, the truck will do the same—up to the maximum road speed set by the driver.
"Yeah mate, that car up ahead doesn't know that he is actually controlling our truck.
"If we had a vehicle ahead that drove carefully, the truck could follow it all the way without us doing a thing other than steering," Wattie says.
Five-stage braking retarder
Another feature is the five-stage braking retarder, which Wattie says is very effective—so effective that during our trip from Christchurch to my drop-off point in Nelson, he tells me he touched the truck brakes only a handful of times. Couple the retarder with the electronic braking system (EBS) and you have, what some would say, to be the safest and most efficient stopping ability available.
Blue and red
Mid-way through our discussion Wattie shakes his head as two cars fly past the truck in a less than clever passing manoeuvre as a passing lane merges back into the main highway. Out of nowhere, a set of 'blue and reds' appear and pursues the two offending vehicles, pulling them over a bit further up the road, justice for one being close at hand.
Weighbridge stop-off
A bit further down the highway, an uneventful drive-through a roadside weighbridge is next on the agenda, and the brief stop-off highlights the worthiness of the on-board Wabco scales, which have been integrated into the Scania dashboard system.
"The scales are excellent for loading efficiency and means there are no surprises when we are weighed," Wattie says.
Change of driving style
As we hit the road again bound for Motueka, Wattie verbally ponders the differences between his new truck and the traditional Freightliner Argosy he came from. "Yeah, the stuff the Scania has put on these trucks is amazing. I was a little concerned that I might start becoming lazy in an automatic. However, it just means a change in driving style.
"I quickly realised that not doing the few thousand gear changes a day leaves me feeling a lot more refreshed at the end of a shift," Wattie says. "I know that my body will love me for it."
Driver training and rating
"One of the biggest eye openers for me was the training I did with the CablePrice driver trainer," Wattie says.
"He showed me how to get the most efficiency out of the features the Scania offered and it really helped optimise my driving."
Another feature that Wattie regularly uses is the built-in Scania Driver Support system that evaluates his driving performance using a percentage method to give a 'star' performance up to five stars. This is judged on a number of different factors and Wattie likes how it constantly makes him improve his driving techniques.
"I've always tried to drive as efficiently as possible, even in my Argosy," he says.
"The rating system on this Scania is really good, but I think they should remove the 'Downhill' (hill driving) one, as it is more suited to the rolling highways overseas, not the sharp inclines we have here in New Zealand.
"There are a lot of hills here in New Zealand where you can't button-off and coast over the top using the truck's momentum," Wattie says. "My percentage was sitting at 89% just before we came to the top of that hill, and now it is 85%. It'll take a while to make that up."
The Verdict
The five plus hours are over quicker than I expected, and it's not long before I'm in the air and retracing my route back to Christchurch.
To be honest, I have always been a bit of a naysayer when it comes to technology in trucks, preferring to believe that trucks should be kept simple so that the spread of talent to repair them can be kept wide and not to a select few. After looking at what is available off-the-shelf from companies such as Scania, I have seen the future of transport. It's a tech one and I'm now okay with that.
When you take into account the safety systems and the technological features available, only a fool would not invest in equipment that does not provide at least the same level of technology, safety, and comfort that a rig such as what Wattie is driving provides.
Wattie summed it up pretty well when he said, "It was a big, big change, but now that I'm used to it, it has been the best change."
Keep up to date in the industry by signing up to Deals on Wheels' free newsletter or liking us on Facebook.