Check out this pimped-out 2012 Peterbilt truck
---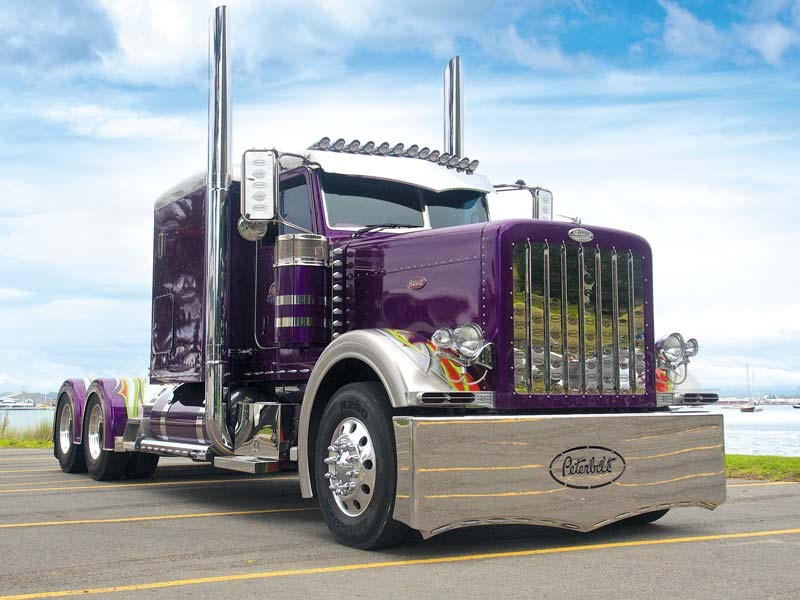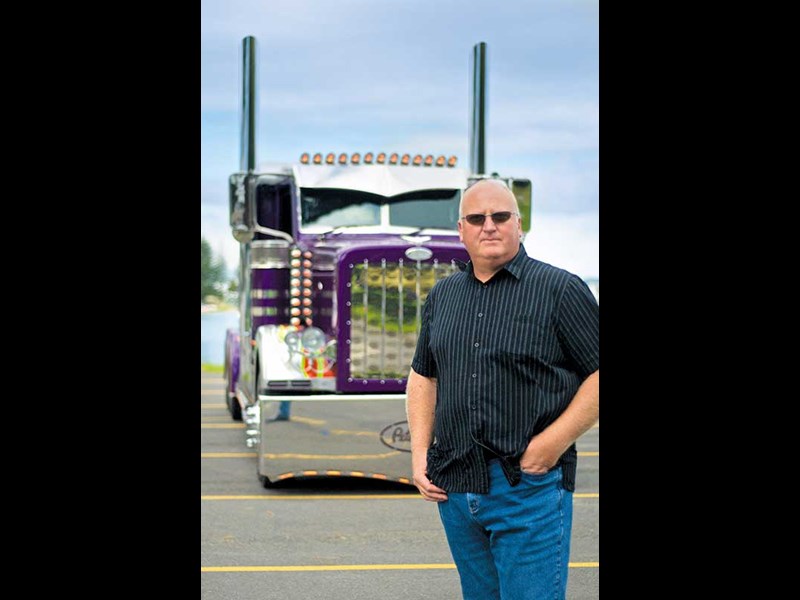 Mark Rossiter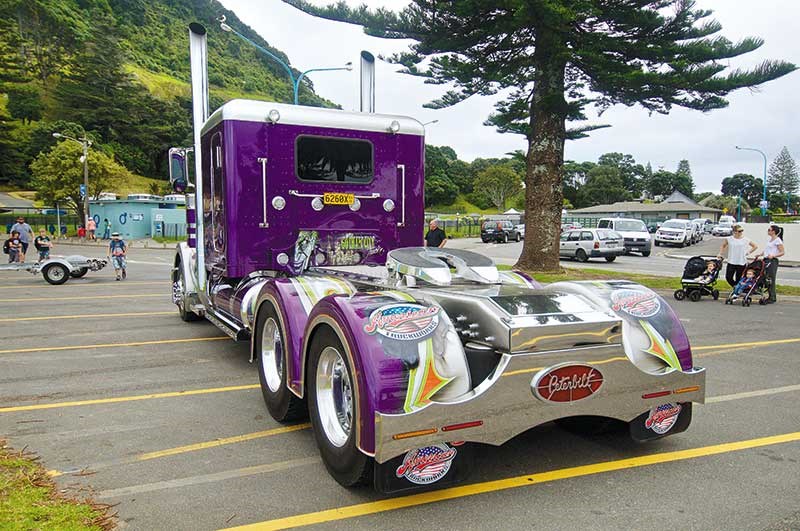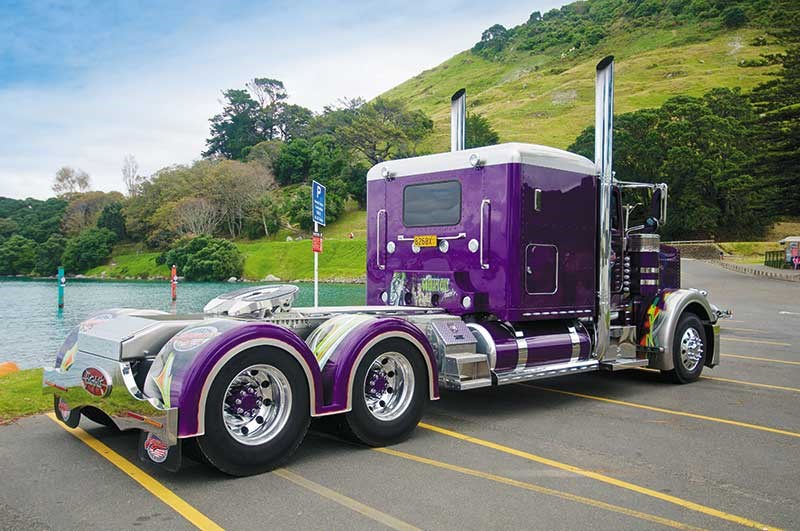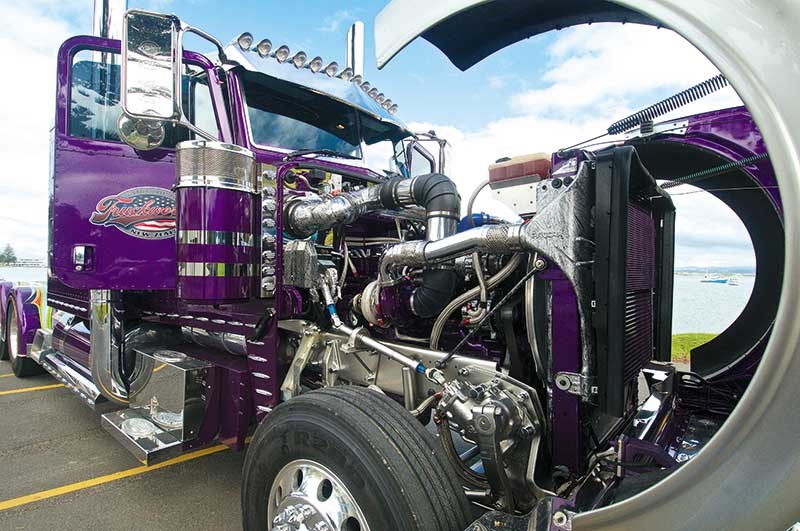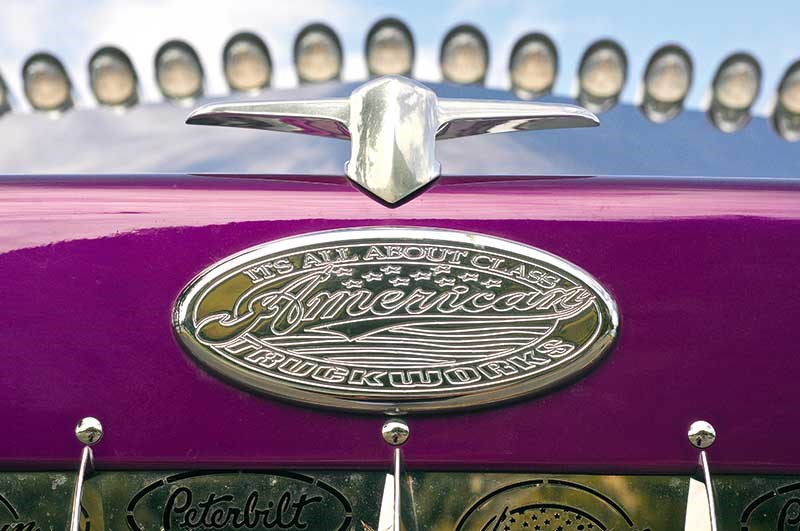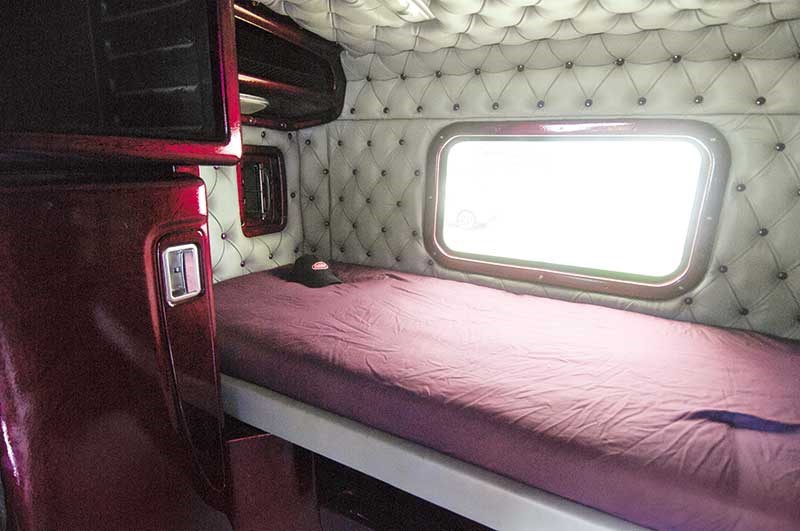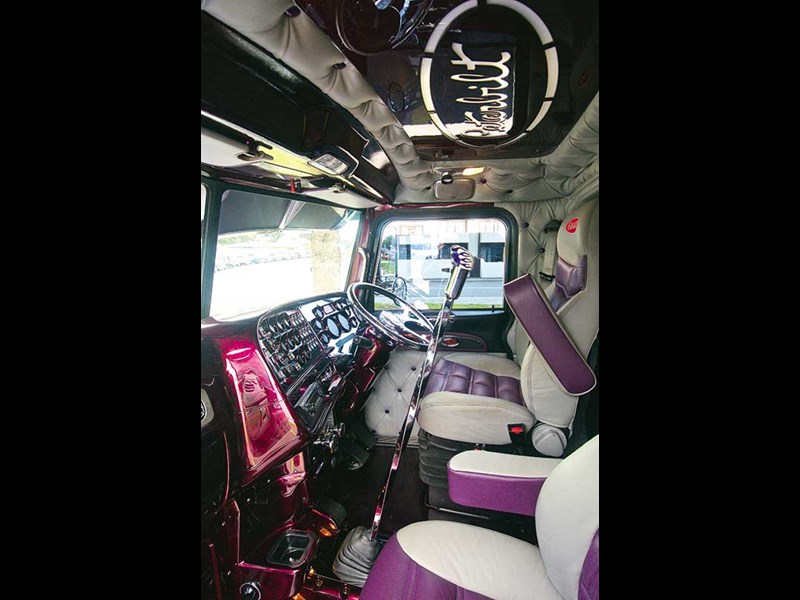 There's a recently arrived rig on the road that is getting more than its fair share of attention. The Ed went along for a look.
I guess Mark Rossiter is getting used to the stares and pointed fingers by now, as he slowly guides the pimped-out Peterbilt 388 along the Mount Maunganui waterfront. A little further back up the road, as expected, a group of truckies who were fuelling up their rigs stopped mid-conversation to watch as we cruised by; no doubt their prior conversation being immediately been dropped in favour of this custom truck.
The wide-eyed looks from members of the public as the Peterbilt passes by are even more proof that trucks like this can still drop the jaws of the visually overloaded and make toddlers bounce up and down in their pushchairs in an effort to make their parents get them alongside for a closer view.
The recently arrived 2012 Peterbilt heralds the establishment of Truck Works NZ Ltd, which has been set up by Rossiter. Some readers may be familiar with the name; Rossiter having previously headed the Commercial Vehicles Group of Transpacific Industries Group Ltd, which was the distributor of Western Star and MAN trucks prior to the Penske buyout in late 2013.
The establishment of Truck Works NZ is to provide a portal for the sales of the Peterbilt brand in New Zealand, in what Rossiter sees as a small niche market for the discerning top-of-the-line truck buyer.
"I think pretty much every fan of American Iron would agree that Peterbilt is top of the food chain," he says.
"They are very classy trucks, always grab attention, and have a pedigree that stretches back to the 1930s."
While Rossiter is keen to see more Peterbilts on New Zealand roads, he's quick to point out that Truck Works NZ Ltd is an independent importer of the Peterbilt brands and is not affiliated in any way with PACCAR Inc.
"Peterbilt is a registered trademark of PACCAR Inc, and it has distributed the brand through its own agencies. We are completely independent of that."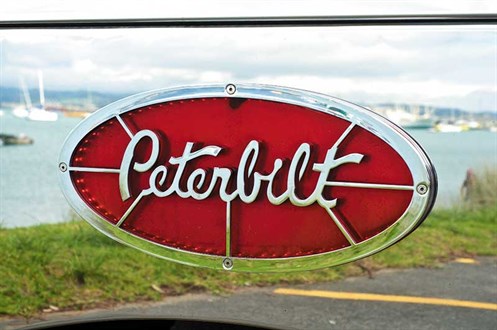 If the flagship truck we are sitting in today is anything to go by, then a lot of people are of the same opinion. Stopping for a few pics and some video at Pilot Bay, Mount Maunganui has turned into something of an exercise in crowd control as the previously quiet street suddenly produces people from thin air; most wanting to grab a selfie for their Instagram accounts.
This particular rig was customised by Adelaide-based Truckworks Australia, who Rossiter's business is affiliated with, but operates independently to. It was originally built for the 2012 Brisbane Truck Show and, up until being shipped to New Zealand, was a promotional vehicle for Truckworks in Australia.
"While this truck is for sale, it's pretty much a one-off but shows the capabilities we can provide," says Rossiter.
There are two Peterbilt models that will be available to New Zealand customers, the 389 and 587, which will give customers a choice of the classic or contemporary look. Rossiter says delivery time for a new truck will be 5.5 to six months. This allows for shipping from Texas, right-hand drive conversion, and tractor unit setup in Australia; before landing in New Zealand turn-key-ready, with the exception of compliance and issuing of a Certificate of Fitness.
The work carried out in Australia is significant with each truck cab getting completely stripped down and sent back along a reassembly line, ensuring the conversion to right-hand drive is done to the highest standards.
"They are probably one of the best converted left- to right-hand drive trucks that you could find," says Rossiter.
Engine power plays a big part with this special rig and what is displayed on the outside has to be at least equally matched under the hood, with chrome, water-dipping and other artwork around the engine bay being a good indication of how some of the $140,000 was spent to achieve the quality results that are attracting all the wide-eyed spectators.
Getting all that engine power to the road is a 20-Series 918B Eaton-Fuller 18-speed transmission and Rockwell 46-160 rear diffs.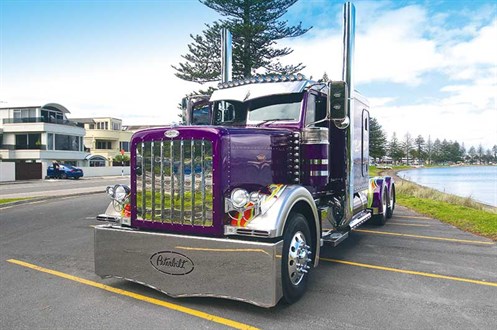 "This truck is running an E5-ISX Cummins Euro-V [engine] which has been played around a little bit with and upgraded to 700 horsepower; so all this customisation work has been carried out by Truckworks in Adelaide," says Rossiter.
"So not only does Lyndon Reynolds of Truckworks Australia bring the Peterbilts in to Australia, but he does all the custom work that is required as well."
So, along with any modifications a customer may require, Truck Works NZ is able to provide a complete package that can include total or partial customisation – or none at all if that's what the customer wants.
Climbing aboard, there's an equal amount of wow factor with the pearl painted dashboard and floor complete with stainless-steel panelling, blinged-out switches and gauges, along with inset signature Peterbilt faux-neon ceiling sign; it all being nicely accented by the custom steering wheel and extended old school spiral gear lever; the extended length meaning that a bit of shoulder strain results all for the cause of looking uber-cool.
The truck is fitted with a full walk-through 73-inch (1850mm) sleeper providing a roomy environment for life on the road, with plenty of storage spaces and provisions for fridge, microwave and television.
"The interior leather package has been redone to suit the truck, even though the Peterbilts come with a premium soft leather package," says Rossiter.
The overall length of the custom flagship truck may narrow its opportunities for certain types of real-life work when Rossiter does eventually sell the truck, but even in its current form will probably come close to what a Lotto-winning alpha male may specify in their dream truck.
If the crowds of people that this Peterbilt constantly attracts are anything to go by, then it's a marketing tool that even the best ad agencies have overlooked. Who wants all those flashy ads and online media tools, when your gut instinct says it all? Well played Truck Works NZ. Well played.
For more information about Truck Works NZ, phone (09) 950 9875
Keep up to date in the industry by signing up to Deals on Wheels' free newsletter or liking us on Facebook.