On the right track: Hino Track Day 2016
---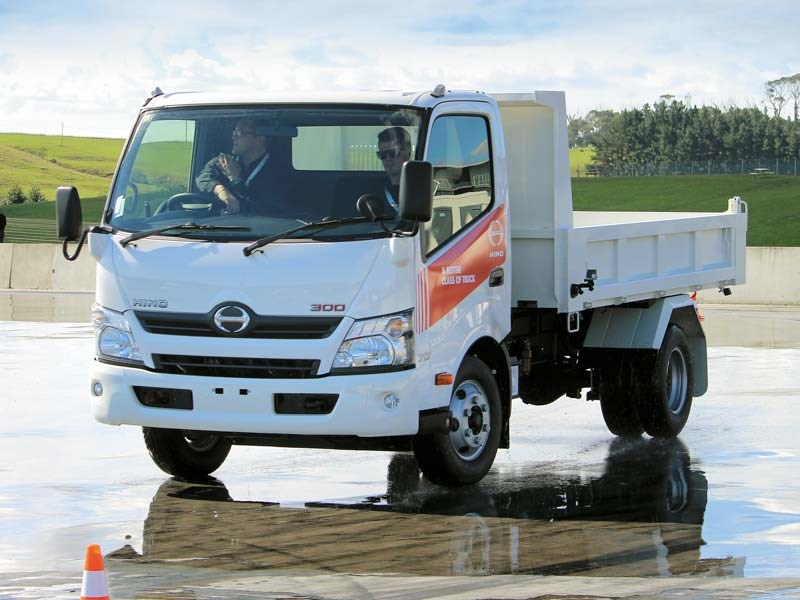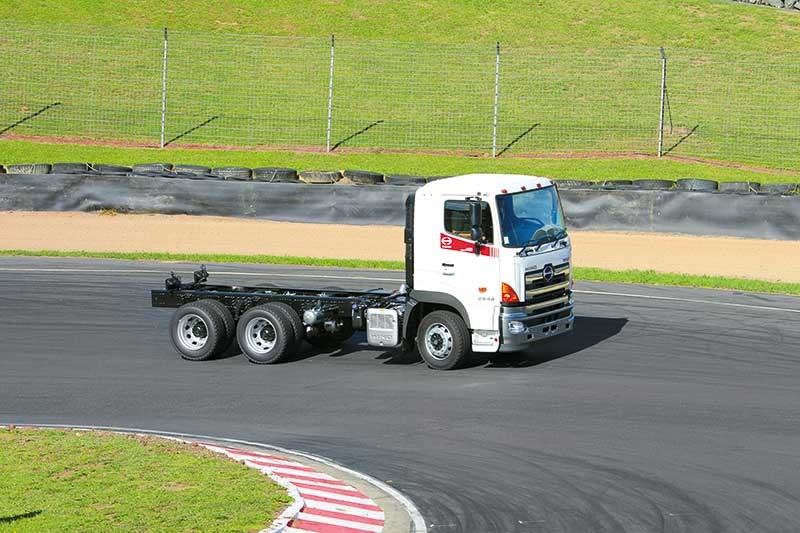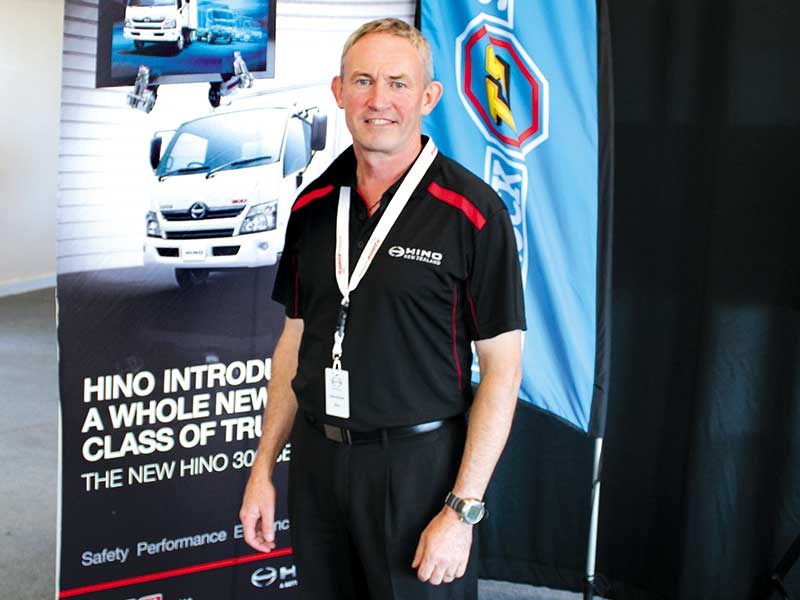 Chris Brown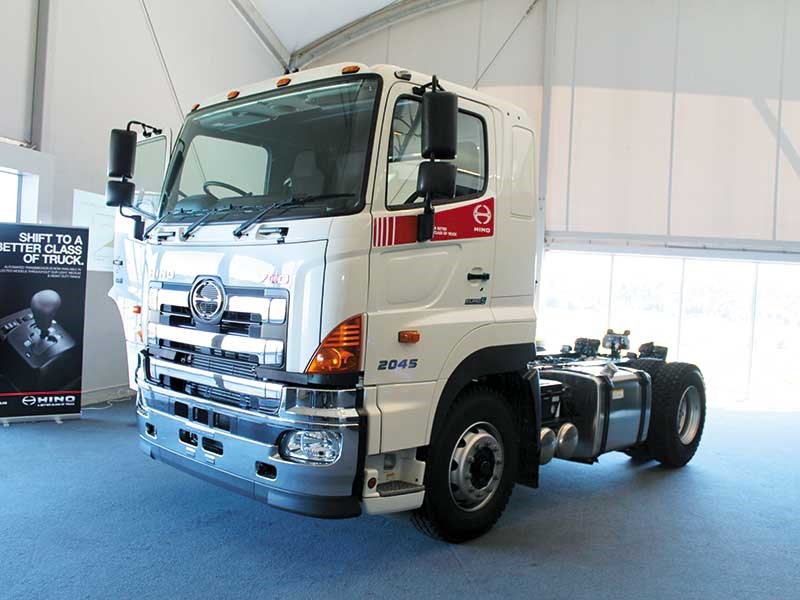 Hino pulled out all the stops recently with its track day that was held at the Hampton Downs Motorsport Park in Waikato.
Along with invited guests from transport businesses and lease fleet buyers, myself and other trucking media representatives were on hand to participate and learn a bit more about the Hino brand and meet some of the truck buying decision makers.
To accommodate all the guests and fit in with flight schedules for out-of-towners, the day was broken into a morning and afternoon session. Each session was then broken into four stations: technical, skid pan, driving competition and track testing.
To simultaneously conclude things for the morning group and get things underway for the afternoon's arrivals, all guests congregated for lunch and a speech by Sime Darby Commercial Group's general manager and Hino Distributors (NZ) Ltd's acting general manager, Chris Brown. It was here that Brown used the opportunity to deliver a speech on the key points of the Hino brand as he saw it. The report was kept fairly brief as the prime goal of the day was for guests to get hands-on experience behind the wheel of the different Hino truck models.
Guests were then placed in groups of around ten and assigned a station. Our group's starting point was the technical station which may have disappointed a couple who were keen to get behind the wheel of a moving truck, but that would come before too long.
Technical station
Hino is fortunate to be 51 percent owned by Toyota and as you would expect, this gives the truck manufacturer access to a lot of additional technical support. One of the results of this alliance are the Hino hybrid trucks. In what appears to be a similar setup that comes in Toyota's hybrid models, Hino has essentially adapted and super-sized the regenerative energy system to use in its diesel/electric metro truck. If this is anything like the Toyota hybrid Camry and Prius models that are very popular with taxi drivers, then they should deliver good value for money.
One of the group members said that the large company they contract to is looking at ways to reduce emissions, so he was considering looking closer at possibly trialling a hybrid truck in his fleet. What was interesting about this statement was that it wasn't the transport operator who was looking at reducing emissions or embracing this type of technology, but the company it contracts to. Perhaps if hybrid truck manufacturers pitched their wares to the businesses that use the transport companies they might get additional sales.
Sitting alongside the hybrid model was a Hino 4x2 tractor unit. On this truck, technicians had disconnected the driveshaft and connected a computer in order to display the semi-automatic ZF transmission while the truck engine was run up to road speed. One of the features of this particular transmission is the quick downshifting it provides and the double-shaft design, which as you would expect, considerably reduces the strain when compared to single-shaft designs.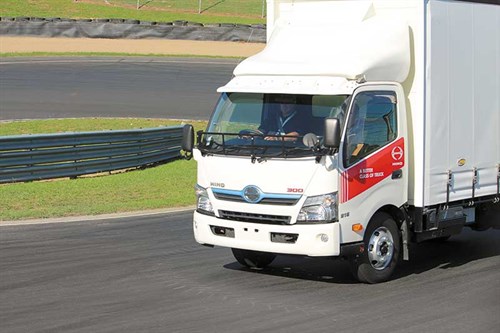 Skid pan station
One of the features of Hampton Downs Motorsport Park is the skid pan area. With the assistance of built-in water sprinklers, drivers have the opportunity to slide vehicles around on the slicked-down super smooth surface; all in a controlled environment.
It was here that Hino had two small tippers that were fitted (standard with all 300 series) with stability control (VSC) systems. Again, I have an inkling suspicion that Toyota engineers had some hand in the development of this, and my group was keen to see how the trucks performed.
Judging by the positive comments from fellow participants, expectations were high as I climbed into the driver's seat of a test truck. After a safety briefing and an explanation of what we were going to be doing by my driving instructor, I selected second gear and promptly stalled the truck. Realising that I had accidentally put the truck into fourth gear, I corrected my mistake and made use of the momentum from the slowly moving vehicle to roll start it, resulting in reduced embarrassment with the nice save.
With that little hiccup behind me, I quickly brought the Hino up to speed and, on cue, put the truck into a tight right-hand turn. Expecting the rear end to let loose as the truck plows into the corner, I did get a bit of a surprise when the front end started to sledge away from me. A bit of correction work on the steering wheel got things back under control but the slippery road surface has made its point.
As we went around and prepared to make another attempt on the same corner, my instructor switched on the stability control so we could get a comparison. Apparently Hino is the only manufacturer that provide these types of control systems, so they are a unique addition and add another level of safety for small truck drivers.
Changing up a gear to increase speed and with a bit more confidence on the throttle, I swung the little Hino into another hard right-hand turn as the stability control took over and smoothed out the turn. It's a little difficult to explain, but a fellow group member summed it up perfectly when she said that it was like having someone sitting behind and helping you steer. From my point of view, the system worked amazingly well and if I was Hino, I would be putting a lot of marketing focus on this feature.
The verdict
Unfortunately due to time constraints, I wasn't able to stay around and participate in the drivers competition and track testing, however other people who had taken part related positive experiences.
This was the second such Track Day that the Hino marketing team has put on, and I'm sure that they must be considering whether they should make it an annual event. Judging by the feedback I received during and after the event, I would seriously considering running it at least biannually if the decision was up to me.
For the latest news and reviews, subscribe to Deals On Wheels magazine here.
Keep up to date in the industry by signing up to Deals on Wheels' free newsletter or liking us on Facebook.