Test: Eurocomach ES18ZT
---
Despite driving the Eurocomach brand for years, not many of us know that the brand is now available in New Zealand. DOW finds out more.
For years, many of us have been unknowingly operating Eurocomach machines or using their componentry; it's just that other manufacturers have been slapping their brand stickers across the Italian-made goods and passing it off as their own.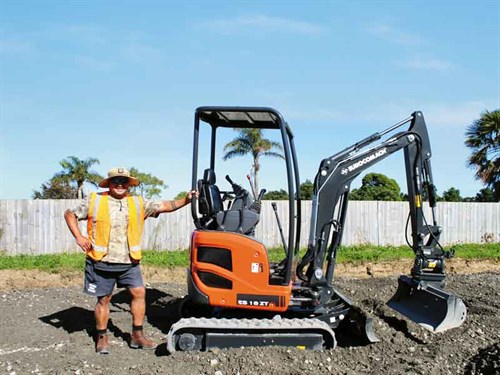 The same goes for cars and trucks for the most part. Identical componentry can be found on many different vehicles, and I'm pretty sure I've seen the same indicator sticks on top-of-the-line Teslas and a Japanese rental car I drove not too long ago.
Things are not too different with machinery. Many brands buy engines, pumps, and other knick-knacks for their machines. It makes for efficiency and reduces production costs.
So finally, here in our sometimes unmapped part of the world, Commercial Outdoor Machinery (COM) has decided to step the Eurocomach brand into the limelight where they have been quietly marketing the brand while building up a loyal set of customers.
At this stage, their customer base is primarily in the Auckland region, but Commercial Outdoor Machinery travels New Zealand wide for sales, servicing, and parts support.
As part of a third-generation family business, the company is ready to step up, and that is the reason we were at a building site in South Auckland, ready to try out a Eurocomach ES18ZT.
First look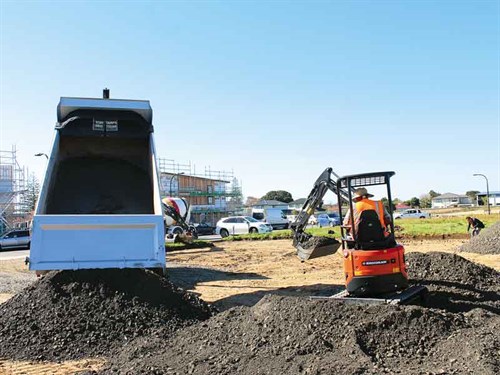 First appearances of the 1.8-tonne machine were positive. With its hydraulically adjustable tracks (990–1300mm), the ES18ZT has something of a unique look. Its bigger stablemates go even further and their angular lines married with the curvature of the machine are sure to draw positive comments.
With many excavators these days looking similar with the exception of paint schemes, it is quite nice to see a machine that looks a bit different from the crowd. Having an overall ground reach of 3800mm with a standard arm fitted, the Eurocomach ES18ZT is definitely built for business, and this reach can be pushed out to 3910mm with the optional dipper stick.
Twist-hitch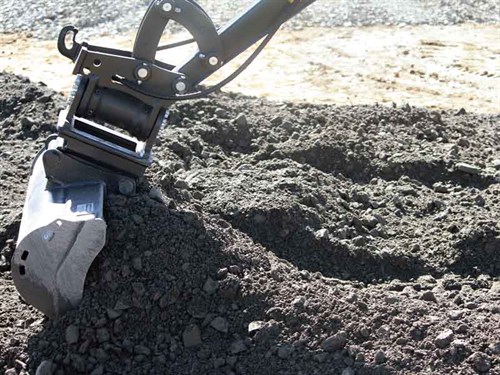 A real standout with these machines is that all models come with a factory-fitted tilt-hitch or, as Eurocomach calls them, twist-hitches. These aren't some junky single-ram unit but a full-on 90 degree left/right movement piece of equipment.
Additionally, I was told that the twist-hitch with a standard bucket on this small machine is 15kg lighter than the tilt bucket with a standard hitch.
Controlling the twist-hitch on this model is done via pedals on the floor, with the option of joystick controls available on the higher spec 1.8-tonne machine.
Changing buckets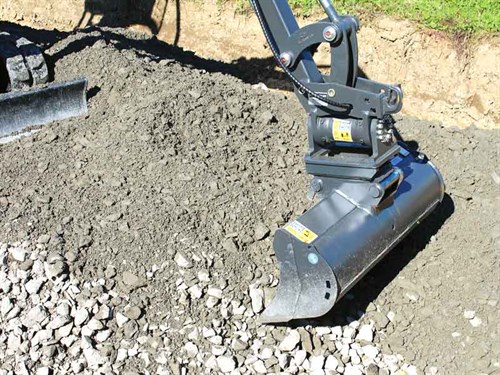 The Eurocomach machine we trialled did not feature a hydraulic quick hitch, so changing buckets required the operator to step out of the machine and release the attached bucket by turning a securing nut.
The connecting mechanism automatically locks the new bucket firmly to the digger arm, which means the operator does not have to leave the machine a second time to secure the bucket in place—a feature that will definitely be appreciated by operators.
Operator station
With small machines, we all know that space is at a premium no matter who makes them, and the ES18ZT is no different. So considering the space factor, as I see it, Eurocomach has done a pretty good job of providing enough room.
Entry to the seat is good with more than enough handhold positions to safely climb on and off the machine. All controls are located in intuitive positions—or at least that is how I found things when using the machine.
An optional fully enclosed cab is also available for these models, so operators who work in wet weather need not worry.
Engine and power
Like Kubota, Yanmar provides engines for many brands of small excavator and the Eurocomach ES18ZT is no different. It's powered by a three-cylinder Yanmar 3TNV70 diesel-fuelled engine, which outputs 11kW (15hp).
The machine in action
As luck would have it, we had operator Donald Ettle of Foundation Structures, who had prepped most of the site before our arrival with his larger nine-tonne Eurocomach ES95TR.
Don gave us the ideal opportunity to put the smaller machine in the hands of an operator who already knows the brand, and we could compare notes at the end of our test drives.
Randolph's run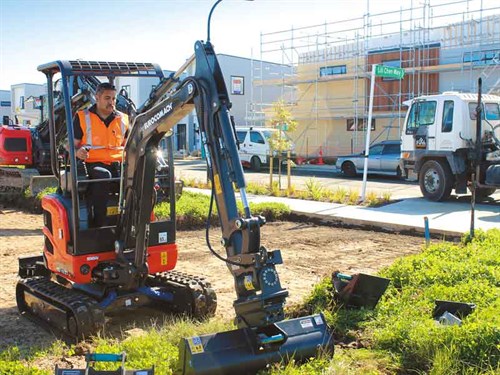 First off, I climbed aboard the ES18ZT getting a feel for the machine by using it to spread out aggregate that was being delivered to the work site in preparation for the floor slab.
It was here that I found the 1.8-tonne Eurocomach machine well powered, moving the product quickly and easily. What I did notice was that the pumps through to the control levers showed no sign of noticeable jerkiness as seen in other small machines
I have operated in the past. The weight of the twist-hitch out front also did not appear to upset the balance of the machine even when the arm was fully extended and despite the excavator sitting on a pile of uncompacted crushed aggregate.
Donald's run
Taking over from where I left off, Don made short work of moving the stockpiled aggregate. With more loads arriving as he worked, there wasn't a lot of time to slow down, and the small machine kept on top of the incoming loads well.
As Don put the small ES18ZT excavator through its paces, it was soon obvious he was familiar with the Eurocomach brand, with him reporting later that the transition across from his larger ES95TR to the smaller machine was easy, as both machines had a similar operating feel.
Don's initial concerns about operator space with smaller machines were soon put aside with positive comments coming back about comfort and good support from the wrist rests, allowing for a better operating style.
"She's comfortable as, moves nice and smooth, and is awesome with the tilt bucket," he says.
Verdict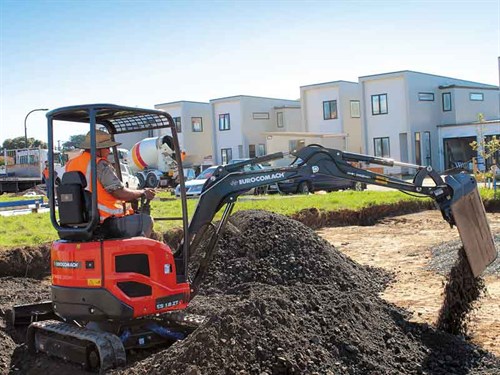 I like what Commercial Outdoor Machinery is providing with the Eurocomach brand. The range they are supplying will suit many new machine buyers and with prices starting in the low $30k region for an excavator complete with a capable factory fitted twist-hitch, makes the brand even more worthwhile. All marketing hype aside, this gear is worthy of further investigation. 
For more information, contact Patrick Stanners—National Sales on 021 228 4508 or the head office on 09 275 0443, or visit commercialoutdoormachinery.co.nz.
Eurocomach ES18ZT Specifications
| | |
| --- | --- |
| Operating weight (canopy) | 1730kg |
| Engine | Yanmar 3TNV70 |
| Power | 11kW (15hp) |
| Pump type | Variable flow |
| Max pressure | 210 bar |
| Max dig depth (standard) | 2300mm |
| Max dump height | 2700mm |
| Max width | 990–1300mm |
Video: Eurocomach ES18ZT
Click on the image below to view the Eurocomach ES18ZT in action.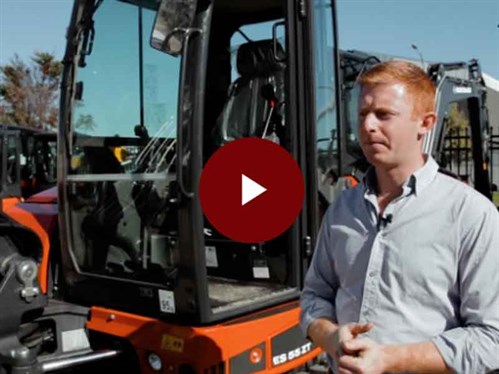 Keep up to date in the industry by signing up to Deals on Wheels' free newsletter or liking us on Facebook.